At the end of the 19th century Nene Hatun took a hatchet up to fight back the Russians who had seized a fort in Aziziye, Erzurum. She joined a group of civilians, armed with hoes, rakes, shovels and axes. Nene Hatun was found dead, still holding her axe. The women who carried munitions to the soldiers during the Turkish War of Independence are also well known by Turkish school children. They loaded ammunition into carts and walked hundreds of miles to help their soldiers defend their nation.July 15 has been written about so much this week. But new stories, new aspects are coming out every day. This was a social phenomenon. People literally went prepared to die fighting for their country. One man tried to jump off the roof to grab hold of a passing F-16. Later he admitted, "I know that I couldn't have done it now. But at that time, everything seemed possible."Indeed, very much was possible. The most popular search term on the July 15 was "How to stop a tank." Though many were run over by the tanks, many tanks were captured by the people. One tank was even used to take a number of young men for a joy ride. Someone asked me if women were on the street. "Are you joking?" I asked. And then repeated the story going around about the crowd that first approached the tanks on the bridge.
This urban legend claims that an officer came forward and started to shout at the protesters. A woman in her late 50s walked up to the officer, not a trace of fear on her face. She stopped right in front of him. And then she slapped him on the face. Then the rest of the protesters rushed the bridge. Many many lives were tragically lost that night. But democracy was rescued.
We have seen the pictures of the aunty with a bat in her hand, ready to take on any soldier. We have seen the pictures of the woman in the headscarf and the woman with a bare head driving a dump truck full of young men. Then there is the story of the elderly man who rang up his wife and said: "Dear, I am going to die for my country. You go out too and die fighting for your country." Did all women go out to fight with tanks? No; there were many that did. But each woman had her own personal struggle.
The other night Turkish people turned out to defend their nation. But there were those who stayed at home, not because they wanted to, but because circumstances forced them to. I would like to share some of these stories here. These women are heroes, no two ways about it. Here I want to share the stories of the quieter heroines. Those who, as the British said, kept the home fires burning. This is no easy task. But if there are small children, this must be done.
Berat
What remains of July 15
A friend of mine had a cafe that was having its grand opening on July 15 in Karaköy; I went with some friends. The street was full of sweet little cafes, people were sitting laughing and talking. We walked down this street; as we were walking past Istanbul Modern, we went in for a cup of coffee. It was around 10:15 p.m. Per habit, I looked at my phone; I saw the news that the Bosporus Bridge was closed. Then different reports started to come. The first thing that came to my mind was that they were there to circumvent a terrorist attack by DAESH or the PKK. At the same time, I saw everyone around me start looking at one another, wondering what was going to happen next. We got up and walked to the port to catch the last ferry from Karaköy to Kadıköy. Then we saw that there was a large crowd waiting there. We got on the ferry and everyone was trying to help one another, asking questions as if the next person they talked to would have some new information; other people were trying to contact family members.
I got in my car but it took me a long time to get home. Many of the roads were closed. Finally I got home. My house is next to the Traffic Control Center; there were a lot of police there. I ran upstairs. My mother was watching television, so I sat with her. From time to time we looked out the window, trying to understand what was going on. I also went downstairs sometimes to ask the police what was happening. Then the chief of police came up to me and said that we had to evacuate the apartment or go into a shelter if there was one. The doorman and I went from door to door telling everyone. As it was summer, many people were on holiday. But there was an elderly couple, and it was very difficult for them to get down to the shelter. Then we started to hear helicopters and the jets flying overhead. All the neighbors sought shelter in the doorman's basement flat. The sonic boom sounded as if a bomb had been thrown in the house and scared us. Then there was gunfire. The sounds stopped and everything went quiet. A few of us went upstairs to learn what we could from the police. We were also trying to follow what was happening on the internet and from WhatsApp, trying to make contact with friends and relatives. The police had been on duty for hours. We took them things to eat and drink from the house. The old couple were in the basement, terrified at what was going on. I tried to reassure them. This continued until about 5:00 or 5:30 a.m. Most of us returned home as the sun began to rise. We were hoping to sleep, but it just did not come. Our only desire, our only prayer has that we would receive good news about our country and that Turkey would be able to continue in peace and tranquility.
Melikah
I and my 1-year old son were visiting my mother. We had had a lovely day. We had had a picnic and my son was very happy. In the evening I began to get ready to return home. The following day I was planning to return home, to my husband. I put the baby to sleep. I was just beginning to pack when my brother rang. "Have you heard? Turn on the television. Anything can happen now. Be prepared" he said.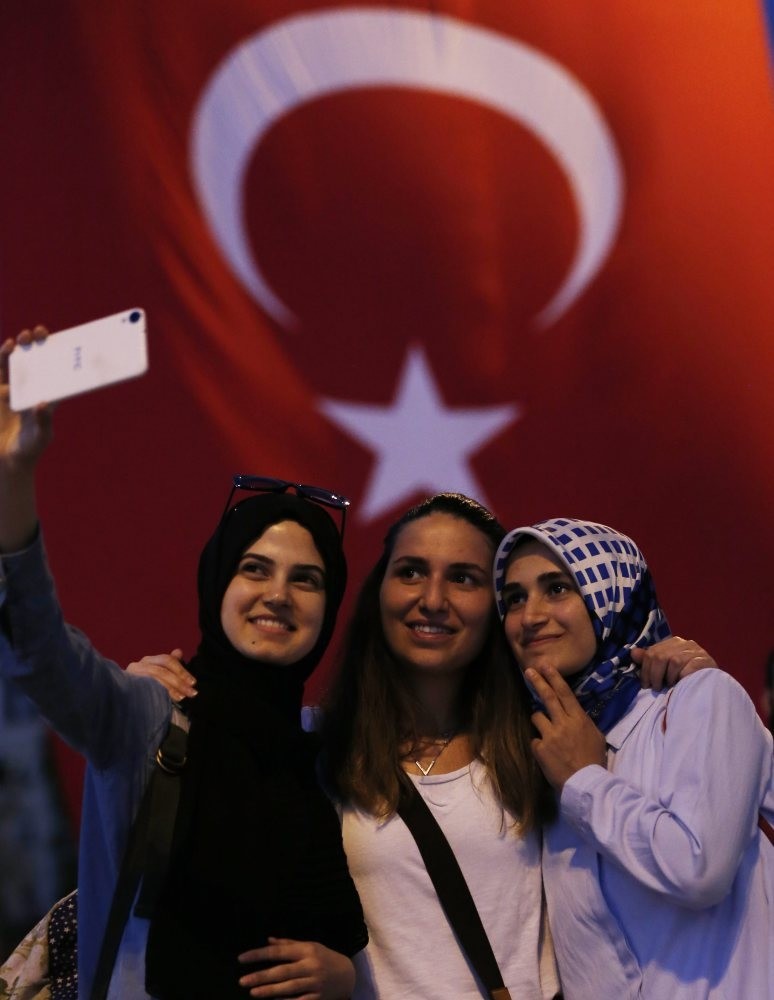 I turned on the television. Someone was saying "The military has now taken over control of the government." Like an old film, scenes from earlier coups ran in front of my eyes. What would happen now. I would lose my job as an academic; I wore a scarf and I had only just been able to start working. I might even be thrown into prison. It would be worse for my husband. I turned and looked at the baby, sleeping. What would happen to him? Would he have to grow up without his mother or father, like children in the 1980s? He was not weaned and was very attached to me. Would he survive without me? Who would look after him. Then I became concerned about my husband in Istanbul. I rang, but his phone was off. Now I began to really worry. I phoned a close friend. He said he had seen my husband earlier and he was fine. Then I rang the house. My husband was at home. He had forgotten to recharge his phone, that is all. I felt better, but was unsure what the rest of the night would bring. The news was showing flying jets and tanks on the bridge. The Parliament was being bombed. It looked as if dark days were awaiting the country and my baby slept, blissfully unaware.

Güssüm

That day was a great day because I was expecting my mother to arrive on a 9:30 flight. I stayed at work a bit late, because I was scheduled for surgery on July 19. After 10:00 p.m. my sister went to the airport to pick up my parents. But something odd was going on because planes started to fly overhead. I was surprised, because we weren't on a flight path. I tried to understand what was going on, and then I talked to my sister. She was going to the airport and I went home to wait for my parents. Then I looked at social media and saw that something strange was happening. Soldiers had seized the bridge and there were soldiers here. I was surprised. I couldn't understand it. I was afraid and rang my sister. Things started to take on a whole new dimension. Everyone was showing the soldiers on television. My sister told me she was going to the airport, but there is something odd here. They aren't letting us in she said. There are tanks here. I was surprised again, then I looked at the television again and I saw the prime minister and he said that some soldiers had rebelled. But on social media they were saying it was a military coup. Then the president connected with the television by smart phone. I was worried because my mother had boarded the plane and was on the way. My sister had not been able to go into the airport because tanks were blocking the way. People were out in the streets. The prime minister and the president called on people to go to the streets. I started to cry and I started to pray. Then the jets started to fly overhead and they were so close that it was if they dropped bombs each time they flew over. I did not go outside. I was waiting for my parents, who had to remain on the plane. My sister arrived home around 1:00 a.m., and then the jets started to do the same thing. We began to fear for our lives. We saw the soldiers shooting at the people. The police and the people were telling the rebels to stop. I prayed that no more people would die. The call to prayer was being recited from the mosques and I prayed for our country, I prayed that no more people would die and I prayed that I would be reunited with my family. I prayed.

Burçak
I was born in 1980 and was a baby during the 1980 coup d'etat. It was very difficult for my mother, because I was not a healthy baby, and she could not take me to a doctor because of the curfews I am very lucky not to remember those days.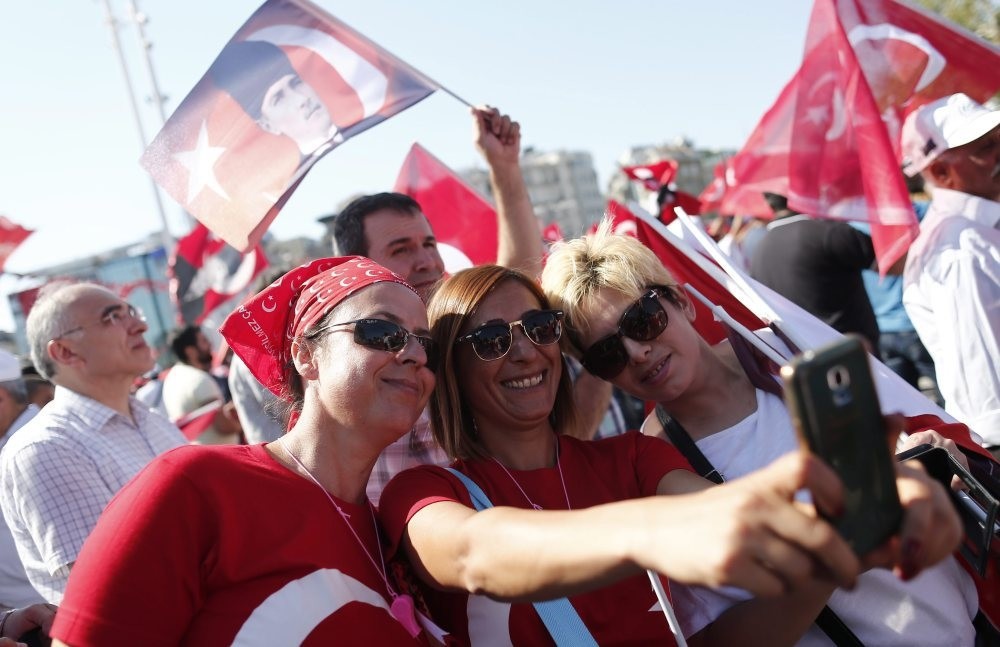 I was terrified on July 15. I was terrified for my family, for myself, and for any child or children that I may one day have. For the first time I thought that my family might be without a home, without a job, without money.
I had not understood until now how thin a line there is between life and death. But I will never forget this again. The one thing that remains in my mind, that which I will never forget is the image of civilians being shot at from airplanes. ...sheer barbarity....
I am finding it very hard to write....

Tuba
The holiday was over. We could not understand why there was so much traffic. Finally, we arrived home. I put the kettle on, and got something to eat. Then seeing the television screen, we thought "something's happening" and tried to understand what was going on. My husband and I looked at one another worried. What is going on... there are soldiers on the bridge. We sent messages to friends saying "Go home, are you home? Something is happening..."
The prime minister came on the television and said in one word "Uprising." Not coup. But, what was he saying? Soldiers on the bridge. There is only one meaning to soldiers on the bridge for people of my age (over 50), a coup... I started to pray... Please Allah, protect us.
But the television was still broadcasting. That didn't happen in a coup, did it? But the soldiers? And the one thing that we were dying to know, the thing we were terrified about was: Where is Erdoğan? Why wasn't he speaking to us? And then the memorandum was read on TRT and I started to cry. They had ruined everything... We didn't know who had done this... I rang a friend. She was crying, and said the same thing. They have ruined everything.
At that moment a man started to shout with joy. We were shocked. He must know something we didn't. He must be aware who had carried out the coup, to be this happy. Personal hatred had come before the love of the nation... never before had the nation mattered so little...
When we heard Erdoğan's voice, everything changed. Would we be able to avoid a coup, and more importantly a great civil war? It was a long night. We heard the sound of gunfire when the Telekom building was being attacked. A friend texted that they were resisting the planes and tanks in Ankara. Then a message that devastated me came "My battery is dying. God be with you." Years earlier, when my mother died, I accepted this as God's will. But on July 15 I did not accept what had happened. I rejected it. I was unable to accept the mentality that had murdered hundreds of people; I was unable to understand such violent hatred.

Asiye

I was born in 1979. Other than the memories of the 1980 coup told by my relatives and what I read, I was someone who did not know what a coup was. When I heard that there a coup attempt had been made, I froze. The sounds of the F-16s flying overhead terrified me. I suddenly worried; but it was not about whether or not we had food in the house or if I had any cash. What came to mind is "What does this mean for my son?" I ran to his bed and hugged the sleeping child. I started to pray. But it was an automatic action. I was praying that my son would have a nation to grow up in. Our hose is immediately next to Kuleli Military School; I could hear the noise of the fighting, and I imagined what was going on outside. I came up with a large number of different scenarios that could happen. But the focal point of all these scenarios were my son. I was worried about what would happen to him if something happened to me. I put my son in a safe place in the house and then started to ring my family. After telling them to stay safe I rang my mother up and asked for her blessing. Then I sat until morning in fear and trepidation. It is not possible to say that I am at ease now. The fear has been replaced with worry that the terrorists will continue to try to take over the country.