As one of the most bustling cities in the world, the riches of Istanbul are note only limited to its people. From loud kitchens at local restaurants to gorgeously designed historical structures, Istanbul has many different tricks to make you fall in love with it. But to enjoy the trip to two continents alongside the Bosporus to the fullest, you need to know how to fulfill your basic needs like where to go and what to eat.
Back in the 1990s, visitors had to carry a bag full of visual and written guides in a backpack. But we are in a digital era now and everything we need to know about a city is online. You just need to open the Apple App Store or Google Play Store on your phone and find the right application. Here are our top five that will provide you a much more satisfying time in Istanbul:
Culinary Backstreets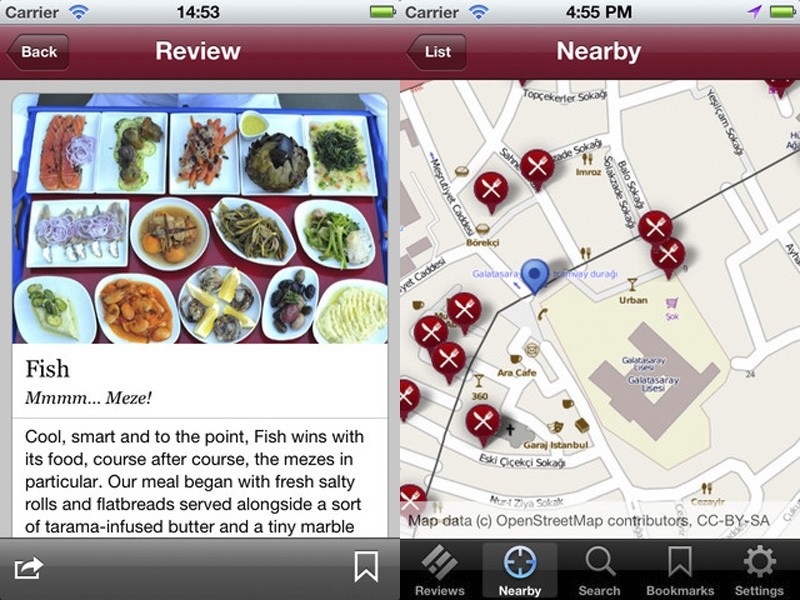 What's the first food that comes to mind in Istanbul? Kebab, right? But how about the second one? Assuming you are not going to eat kebab three times a day, you need to know more about the unique regional cuisines and restaurants in the city.
Culinary Backstreets is a mobile guide compiled from hundreds of reviews from experienced bloggers and food writers around the world who have shared their opinion on Culinarybackstreets.com. You can find reviews of local and authentic restaurants, bakeries, dessert shops and even street food carts. Once downloaded, the content is always available. So no internet connection will be required - and no roaming charges - once you hit the streets. The app itself is free to download but you need to purchase volume reviews of each city for $3.99. Besides Istanbul, the app also provides guide for Athens, Barcelona, Shanghai, Rio de Janeiro and Mexico City.
Street Art Istanbul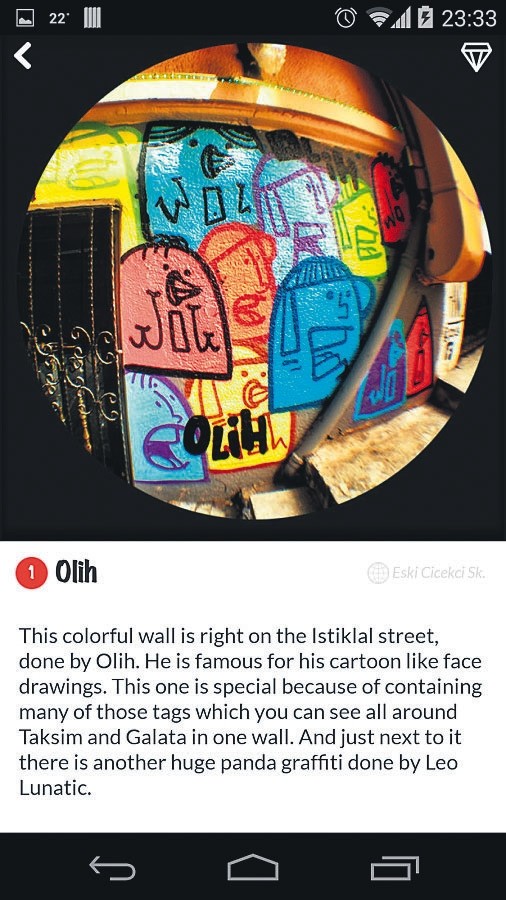 Istanbul might not be one of the first cities that comes to mind when there is a talk about graffiti and other street art. But it is time to discover the secret riches of this beautiful city. Available both for iPhone and Android devices, Street Art Istanbul gives you a selection of contemporary street art pieces around the city.
The rich content for each street art provides info on location and the artist. It is like the feed of the official Instagram account, every single piece has a story to tell, and even though the art speaks for itself, the mobile app provides context and some history on the surroundings. According to the website: "Every artwork has extensive information about the artist and the surrounding neighborhood and other interesting stuff to do around."
If you come across graffiti or a painting not tagged on the map, you can also submit this newfound "awesomeness" with location and maybe a little bit info on the artist. If you have a free day in Istanbul, instead of hunting virtual monsters with "Pokémon Go," you can go out and look for new masterpieces created by talented - and mostly unpaid - artists.
Katie Parla's Istanbul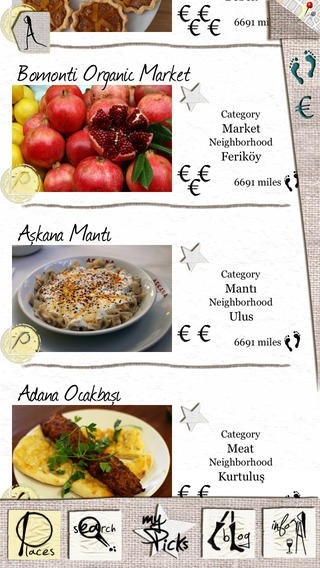 A renowned food and travel critics, Katie Parla, blogger at Parla Food now has an official app for Istanbul cuisine. With a master's degree in food studies in Italian gastronomic culture from the Universita degli Studi di Roma Tor Vergata, she has a deep knowledge of different food cultures. After the success of her first app, called Katie Parla's Rome, she now takes on the rich and varied culinary arts served in the authentic restaurants of Istanbul.
Katie Parla's Istanbul lets visitors experience the city just like the author as she seeks out the intense sights, sounds and flavors. If you are looking for the best grilled
meats and offal, outstanding mezes, historic sweet shops and off the beaten track markets, you should give it a shot. As with many travel guide apps, the content and maps are available offline so you don't bother with roaming bills.
Turkey Travel Guide by Triposo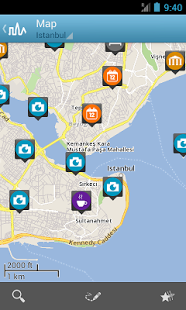 Triposo is using content from Wikipedia, Wikitravel, World66 and other open content travel guides to compile up-to-date, rich travel guides for cities around the world. Turkey Travel Guide by Triposo is a free app that delivers complete city guides to your smartphone's screen. And it is now just limited to Istanbul as it has many big cities in Turkey like Antalya, Ankara and İzmir featured in the app.
Each guide has sections for sightseeing, restaurants, nightlife and offline city maps. You like to chat with locals? Triposo also offers a phrasebook with useful Turkish phrases. If Istanbul is not the only stop of your travel in Turkey or if you just need a free app with offline support, you can download the Turkey Travel Guide by Triposo from the App Store or Google Play Store.
Istanbul Travel Guide by Ulmon GmbH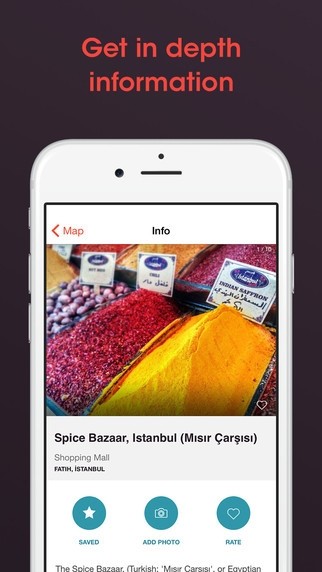 Ulmon Guides has the one goal to make your journey easy and fun. Their Istanbul Travel Guide app with a free offline city map provides multifunctional lists to plan and organize your trip in the city. Ulmon's in-depth travel content features pictures as well as comprehensive and up-to-date information for places and attractions.
Using map data provided by OpenStreetMap, the app finds addresses by using GPS data, so no internet connection required. You can also book hotels within the app. The App Store description says: "We let you discover new places, beautiful spots and insider tips at the touch of a button. Collect your personal best-of and save it for later. You will experience your best journeys yet with detailed offline maps and in-depth travel content on your mobile travel companion."