Australian designer Aheda Zanetti has welcomed a ruling by France's top administrative court to overturn a ban on the modest, full-body-covering burkini, a type of Islamic swimwear for women, which has become a symbol of the battle for acceptance that Zanetti says is far from over. "This [decision by the court to lift the ban] gives us some time to educate people," Zanetti told Anadolu Agency (AA) in a phone conversation from her Sydney home on Saturday evening.
"Finally, the French authorities have realized that the burkini swimsuit does not represent anything other than a woman's modest choice in swimwear. Finally, they have listened to us. One of our representatives is in France now encouraging people to learn more." On Friday afternoon, France's Council of State ruled that the ban would be a "serious and clearly illegal violation of fundamental freedoms."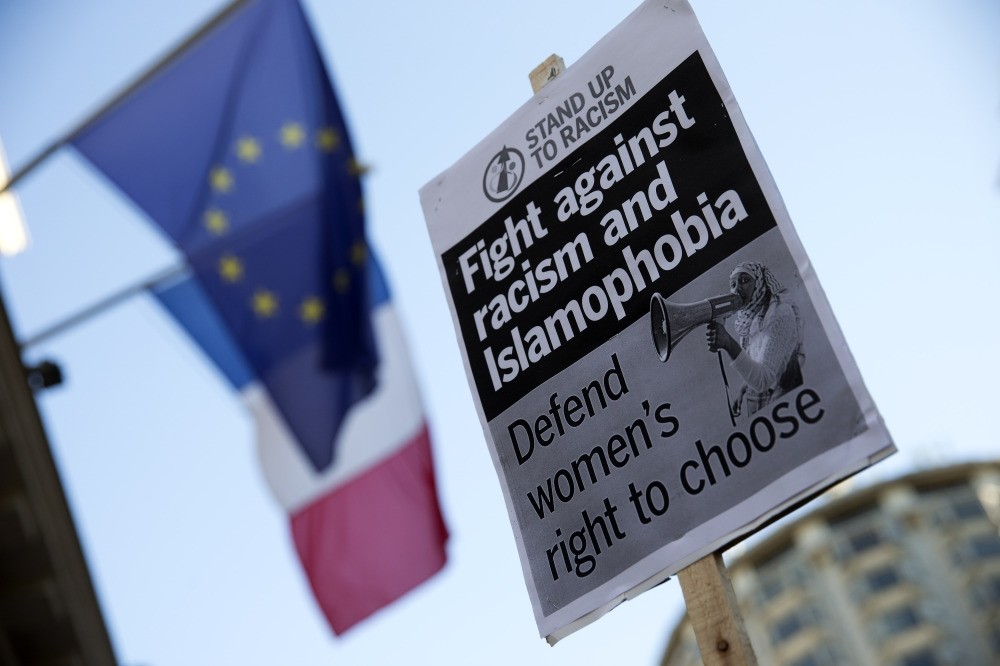 A placard held by a demonstrator at a protest organized by "Stand up to Racism" outside the French Embassy in London.
The ban was subsequently lifted in one town, and while it is widely speculated that this will set a legal precedent for the roughly 30 other French towns that have similar bans, it remains unclear and there is no guarantee that this will happen.
With former Head of State Nicolas Sarkozy joining the April 2017 presidential race in France, promptly telling France's Figaro magazine that "the burkini is a political act, a militant act, a provocation" and vowing to impose a nationwide ban if elected, it looks like the issue will be a hot-button topic for debate for some time to come. France's Prime Minister Manuel Valls has claimed that the country is locked in a "battle of cultures" and that the full-body swimsuit symbolizes the enslavement of women.
Zanetti, who came up with the original design for the modesty-preserving, full-body swimsuit in 2004, calls this outright nonsense: "For you to ban something as positive as a piece of fabric that's supposed to contribute to enjoyment and a happy and healthy lifestyle, body and soul, it's like he's enslaving the wearer by removing freedom of choice," she added.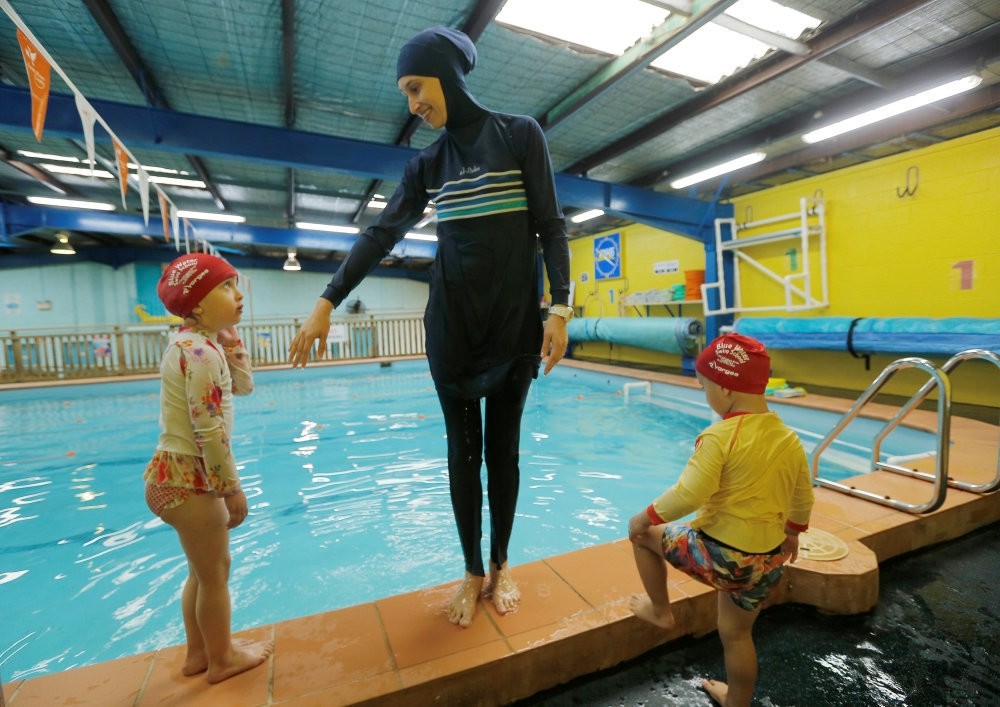 An Australian Muslim swimming instructor in her burkini swimsuit.
Zanetti said that her young nice, who loves playing sports but was previously hindered by "a skivvy [a lightweight, high-necked and long-sleeved garment], tracksuit pants and her hijab." The burkini was thus designed as a garment to suit a modest person, or someone who has skin problems, or new mothers who might feel uncomfortable wearing a bikini after birth.
"I wanted to give women freedom of choice, the flexibility of movement and the confidence they need to participate in any type of sporting activity they want," she said. "The burkini represents the wearer, which could be any woman, not just a Muslim woman, who has a desire for modesty." Early last week, photographs of armed police ordering a Muslim woman on a beach in the French city of Nice to partially disrobe went viral on social media.
On Thursday, a group of Muslim and non-Muslim women held a mock-beach demonstration outside of the French Embassy in London, protesting against the burkini ban. Wearing bikinis and burkinis, the women held placards reading "Islamophobia is not freedom" and "Let them wear what they want."
France's Council of State has also heard arguments from the Human Rights' League and an anti-Islamophobia group. "The [French] mayor and the president were maintaining that the burkini was taking away the rights of women when the reality was the exact opposite," Zanetti told AA.
"This is a product used for health, happiness and freedom. I'm talking about the freedom of choice. He [Valls] talks about the enslavement of women. The first thing that crosses my mind when I hear that is that he is referring to himself enslaving women by stopping us from wearing what we want. "He does not own that beach. Nor does he have the right to tell us what we should be comfortable in. Is it about what he wants us to be comfortable in or what we want to be comfortable in? He is [forcing] a woman to choose what pleases him."
Amnesty International welcomed the court's decision. The human rights group's Europe director, John Dalhuisen, said that the court had "drawn a line in the sand". "The French authorities must now drop the pretense that these measures do anything to protect the rights of women," Dalhuisen went on to say.
Zanetti - who was born in Lebanon, but has lived in Australia for 27 years - says that even though the people have spoken and the court has made its decision, the battle is not yet over. "There has been a misunderstanding regarding the function of the burkini and now this decision needs to be followed up with further discussion. For many of us, Muslim or not, modesty is a big part of our identity."