Local Guddy has one simple goal: To create a marketplace for travelers and locals all around the world. Travelers can search for the city they're planning to visit and find either a licensed guide or a budget-friendly "guddy" as a guide-buddy. Travelers can pay for this unique, more humanized tour online, and enjoy the city. As for locals, they can list their own tours and start making extra bucks while building friendships from around the world without needing any license. It's like Airbnb for the streets of a foreign city. Founded by three young Turkish entrepreneurs, Emre Semercioğlu, İhsan Serdaroğlu, and Cihan Bilir,in July 2016, Local Guddy has quickly been picked up by BIC Angels' acceleration program BIC101. With cash in hand, founders plan to expand the Local Guddy platform through Germany.
"The idea of starting Local Guddy was like a progress of a solution for the problem we faced in our lives, several times," says Emre Semercioğlu, co-founder of Local Guddy. "We were hosting many foreign people at our flats in Istanbul and we were showing them around like their friend and city guide.However, when we had to go to work or school, they were going out alone and wasting their limited time in uninspiring parts of Istanbul."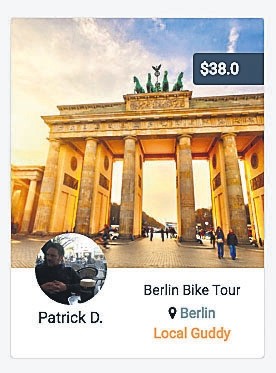 A screenview from the online platform
After the idea formed in their minds, the three entrepreneurs came together and collected their own research by asking many potential users via email about their expectations for this kind of platform. With enough feedback, they wasted no time and started building the platform immediately. After two weeks of beta testing, they went live in mid-July. "At first, we were focused on Rio De Janeiro because of the 2016 Summer Olympics. We first reached out to people who could be a potential guddy through online marketing and email. After we had enough tours in Rio, we decided to shift our marketing to potential travelers to see some interaction between two parties. The results were promising. Now, we are following the same process for Berlin," he said.
As with all venturous startups, the team behind Local Guddy isn't afraid of new challenges: "When we face a problem, we always try to understand its root cause first. We thoroughly watch the user experience paths through our monitoring tools, daily," Semercioğlu explained. "We like to travel the world and we also host travelers, always with an eye on how the experience could be improved. We closely follow all new startups and their technology to discuss how we can integrate it or improve it to make use of it in our platform," he added.Local Guddy now has tours in six countries including Germany, Brazil, Turkey, the U.S., Spain, and Greece. Their next target is Berlin. "Because Berlin is such a city that all travelers pass through if they are doing a European trip and if we manage them to experience Local Guddy in Berlin, they can create similar tours in their cities when they go back to their homes,"Semercioğlu explained.The "gimmick" of Local Guddy is the unique categorization of tours, or "guddy types" as Semercioğlu calls them. This was the core feature that the whole platform was built upon. There are four types of local guides to meet the needs of a traveler in a foreign city: Local Guddy shows the must-see places such as museums and national parks. Food Walker covers the best places to taste local foods within walking range. Pub Crawler is the "Food Walker for pubs", and Hommy Chief who cooks local foods at home and host travelers for dinner or breakfast.
Every app and service can be replaced with a better one. But, a business that depends on its community can't be easily disrupted, says Semercioğlu."We want travelers to meet with locals and see the places, views, taste local foods, et cetera. that they can't find in any travel guidebooks. Locals know the city better than anyone."
Istanbul became one of the major startup hubs of Europe, so living in this city makes young talents unavoidably affected by the startup ecosystem. When you see a friend, who you once worked with at the same table achieve an accomplishment, it makes you proud and encourages you to keep working. Semercioğlu shared his opinion on the growing ecosystem in Istanbul, finishing with some advice for other fellows who plan to jump into startup wagon: "Choosing your co-founders carefully is important because when you fall (and you will fall, many times) you know they will be there to help you all get back up, together."