As an Amazon Kindle user for nearly five years, writing down the benefits of e-books (with my physical pen and paper) is a no-brainer. Sure, you can download the digital edition of your favorite classic or the hotly anticipated sequel to last summer's best fantasy fiction to nearly all any device you own, maybe except the calculator. With a wide variety of supported e-book formats, you can read the thrilling tales of Edgar Allan Poe on your desktop PC, laptop, tablet or smartphone. But an e-ink supported e-reader should be your go-to device if you want the closest experience to reading a physical copy.
E-ink is a paper-like display technology with high contrast, a wide viewing angle and next-to-nothing energy requirements. It provides a high level of readability and comfort to your eyes that is beyond compare to any smartphone or tablet can ever produce. The rather crowded e-book reader market is entirely built upon this technology. Amazon uses it for Kindle, Barnes & Noble uses it for Nook. Kobo eReader, Sony Reader, PocketBook Reader and so on. You can even see this technology on some smartwatches. Aside from the e-ink technology, e-book readers evolved with new technologies like adaptive backlight, storage that has enough place for hundreds of digital copies, easy ways to search and download the books, batteries that doesn't need charging for weeks, keyboards for taking notes and even text-to-speech (TTS) support.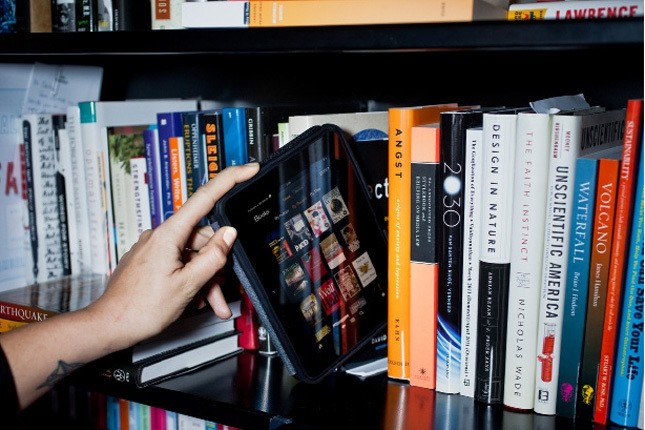 There are a myriad of reasons to go for an e-book reader, but somehow, it's taking a lot longer than expected for e-books to become mainstream. Even millennials choose printed copies over e-books. Why? According to Deloitte TMT Predictions 2015, one U.K. study found that 62 percent of 16-24s prefer buying print books over eBooks because they like to collect, "like the smell" and "want full bookshelves." In the same paper, nearly half of 16-34 year-olds agreed that eBooks will never take the place of real books for them. In an age where the youth think it's cool to share a picture of a book with a cup of coffee (or tea) next to it on Instagram, it's safe to assume that printed books sales doesn't equal to printed books reading. But that's a story for another day...
Turkey is late to the game, but it has its own trump
As a country with a young population, Turkey is seeing some traction on the e-book market, too. While the market share of e-book sales are still very small, the increase between years is worthy of notice. Yes, it might look like the U.S. e-book market from five or six years ago, and the total revenue is lower than 5 percent of the entire publishing industry. But with rising competition in this field that includes publishers, app stores, and even cellular operators, the e-book trend is rising slowly but surely. High mobile adoption in the country is one of the driving factors for the growth of the e-book industry.
Market research firm Global Web Index says during the first three quarters of 2014; Turkey was in the top 10 among 32 countries in terms of online e-book sales. Around 23 percent of online shoppers bought an e-book during this time. This data covers 465,000 internet users who go online every day and use internet for at least one hour.
A teacher from Van was the first buyer of an e-book in Turkey on April 15, 2010 according to Idefix, an online bookstore and one of the major e-book publishers in the country. Now, there are more than 14,000 e-books that are published by over 300 publishing houses. The digital books can be bought from online bookstores like Idefix, D&R, Babil, or from mobile applications of service providers like Turkcell, Vodafone or Turk Telekom. With the stable growth, everyone wants to be in this game, even if it can still be considered in its infancy. Lower tax rates and protection technologies like Adobe DRM makes the e-book market an exciting area.
It is now obvious that e-books won't "kill" printed books anywhere in the world; hard copies are there to stay. But an instant delivery, ease-of-use and lower prices will surely come in handy for readers, authors and publishers.