In Istanbul, a forest watchman's life is somewhat desolate. Residing on the tops of hills to monitor forests on a 24/7 service, forest watchmen are assigned to observation towers, leaving the city life behind with their families.
For some, this task may sound like a very tranquilizing one, as living in the woods, surrounded by nature is what many city dwellers dream of. On the other side, some creepy drawbacks emerge as there are literally no neighbors and friends around, dismissing guard dogs and birds flying over.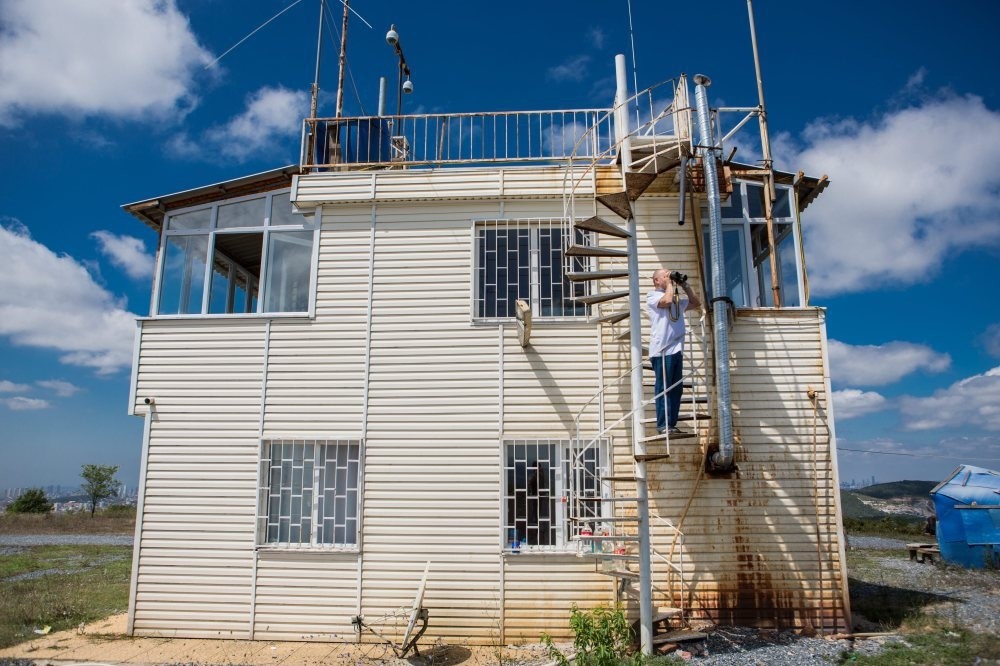 The greater Istanbul area houses more than 260 hectares of forested area, covering the city's 49 percent. Almost all forests are controlled through over 25 observation towers and more than 40 teams with 270 employees are on duty, especially during summer months when forest fires are at their peak.
The Çiftçi Family, who moved to Istanbul from the northern Sinop province about 10 years ago, lives in Taşdelen, a neighborhood in Çekmeköy, an outer district on the Asian side. Yılmaz Çiftçi is a dedicated forest watchman working in the Taşdelen Forest. "A tree allows a dozen people to breathe. I protect forests, but I also protect people's lives," he said.
To find out what a forest watchman's life looks like, Çiftçi hosted Daily Sabah at the Taşdelen Forest. After a 10-minute trip in the woods in the company of Turgay Deligöz, a forest engineer, the observation tower appeared, from which, the whole area is clearly seen.
Holding binoculars and a walkie-talkie in his hand, Çiftçi has only one friend in the forest, his Kangal dog named "Paşa" (Pasha). Çiftçi can understand someone is coming or something happened from Paşa's barking. With his wife Fatma Çiftçi, he lives in the two-story observation tower. The first floor is their house and the second floor is exclusively designed as a workplace where Çiftçi is in constant contact with other towers and monitors in the area.
Answering a question about living in a very remote place, Çiftçi said he rests his head, as everywhere is quiet there. "I have been living here for the last 10 years. There is no one here except my dog, rabbits and chickens. Three months ago, we had my daughter's wedding here." For him, loneliness is the biggest disadvantage. "Urban life is the hardest one," he added.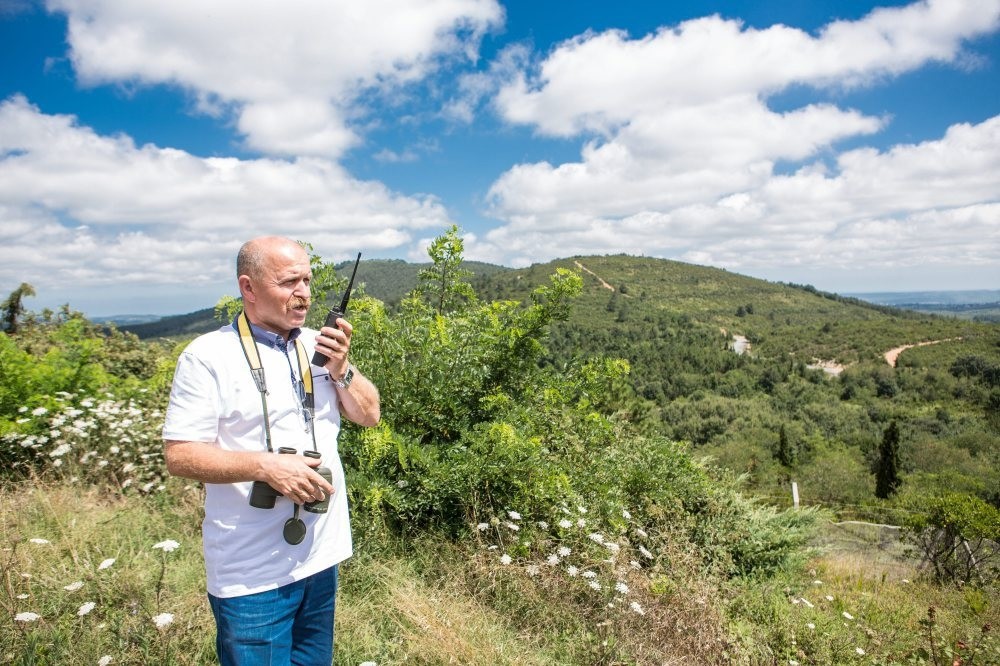 Every day, Çiftçi wakes up at 4 a.m. at dawn and listens to the bird calls, which mean a lot to him. "I feel myself rejuvenated every day as I live in the woods. Everything I eat and drink is organic. That's a big advantage. I only go to the town to buy bread."
Quitting the "normal" life to go live in the woods is distressing for Çiftçi's wife, Fatma. She does not agree with what her husband thinks and has complaints. "I have been here for 10 years and every winter is another challenge for me. I cannot drive so it is hard for me to go to the town," she said.
"When I feel bored, I cannot go somewhere else as there are no neighbors here. Living here is dull. Even guests hardly joined my daughter's wedding ceremony as the terrain is hard to access." Fatma also said her daughter used to go to high school from home and transportation was always hard.
During holidays, their grandsons and granddaughter are in a rush to go to the forests, though. His grandson Efe Çiftçi said, "This forest is our playground. I am afraid of playing outside in the town center. There are cars and the traffic is dangerous. I feel free here and play as I wish."
Forest watchmen have scheduled working hours, yet Çiftçi said he will stay there even when he is retired. "When a fire breaks out I understand what happens, as the smoke's intensity says a lot," he continued. A dark smoke rises when someone burns tires, while yellowish smoke covers the air when big trucks pass along. If the smoke is grey, then Çiftçi notifies the fire extinguishing team.
In the last few years, the Forestry Ministry has placed high-tech cameras to ease forest monitoring. However, Çiftçi said forest watchmen can do more than these devices. "All this greenery is a gift for us. Just keep in mind that a destroyed forest can renew itself in 15 or 20 years. It is a very long period so we should look after them properly," he said. He later left, as he needs to check the area during certain hours.
On the way back to the city center, Deligöz said that all forest watchmen treat trees as family. The Forestry Operation Directorate is responsible for the forests' infrastructure, roads and bridges passing over the forests. "The fire risk is high in summer months. Fast response is possible but locals should respect greenery areas and look after them," he said. After a notification comes to the directorate, a first responder vehicle is transferred to the area. "A fire's intensity is changeable. In a forest where maritime pines are high, then they burn slowly if a fire breaks out. On the other side, we immediately supply water both over air and on the ground if Calabrian pines are burning."