Not a single day goes by without the introduction of alternative techniques soothing our souls. Therapies offering remedies to take care of your soul, books, and training classes focused on this subject are now a part of our life like they have never been before. I would like to tell you about a few experiences I had about these therapies.
The first one is the recent trend, namely breathing therapy. Many people go to breathing therapy and share their experiences with great enthusiasm. I met Merva Onur, one of the experts in this field, by coincidence. She is a real breathing therapist. She believes that adapting to the flow of life will make you understand its reality. This philosophy is defined as the "Art of Being," and is based on breathing properly. Most of us do not breathe properly according to Merva, who provides training on breathing under the umbrella of trademark GEACITY. Oxygen is the basic need of cells. Oxygen makes our body - our organism - come in contact with nature. It grounds your body. Your body inhales good energy and exhales the negative energy.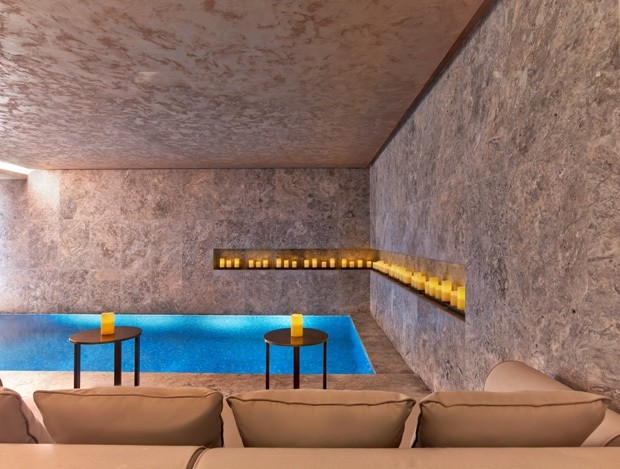 Emphasizing that breathing has importance attached in both the Quran and in the philosophy of Mevlana, Merva invites everybody to discover the importance of breathing. Last week I attended one of the training sessions organized by her at Limak Hotel in Yalova. It was amazing. During the therapy, you inhale deeply through your mouth. Not nose. However, the real show starts 20 minutes later. Your body comes in contact with oxygen which eventually leads to purification. You experience a feeling like being in your mother's womb when you do the same in the water. The "Art of Being" suggests that mother's womb and birth conditions determine the quality of our current life. Therapies in the water help you get rid of negative energy from that period that is kept in your subconscious. According to Merva, the subconscious is the controller of our brain. So, by clearing your subconscious it allows you to experience less problems in life. I recommend you to visit www.geacity.com and start breathing therapies at the earliest opportunity. You can solve childhood problems, reduce stress and even stop smoking with these therapies.
Another recommendation that would heal your soul and body is the detox program done by the St. Regis Hotel in its Iridium Spa. The program is a perfect option if you cannot join detox programs out of Istanbul or abroad. I recommend you to do it at least two days a week. Your day starts with body fat measurements. Therefore, you must go to the hotel without eating anything. A program is designed based on body fat ratio and your height, age, gender and weight. Then you are served a breakfast that will activate your digestive system. The menu consisting of parsley, green tea, fruit yoghurt, a spinach omelet and cheese is very healthy. Following this light breakfast, you go for an enjoyable walk together with your trainer from the St. Regis' fitness center to Maçka Park across from the hotel. It is like a paradise in the middle of Istanbul! After exercising in the park for 20 minutes, you return to the hotel and start a relatively heavier exercising program in the fitness center. I recommend you to use sauna, steam room and showers after cardio and weight lifting exercises that last half an hour. Please note that perspiration is important for detox.
A special massage session starts following the aforementioned sessions for the purpose of opening your lymphatic ducts. This massage aimed at your lymph nodes has been one of the most beneficial massages I had so far. It accelerates blood circulation and digestion and improves the strength of your immune system. The spa a the St. Regis is excellent in its decoration and service. Lockers coated with suede, indoor swimming pools and cozy resting areas offer real therapeutic effects. I recommend you to visit, especially the tea corner serving numerous tea varieties from white tea to orange tea. Lunch options are offered after the massage. I chose a quinoa and goat cheese salad and a vegetable smoothie. It was very delicious. I really enjoyed the roasted goat cheese. You can have a small rest after the lunch and continue exercising and enjoy your detox day drinking plenty of water. I would like to express my compliments to Sündüs Ediz Kibar, the manager of St. Regis Hotel and Spa, for the services they offer. And in general I would like to congratulate the hotel's manager Rui Reis for his effort to keep St. Regis as one of the best hospitality spots of Istanbul.
And here is another soul pampering suggestion. Skin care at Sanda Spa is another therapy I would like to recommend. This care program is extremely natural as cosmetic products are not used. A bowl full of cucumber slices is used to clean your face. Cucumbers acts like a tonic and both clean and refresh your face. A facial care program using lemon, orange, honey and starch is applied and revitalizes and nourishes your skin. Try it at the first opportunity.
In addition, Sanda Spa has developed a massage program called Runners Treat. It is a very unique massage applied by using lemon oil and warm ginger pouches. It is ideal especially for those who exercise regularly. This massage applies deep pressure on muscles. It is a relaxation and care massage for muscles. I recommend it to those suffering from problems in their leg and foot muscles. This massage recommended by Hillside City Club running coach and national athlete Ozan Demir, and is ideal for those who like deep massage. The esting area of Sanda Spa in İstinye Park is also very nice; I really like the statue of the woman next to the swimming pool and the real fireplace. Its interior design is very original. Small pebblestones on the walls prove how carefully it was designed.
My final recommendation is a book. "The Four Agreements" by Don Miguel Ruiz deciphers the secrets of ancient Indian shamans. The power of ancient information known as "Toltek" is revealed. The book telling about discovery of the nature and bonds with the God is very inspirational. "The Four Agreements" offer a powerful code of conduct that can rapidly transform our lives into a new experience of freedom, true happiness, and love. The rules are simple: "Be impeccable with your word," "Don't take anything personally," "Don't make assumptions" and "Always do your best." I am sure this book will speak to your heart.
Tips of the week
Top 3 Venues of the Week
- Hudson / Arnavutköy
- Private Reason / Bebek
- Dirty Hands / Akatlar
Top 3 Hotels of the Week
- St.Regis / Nişantaşı
- Sumahan / Çengelköy
- Wyndham / Kalamış
Top 3 People to Follow This Week
- Banu Altay / Interior Architect
- Hatice Aslan / Actress
- Doğukan Çiğdem / Artist