Noera Ayaz has actively served the American Muslim community for the last two decades. A graduate of Brown University's Mechanical Engineering Department who received her Doctor of Law degree from the Columbia Law School, Ayaz is a prime example of social engineers similar to sociologists. She works hard to empower women and young people in hopes to bridge the gap between cultures under the group of "Women in Islam" as the director. By helping the local community, Ayaz inspires projects for Muslim women to enhance their relations with the Muslim community and the public sphere; namely in mosques where Ayaz believes women should be allowed to move freely and comfortably during prayers they attend with their children, such as the Tarawih prayer, free from the social conflict and discrimination typically directed at women with noisy children in mosques.
Ayaz has traveled around the world and visited countries including Japan, Malaysia, Saudi Arabia, Thailand and Turkey. Her travels have allowed her to get a first-hand look at the challenges faced by women in the Muslim world. As a married mother of two children, the issue affects Ayaz on a deeply personal level and so she was able to mull over the details of her discoveries while gaining a deeper understanding for women in the Islamic world.
As an attorney, she has represented Muslim women who were victims of abuse, providing pro bono legal counsel and helping them obtain legal immigration status. Ayaz was awarded the Sanctuary for Families Award for Excellence in Pro Bono Advocacy for her work with abuse victims.
Speaking to Daily Sabah ahead of the 2nd International Women and Justice Summit this week, Ayaz emphasized that the democratic system must be interrogated and the democratic systems must be overhauled to protect women's rights.
"In the U.S., although there is a democratic governmental system, women are still fighting for equal pay for the equal work they do alongside their male counterparts. There is also an alarming number of sexual assaults in the workplace. One in six women in the U.S. are the victims of attempted or completed rape in the course of their lives. More than the political system, the underlying attitudes towards women must be respectful and dignified," she said.
Ayaz said that the message of the Quran for women is honor, dignity, respect and spiritual equality. She pointed to a hadith of the Prophet Muhammad as well as Quranic verses which address the rights of women, "A'ishah (May Allah be pleased with her) reported that the Messenger of Allah (peace be upon him) never hit anything with his hand; neither a servant nor a woman but of course, he did fight in the cause of Allah."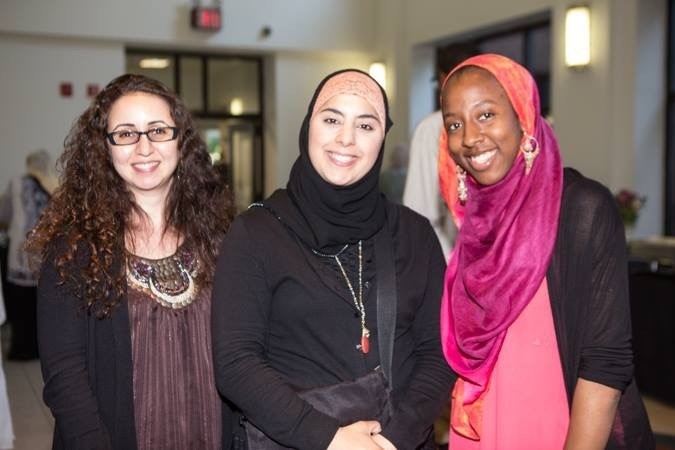 She also says that in the Quran, gender is not a criterion upon which Allah valorizes human beings. According to Surah 16 verse 97, "Whoever does righteous deeds, whether male or female, while he is a believer - We will surely cause him to live a good life, and we will surely give them their reward [in the Hereafter], according to the best of what they used to do."
One of the top projects of Woman in Islam is to enhance relations between women and mosques. Ayaz said that many women do not feel like they belong in mosques. Her concerns take into account the relations of Muslim children with the mosques and Islam especially in Western countries where they are considered migrants.
"They are not allowed in some mosques, and if they are allowed, they are given inadequate and poor facilities. Particularly in the West, if women are not welcome in the mosque, they will not be able to attain Islamic literacy. If women are not learning about Islam, their children will lose their religion. It is a matter of faith and our mosques need to improve their relationships with women. If not, we will lose the next generation," she said.
Ayaz told us that violence in all of its forms is a huge problem for women all around the world. She says women are the bearers of the pain, trauma as well as the horrors of war, domestic violence, and crime. So, 'Women in Islam' launches special projects, especially for women of war. The founder and chairwoman of Women in Islam, Inc., Aisha al-Adawiya, is a trustee of the Forum for Promoting Peace in Muslim Societies.
"We have been promoting the Marrakesh Declaration to help bring peace and security to more of our world," al-Adawiya said.
Muslims have a lot of work to do
Ayaz points out the difference between the perspectives of Islam and feminism toward women's rights. She says that Islam promotes feminist ideals and Muslims would not like for outsiders to impose their own ideals on Muslim women.
"There are overlaps between the feminist ideal and Islamic principles. For example, feminism seeks economic and educational equality for men and women. Islam has already addressed and solved this issue. Muslim women have the right to complete economic independence and equal pay for equal work. Additionally, there is no doctrinal impediment for Muslim to attain an education. In practice, Muslim societies do have a lot of work to do," she said.
Need for better maternity leave policies
Equality between men and women is promoted by many women's rights' activists. However, if the difference between women and men is accentuated, sometimes that would be better for a working mother to consecrate more time on her children and balance between their family life and professional life.
"When we forget about the difference, the capitalist system ignores the characteristics of femininity; notably, maternal characteristics, and women are left grappling for ways to properly raise their children. Actually, women around the world need better maternity leave policies. No mother should have to choose between spending the first years of life with her baby and having a job," she said.
Ayaz noted that policies should aim to ease the burden for women who try to spend more time with their children during the first two-to-three years of their child's life, while also providing job security.
Islam treats women with great respect
As she had the chance to visit many countries, Ayaz had the opportunity to observe women and how women's rights are applied in Western and Eastern cultures, as well as in other religions. Preferring to thrust the urgent needs for improvement to the fore, Ayaz believes that Islamic culture treats women with great respect, despite the negative examples of this propagated by the media.
"Every country has good examples and bad examples [of what it means to be a woman in Islamic and non-Islamic societies]. I believe that Islamic literacy and general education, economic stability and healthy family relationships all contribute to the development and sustainment of ethos that respect women," she said.
After visiting Turkey, Ayaz got a good impression of Turkish women that she wanted to share with Daily Sabah. "I see Turkish women as strong, pious women who are faithful to Allah, warm and professional," Ayaz said.
She also asserts that Muslim women should look to solid female figures as role models, such as women who lived before and after the Prophet Mohammad. "Be strong in your faith, have taqwa (piety), connect with the Quran and the prophet, work hard and stay humble. Study and learn from great Muslim women like Aisha bint Abu Bakr, Lady Khadija, Fatima al-Fihri, and many others. These are your role models," she said.
Noera Ayaz will talk about Women in Islam during a session titled, "Ways of Fighting against Discrimination and Violence against Women" on the second day of the 2nd International Women and Justice Summit. The gathering, held by the Women and Democracy Association (KADEM), will take place from Nov. 25-26 at WOW Istanbul Hotels & Convention Center in Yeşilköy. On Nov. 25, the U.N. will also mark the International Day for the Elimination of Violence Against Women.