Turkey's southeastern province of Gaziantep has been one of the most affected actors in the Syrian civil war after millions of civilians fled the brutal campaign of Bashar Assad that broke out in 2011. Gaziantep is by far the most developed province in the southeast, which had a population of around 1.5 million prior to the refugee flow.
Civilians started to flee and Turkey did not hesitate to welcome the innocent victims. Many found safe haven in Gaziantep, but the crisis has not stopped yet. According to the official figures, there are more than 400,000 Syrian refugees taking shelter in the province. However, it is estimated that over 500,000 Syrians actually live in Gaziantep.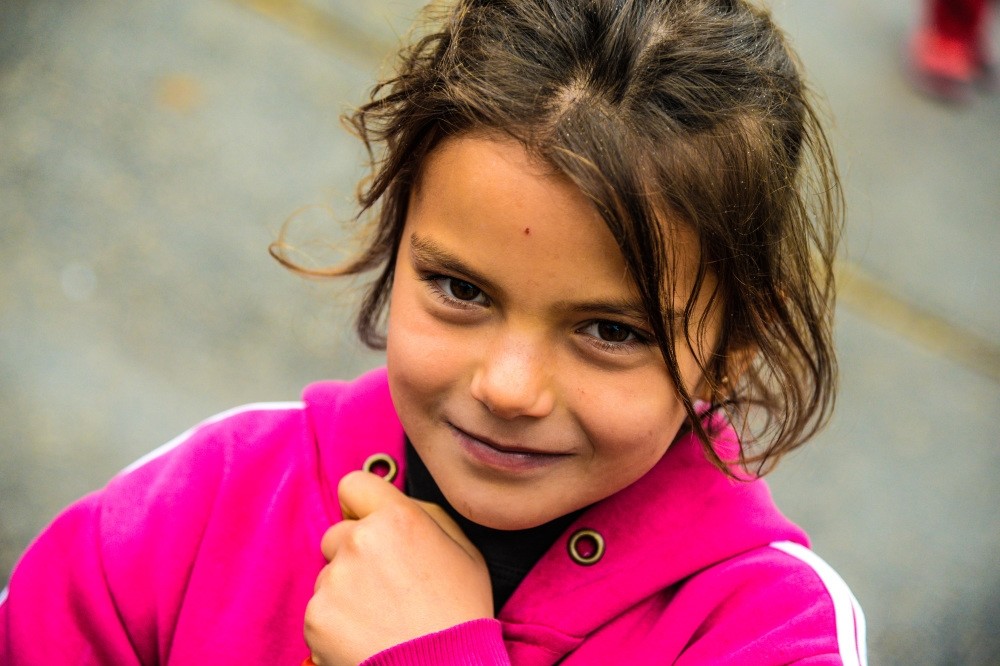 The number exceeds many European countries' number of refugees combined. Despite its relatively decent volume of trade and business network, the responsibility for more than 500,000 refugees is unbearable for a city anywhere in the world.
Speaking of the figures, there are currently around 110,000 children who are at the age of education in Gaziantep. Gaziantep Metropolitan Municipality has been trying to not lose track of the children and provide whatever is necessary for the refugees.
More than 65,000 of the 110,000 are lucky enough to be educated in schools. Still, there are tens of thousands left in the lurch.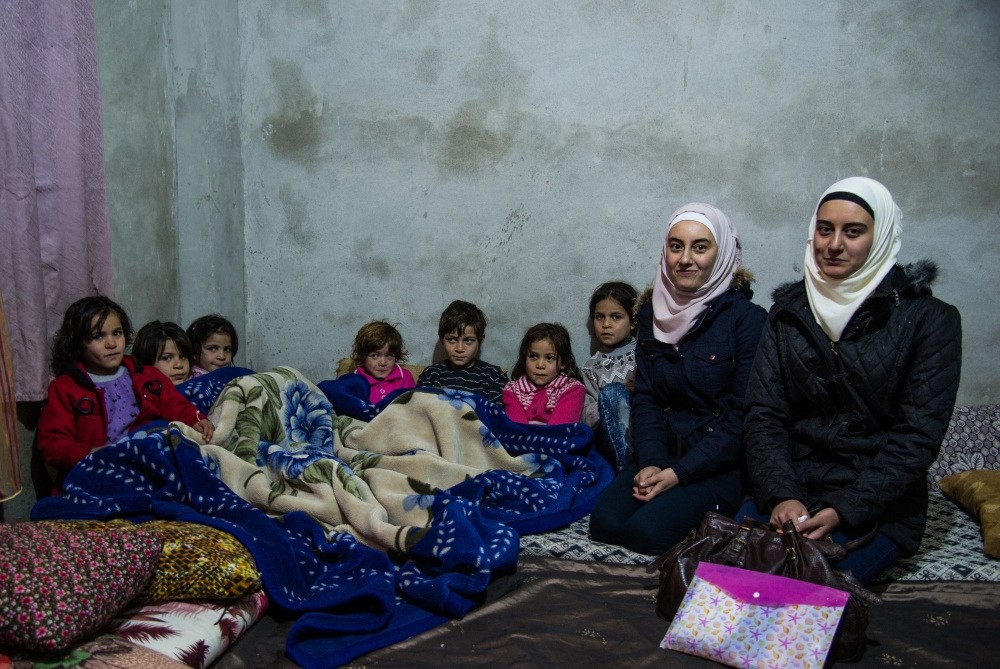 Salih Açıkgöz, who has been assigned to a sub-unit in the Gaziantep Municipality as the main person responsible for Syrians in the province, came up with an idea to set up a private tutoring institution. The municipality allocated a small building in a suburb for Açıkgöz. Only a couple of Syrian children were what he could convince at the beginning.
Açıkgöz recalls those times. "I found a young Syrian teacher who would voluntarily teach kids something. Then there were a couple children. Suddenly, the word spread in the neighborhood. Next thing I know, there were scores of students knocking on my door," he said.
Currently, there are 650 registered students at the Ensar Community Center. However, there is only room for 360 for the time being. "God willing, we will expand our building. There are ongoing works to have extra classrooms," he said hopefully.
Some of the children come to the Ensar Community center because they cannot attend the state school due to several problems. Not having a legal ID is the most common problem. Others come to classes because they have a lot to cover before reaching the level of their Turkish peers.
Apart from Arabic, Turkish, English and Math classes, children attend painting, drama and computer classes as well. Açıkgöz tells me how he accomplishes all these things without being funded by the municipality or the government.
"The municipality only pays our electricity and natural gas bills. The rest is on me and those who donate. Firstly, we love what we do here. That is the key to everything," he sighed.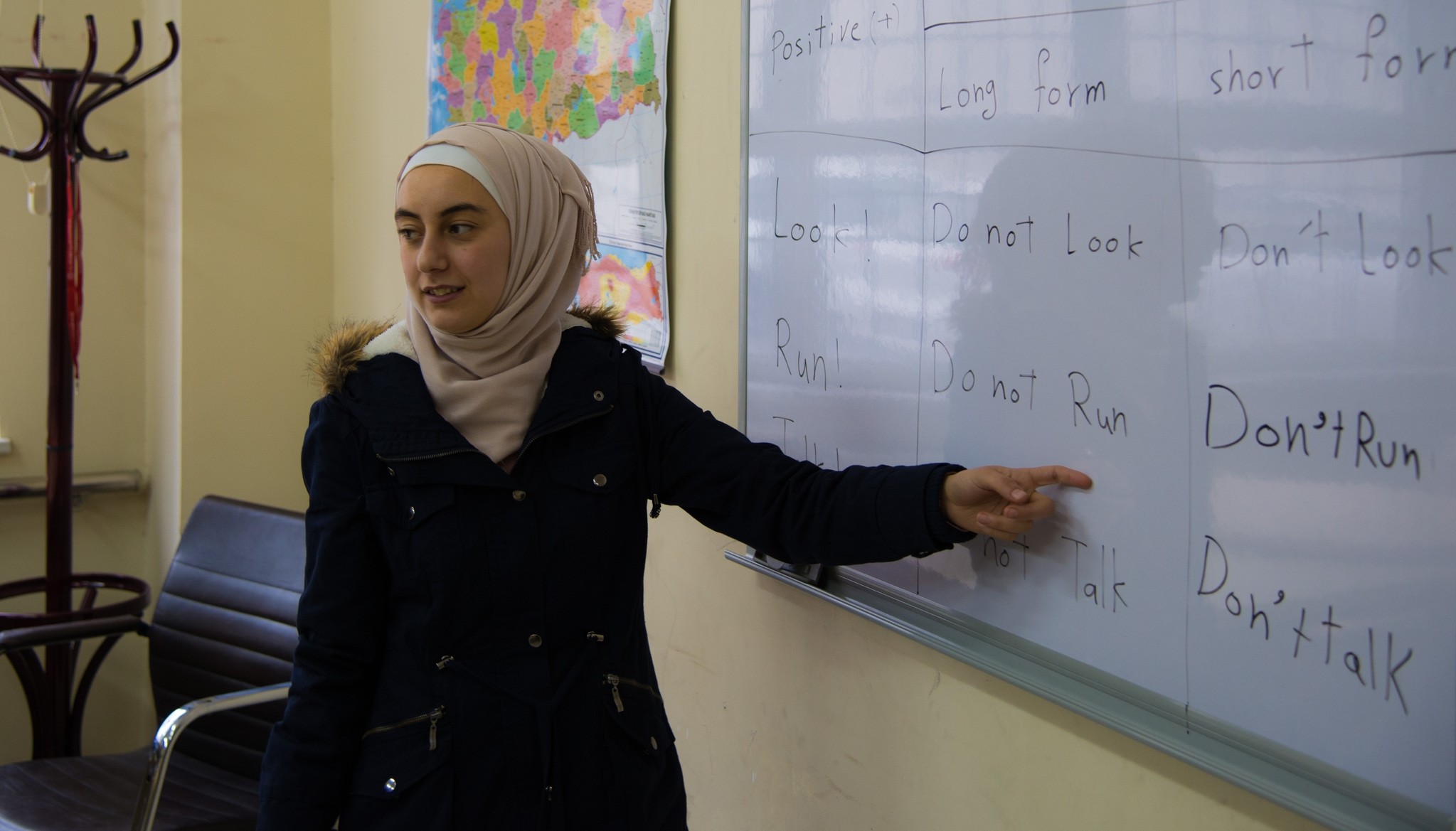 There were three young women teaching in different classes. They were decent enough to welcome me and let me photograph the class while they were teaching. Later on, we sat and had tea and talked about why they voluntarily help the children and how they ended up in Gaziantep.
Şehed el-Ubeyd is an 18-year-old girl from Aleppo, who came to Gaziantep two years ago after airstrikes were too much for her to bear. She speaks broken Turkish although she understands everything I tell her. "Two of my siblings fled to Germany while two others came to Turkey with me. I set up a new life for myself here," she said.
Şehed remembers the bombings in Aleppo, or as she said, she "never forgets." Her parents are both doctors, who worked in Aleppo to save civilians being bombed by the brutal Assad regime. "I once thought during a bombardment at night that I was dead. Life was nearly over for me there," she said, and then stopped.
I asked Şehed why she comes to the Ensar Community Center week in week out to teach children English voluntarily. "Because I love it," she quickly responds. "The kids have not been educated for years. I want to do something for them. At the very least they should have a chance to be something in the future," she hoped.
It has been more than five years since the civil war in Syria began. Even though we are five years into Assad's brutal campaign, nothing seems to have changed. Over the course of the last two weeks, nearly 1,000 people have been killed in airstrikes carried out by the Assad regime and Russia.
I turn to the other two teachers, who I thought were sisters due to their nearly identical faces. "We are sisters," said 26-year-old Siba Hemşo from Aleppo. Siba found shelter in Turkey two years ago. "I was a teacher there as well," Siba said.
Siba burst into tears a couple seconds after I asked about her time in Aleppo. "She is very sensitive on this issue," said Siba's sister Nur told me.
Twenty-two year old Nur fled to Turkey a year after her older sister. "I was working as a pharmacist in Aleppo. I was in the most dangerous zones of Aleppo where clashes were the most intense. I had to save the innocent," she explained.
She remembers very well when she gave up the fight. "Airstrikes were quite heavy one night. One hit our underground clinic. It was a complete mess. I felt like I lost all my desire to defy the war," she said.Nearly 1 million Syrians are living under Assad's siege. The figure was at 487,000 six months ago. Since July, 275,000 more people have come under siege in eastern Aleppo alone. Stephen O'Brien, U.N. under-secretary general for Humanitarian Affairs and Emergency Relief Coordinator, briefed the U.N. about the situation recently.Nur had to make a choice. She could stay and try to survive in the face of Assad's and Russia's ruthless airstrikes or flee. "It was only God being there for me, and then there was Turkey. I knew I could leave for Turkey, which I did," she said.
She is just another Syrian who has nothing in her mind at all about the future. There are currently more than 3 million refugees taking shelter in Turkey. As it remains unknown how long Assad will retain his post and carry on with his bloody campaign, more and more Syrians are compelled to consider themselves to be citizens of this country.
Having seen that his idea to found a private tutoring institution has become a legend in the neighborhood, Açıkgöz has now set his sights higher. "I am currently working on a new project for disabled Syrian children," he said with excitement. His new project is just in need of funding and donation, as far as he is concerned.
We left the Ensar Community Center to visit a family of 14 living in the neighborhood. The mother of the Dervish family, Fawziya, greeted us in front of the door. The weather is freezing cold so we had to go inside quickly.
Inside the house I saw seven children trying to cover themselves under a blanket due to the freezing weather. The three teachers accompanied me to the house. The children ran toward their teachers in joy. "I love my teacher," said 8-year-old Halil.
Fawziya expressed her happiness over the community center. "Thanks to the center we see our children receiving education. It makes me happy to see them learning something despite all the burden I carry here," she sighed.
Even though the resources are limited for Syrian refugees and a big part of the world turns a blind eye to their misery, a community center that started as one man's humble idea in a suburb has made change in the lives of hundreds of children.