Covered with a small blanket, a grey cat in the arms of a style-conscious man passing through the bohemian quarter of Cihangir district in Istanbul on a cold winter day may make you wonder: Are all cats this lucky? Obviously not, but some are luckier than the others. For four stray cats named Daisy, Romeo, Pattis and Sasha, the privilege of great compassion shown to them by a British expat residing in Istanbul for the last ten years gives them a cozy winter refuge.
Having been subject to many articles so far, the city's feline fetish ranging from mild to passionate obsession is beyond words. Also deriving from religious ideals on tolerance to animals, the feral cat population enjoys help from local non-governmental organizations (NGOs), municipalities and other humanitarian groups nation-wide.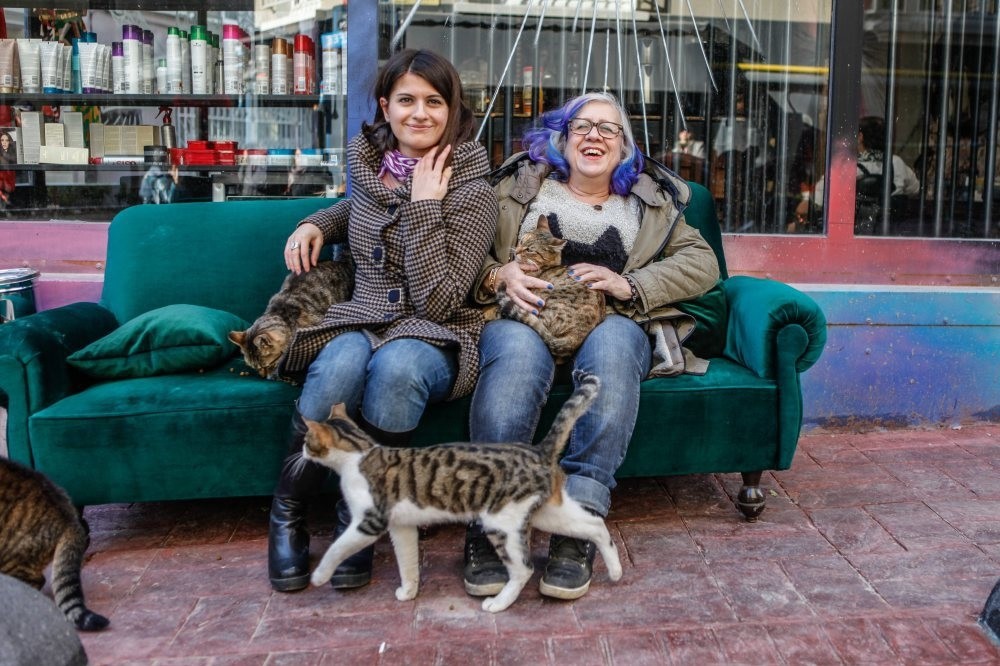 In Cihangir, locals often leave food and water out for the street cats to enjoy. Some restaurants have a relaxed attitude towards the feline population and actively encourage them to take part in dinners. It is still important to remember how much effort has been put in to protecting and saving these cats, and other street animals, from potential risks and difficulties. While praising a Facebook campaign gathering supplies for them or tiny water containers placed on sidewalks, it is essential to remember the great contributions people have made in order to safeguard these animals.
A retired teacher named Hilary Sable approached our meeting point, a cozy cafe called Tea or Coffee in Cihangir, with stray cats following her the whole way. Her love for cats was evident in the necklace she was wearing, a sequence with the image of a cat's paw and a jumper she had on with a cat embellished on the fabric. A London native, Hilary's journey to setup the networking group "Cihangir Cool for Cats" began after she lost one of the kittens she had rescued.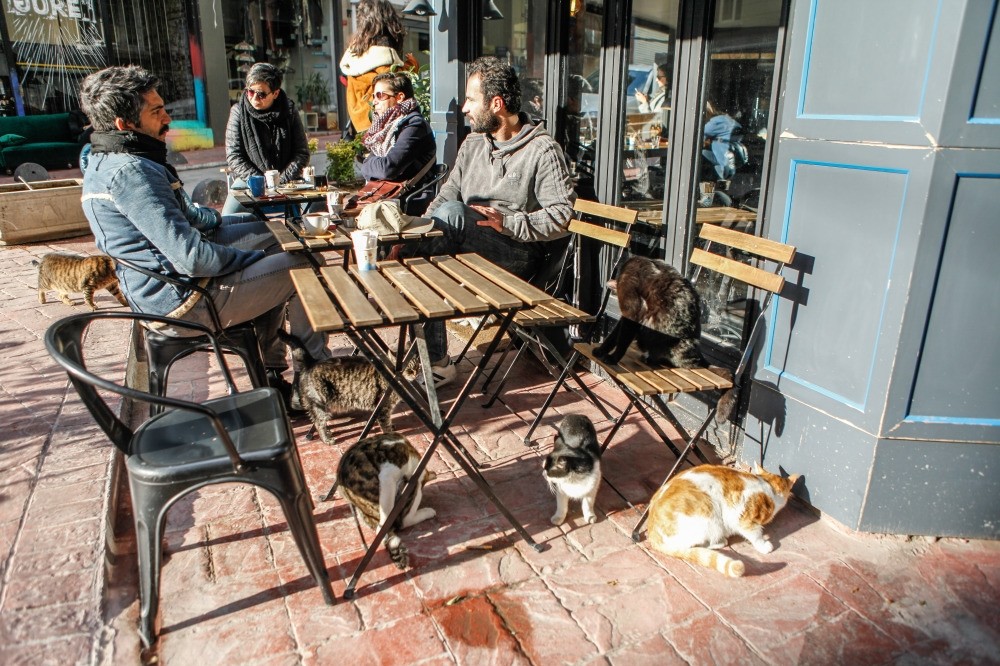 "I searched for her for 10 days. I was so upset. [Until] I found her, I had been looking at every street cat, every garden cat. I began to realize that even though I rescued two stray cats, there is so much I could be doing. That's how this project started," she said.
The self-funded "Cihangir Cool for Cats" network has been operating since 2010 under the mission of helping stray felines. The organization relies on donations to continue its rescue project, adoptions and foster home care for felines.
Our chat with Hilary was continuously interrupted by stray cats that cheerfully popped up on the table, some even coming to sit on our laps. Acting like a mother to these cats, this British expat catered to the individual needs of these animals with unwavering enthusiasm. It was quite clear that the cats had already become a huge part of her daily life.
"There are lots of people like me all over the city, all over the country and we are helping each other. This is what is so great about the group. If someone needs some medicine, we can help," she said.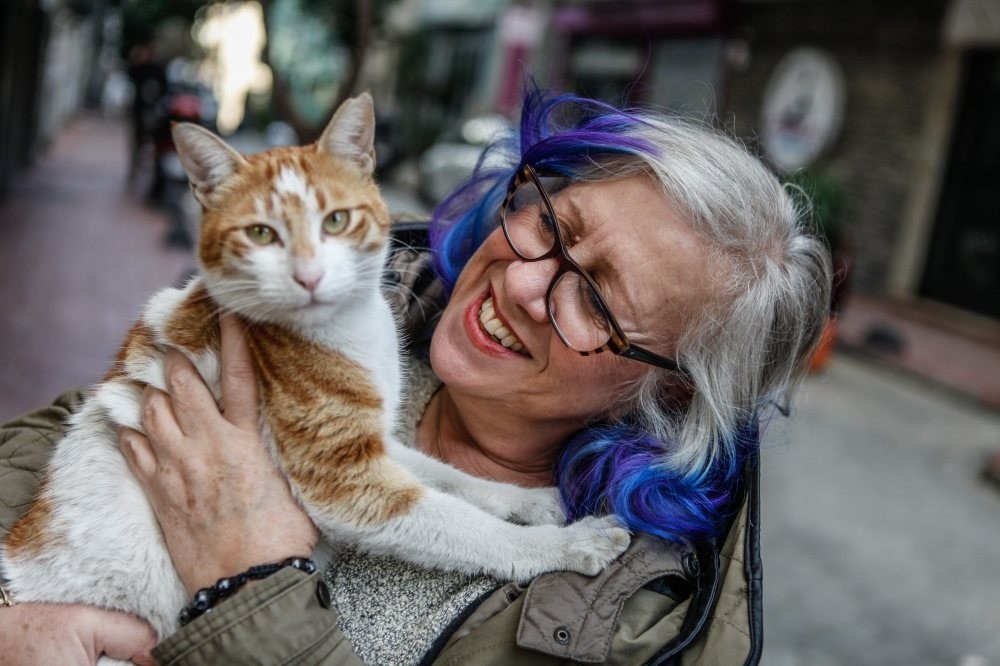 "Cihangir Cool for Cats" has a member network of more than 4,000 people including both locals and expats. This year, they have neutered and spayed several hundred cats and have also rescued and relocated thousands of felines to new homes. "We [find homes] and send animals to Germany, Finland, the U.K. and the U.S.," Hilary said.
Not everyone feels so charitable towards the street animals, however, and the group is in a constant battle to fight ignorance. Two veterinarian clinics in Cihangir and Beşiktaş's Dikilitaş neighborhood work with the group to provide medical treatment to these animals. Hilary pointed out that they also receive help from the Beyoğlu Municipality which provides medical assistance.
"They help with spaying and neutering. They are doing great job. They are just fantastic, such lovely people but their budget is small and limited. If an animal needs antibiotics or vaccine, then the group has to come up with its own resources," she said. "What I [do] to generate the money to pay for the needs for the animals is hold a 'quiz night' every month where people come. They also donate food." The quiz night shows, which sometimes include karaoke, are charitable fundraising events and all profits go directly to medicine and food for the animals.
Asking what kind of protocol they follow while helping the animals, she said, "If I find it, I go straight there. It is a support network. Unfortunately not all of them are hands-on. The people that get their hand dirty are a small percentage. There is always a core group that gives continuous help."
Cihangir Cool for Cats has also taken an active role in rescuing animals from Syria's war zone. In a country where war has spared no one -- even animals -- the group rescues cats and treats them for wounds inflicted by bombings and rescues animals abandoned by families fleeing the conflict in Syria. "[There are] two specific situations where we have directly provided help. First, in the case of a refugee family who fled to Canada. When the time came, the agency made proper arrangements but they said they could not take the street cats they rescued there. This was very sad to them. Almost at the same time they found [a] group to find homes for these wonderful cats. So many people responded and we held fundraisers to get them to their families. It was such a pleasure. [We helped] two get to California and one to Canada to reunite."
It is not just Hilary that has helped out the street cats in Cihangir. "I put the boxes there but they took them out," a middle-aged woman began to furiously call out while we were chatting. A Cihangir resident for more than 10 years, Miray approached us to talk to Hilary.
"I do not understand why they removed them. I was taken aback," she reiterated. As Hilary stated earlier, Miray is not an exception, there are many Turkish women giving effort to save street animals. A local butcher scatters scraps while Osman, another elderly man we met on the street, takes care of the cats nearby.
Sadly, there are some problems that the group members and locals encounter like stolen cat houses or careless drivers passing very fast on narrow streets with the risk of hitting the cats. In Cihangir, there are five animal homes, the one in the garden of Hilary's house is home to around 30 stray cats and she never passes a day without feeding them. "The guys [cats] in the garden only rely on me," she further said, while showing us around. "It is not all positive; there are cases where the cats or dogs are mistreated."
On certain days, groups of students from various schools come to the neighborhood to play with the cats while learning about animal protection. "Mostly, the students are very nice. We show them around. We publish educational leaflets," Hilary noted, grieving that many children had not even touched street animals until now.
For the cats' wellbeing, neutering and spaying are a major focal point of the group's cause. They collaborate with the volunteer group Kırık Kuyruk (Busted Tails), to share and distribute informative material. "If people realize [this], it will make a difference. It is for protection," she said. One of the main reasons is that one cat can produce more than 20,000 kittens in a four-year span. Neutering helps solve the problem of overpopulation and many municipalities around Istanbul offer free neutering services.
As Hilary was holding one of the cats and looking at it with loving eyes, she added, "Sometimes people ask why we are helping animals while there are humans [that] are homeless and hungry. I [then] ask [them]: How many humans have you helped? If I spend money on animals, it is my right. I do what I want to do. Cats are looking for love."
For her, their task is like swimming in trickle. "You are trying to do your best; I do monitor the group very closely. I [am] up quite late, so if there is an emergency I will try and help," she added.
"Doing our best for the animals and people are essentially the same thing," she said, right before the end of our conversation and she took off with the same cats following her again as she left the cafe.