With an increasing number of dance organizations and centers that cater to people with physical disabilities, wheelchair users are now actively able to perform their favorite dance styles, like square dancing, Latin American or ballroom dancing, benefiting their social and psychological well-being.
The "Wheelchair Dance Project," launched three years ago in the western city of İzmir, with the initiatives of ballet artist and dance instructor Banu Dağcıoğlu Türkeli, touches the lives of 15 young people, while breaking down preconceived perceptions of people with physical disabilities.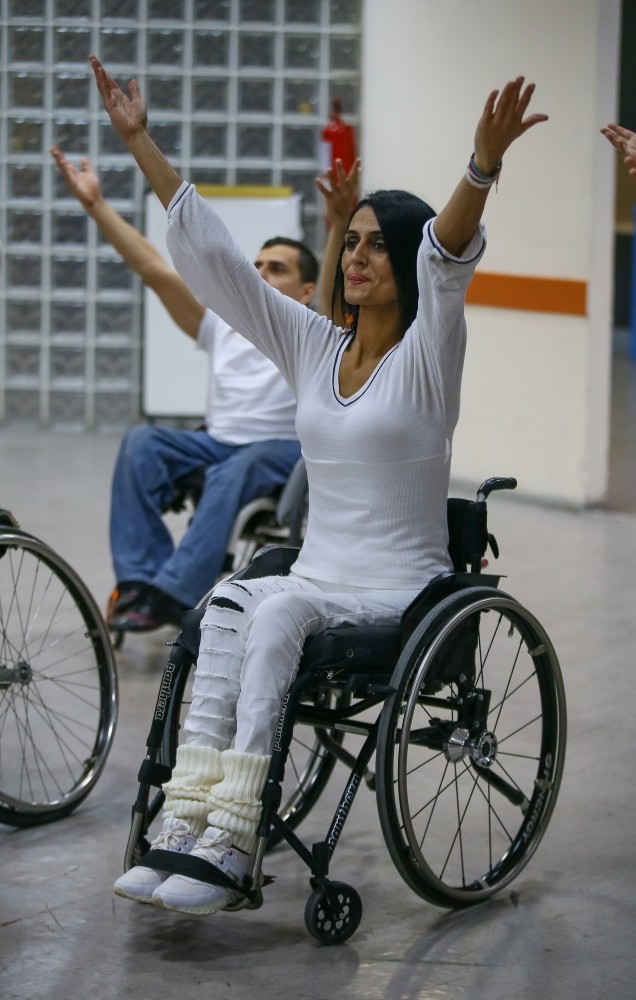 The lives of 15 physically disabled people in İzmir have been transformed by this inspirational project. Young people with disabilities have been able to participate in life more and more by overcoming social and physical obstacles. Through the project, they have become more physically fit, and have been able to enjoy the excitement of the stage, where they have received acclaim from the audience over the past three years.
Ayşe Bayan, 33, who has been a part of the project since the beginning, said she has muscular dystrophy, and has to use a wheelchair. While she previously had difficulty using her arm muscles, she said dancing has changed her life. Sharing the physical and psychological changes she has experienced, Bayan said, "I was not very sociable and active before dancing. My self-esteem was really low, too. I could not use my muscles, especially my arm muscles." Bayan said she could not lift her arms easily in her electric wheelchair before dancing and was not very active, but that her movements became more relaxed with dance. Now, she can lift her arms with less effort.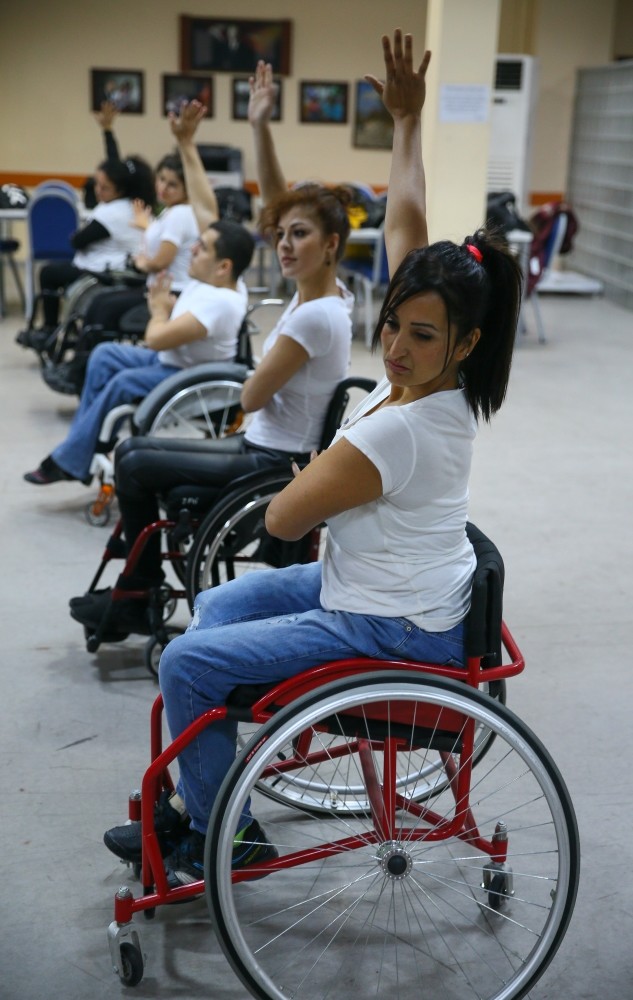 Recommending the dance project to everyone using wheelchairs, Bayan urged people to leave their homes. "Everyone who watches us is amazed. They love it and the audience usually becomes very emotional."
Having joined in the project two years ago, Gökçe Değirmencioğlu, 32, said that the excitement of the stage is very different. Pointing out that, at first, people often have difficulty making a connection between wheelchairs and dancing, but everyone who has watched them was amazed. Değirmencioğlu stressed that the use of a wheelchair was not a curse.
Burhan Elli, 32, who also joined the Wheelchair Dance Project a few months ago, said his life changed after dance. "I feel more energetic and happy. I was playing basketball before and played for 12 years. I engage in a variety of social activities. Dance added spice to my life." Stating that he though previously thought he did not have any artistic talents, he now wants to improve his dancing skills, adding that the rehearsals are quite entertaining, making Tuesdays something to look forward to.
Türkeli said that the project started in 2013 as a one-day show under the scope of the International Day of Persons with Disabilities, but they later decided to continue since the show raised awareness.
The disabled dancers have come together with the support of the İzmir State Opera and Ballet, İzmir State Symphony Orchestra and İzmir Metropolitan Municipality. Türkeli said that theirs is the only ongoing group in Turkey for wheelchair dancing.
Türkeli said that they have taken the stage in many shows with the orchestra group Camerata İzmir, which has now entered its fourth year. All members are helping out one another, and there is a mutual collaboration between them. Before practices, the dancers made a pact to leave all their troubles at the door when entering the dance studio. "I repeat the same thing to myself every class. We do not have any problems or worries. It is not impossible to dance when you have an obstacle because obstacles are normal," Türkeli said, "What is abnormal to me is that people who can stand on their own two feet sit at home and do not dance. My friends, who did not frequently leave their homes [prior to dancing] have now become more sociable." The dancers all said the rehearsals are always a lot of fun.
Encouraging families who have children with physical disabilities not to keep them at home, Türkeli said it is crucial to bring them together with non-disabled people. "Projects should be conducted under the name "people" rather than carrying out special projects for the disabled," Türkeli said, "Families should guide their children and raise good people [in general], not just because they are special." Türkeli added that the dancers in the project are ready to immediately adapt to the choreography she has prepared after they feel the music and that they have no problem because they are very eager to work. She also added that Can Ayan, a dancer with Down syndrome, plays along with his friends and accompanies Türkeli during rehearsals.