On Dec. 2, 2015, a counterterrorism operation was launched in the Sur district of the southeastern Diyarbakır province in an effort to put an end to the PKK terrorist group's atrocities carried out on the streets.
The 103-day-long operation ended on March 10, successfully eliminating the PKK from the ravaged district. Nine months into the post-war Sur, tens of thousands of people have been left either displaced or homeless.
Şehadet Çitil, who used to work for a local TV channel before PKK terrorists turned Sur into a battlefield, fled to Istanbul after the counterterrorism operations began.
Çitil managed to continue her journalism career in Istanbul, where she was hired by a private TV channel as a reporter.
During the operation Çitil returned to Sur for a story, only to find her hometown in ruins. That day, she decided to return to her hometown for good, and do something meaningful for her people.
"I was in debt to my hometown and people. I knew at that moment that I would come back," Çitil said.
The 33-year-old woman kept her promise and gave up on her journalism career to settle in Sur. In mid-July, Çitil finally reunited with her family, whom she had unwillingly left behind in search of security.
"My mother has always been the biggest supporter of my dreams," she said.
Now her dreams have grown from journalism to a much bigger cause. The "Hevsel Gardens," a project initiated by Çitil, started small in the beginning. The Hevsel Gardens, or "Hevsel Bahçe" in Turkish, was added to UNESCO's world heritage list in 2015 and Çitil's initiative was justly named after it.
"It is not about money. It has never been. I wanted to promote Diyarbakır's culture and help our citizens learn about it," Çitil said.
Çitil buys rice, spices, tomatoes, meat, peppers and other vegetables from local shops, which keeps the money in the town.
"Hevsel Gardens used to send only 5 or 6 boxes to cities across Turkey. Now it is sending 50 to 60, depending on the demand," she said.
Her fast success often brings about curiosity. When asked about whether she does it all alone, Çitil said that she works with six housewives from Sur.
"I work with six housewives between the ages of 30 and 50. At first, their husbands did not know," she said, smiling.
These women are still trying to overcome the trauma of PKK terror and the ensuing anti-terror operations. Çitil stressed that these jobs help distract the women from the trauma.
"It also helps their families financially," she said, adding that their husbands now support them as well after seeing the results.
Çitil has now set her sights even higher.
"I want to expand our project. We are looking for a shop in the center of Sur where we can work together because the housewives are working from home for the time being," she said.
Her plans did not end there. In a couple of years, she wants to have a branch office in Istanbul.
"My clients ask me whether we would open a branch in Istanbul. Actually, I have clients from across the country. We are like a family that eats at the same table," Çitil further emphasized.
Explaining that "Hevsel Bahçesi" was a unique project in Sur, Çitil shared her expectations concerning the future of Sur, "Our people are strong and hard-working. Sur will be a beautiful place again. The people of Sur will recover quickly."
Most people were pessimistic about their future in the streets of Sur because they were either displaced or disheartened about seeing their hometown in ruins and an overwhelming majority blames the PKK for the destruction.
"People are rising against the PKK for what it has done to them," Çitil said.
She recalled that people did not respond to the PKK's dozens of calls to take to the streets.
"The best answer to the PKK is to stay put," she contended.
Çitil ended our conversation with her plans for the future of Sur's children.
"I want our children to worry about things that children in western or northern Turkey worry about. This is my cause," she stressed.
Having survived a terrorist group and its deadly tactics on the streets, like Şehadet Çitil, the strong women of Sur now earn their own living and they stand on their own two feet with hope for a better future for their hometown and children.
The best herbs are selected from the city's traditional bazaar
Turkey's southeast is known for its variety of spices and dried vegetables. Eastern and southeastern meals are often spicy, adding a unique taste to its cuisine. Turks in other parts of the country either order spices from the southeast or stock up when they visit it. Çitil says she goes to spice shops every day to pick out the best ones. She says that spices make up the majority of orders from the Istanbul, Samsun, Ankara and Aydın provinces. Spices such as 'zahter,' red pepper and nutmeg are among the 4,000 types of spices found in Diyarbakır. The shops that Çitil visits to buy spices can be found in the main bazaar of Sur.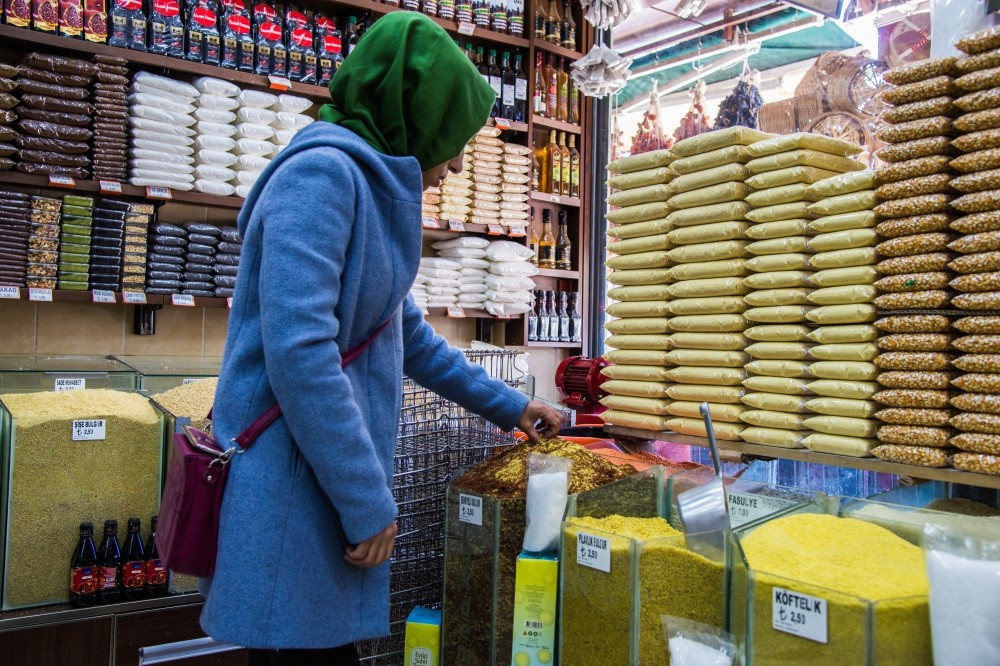 Local butcher hopeful for the project's progress

If one paid a visit to one of the provinces in southeastern Turkey, he or she would discover that the meat is much better than in Istanbul or anywhere else for that matter. Keeping that in mind, Çitil's clients often request Turkish-style fermented sausage. Therefore, she buys meat from the town's local butcher, Musa Çınar. Çınar was forced to shut down his business for nearly five months during the anti-terror operations. Despite losing his home and closing down his shop for months, Çınar with an optimistic mindset, says he hopes for a brighter future.
"My clients love the meat here," Çınar asserted.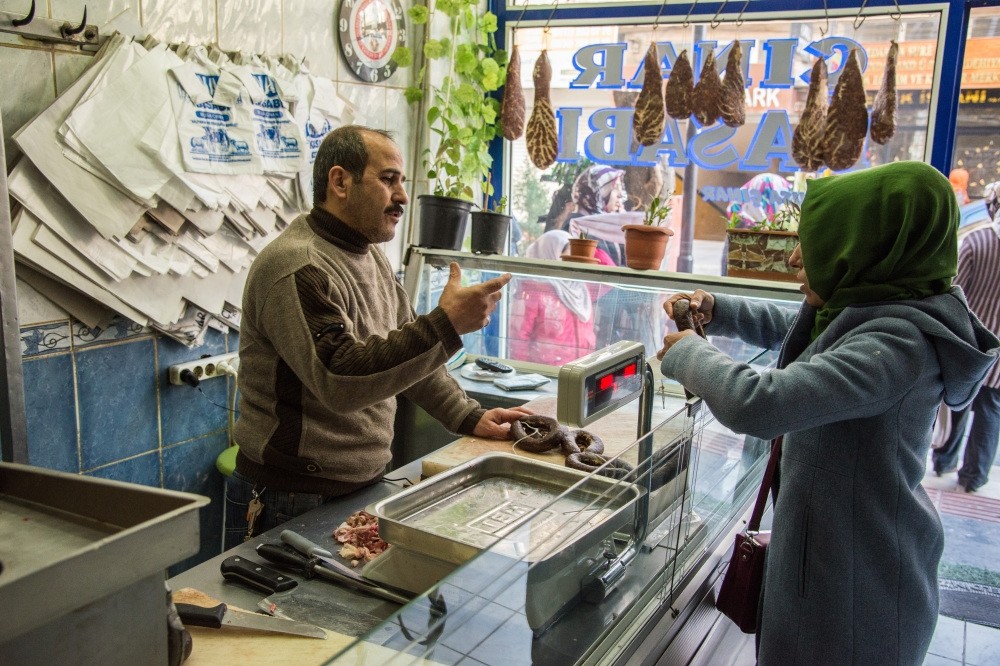 Aiming to reach more people through social media

"Hevsel Bahçesi" has an Instagram account, "@hevselbahcesi," where Çitil presents her work and keeps contact with her many clients. Several people have sent her positive feedback, saying they were impressed with the spices, vegetables, fruits and other products from the Diyarbakır culture. If Çitil is looking to expand her business and open branch offices in different provinces across Turkey, her social media management will play a crucial role. While Kurdish women are making major efforts to return to their normal lives and get their children out of the traumatic situation, initiatives such as "Hevsel Bahçesi" are precious. Çitil's dedication to her fellow co-workers and clients can be felt in her words: "We are a family."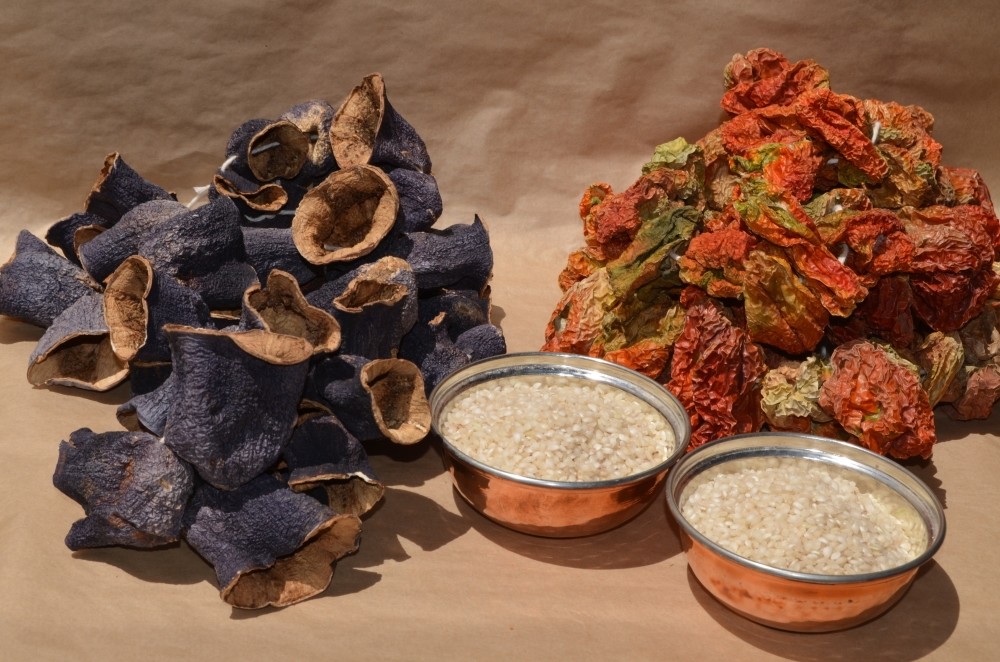 Diyarbakır's dried vegetables are quite famous.