Having achieved a groundbreaking victory at the World Championships in South Korea, Turkish national and professional archer Alperen Alkan is continuing to train for the new season despite snowy weather conditions in Turkey, preparing for the new season and expressing his goals for the horseback archery season which begins in May and ends in October on the cusp of winter.
"We generally have limited time for training after October. Due to the bad weather conditions, I practice on my horse only three days a week and other days I practise with only arrow on the ground," he said. The highly skilled archer has been riding horses for 12 years and has specialized in horseback archery for the last four years.
While harsh winter conditions present major challenges for horseback archery training, Alkan is passionate enough to tough it out, saying that trainers make the horse tracks narrower to prevent the animals from slipping. "Archery means continuity; therefore, we need to continue practicing in all conditions. When you practice for a long time, your hands get used to it. I will continue to practice on the ground and will also work with horses as much as possible," said Alkan.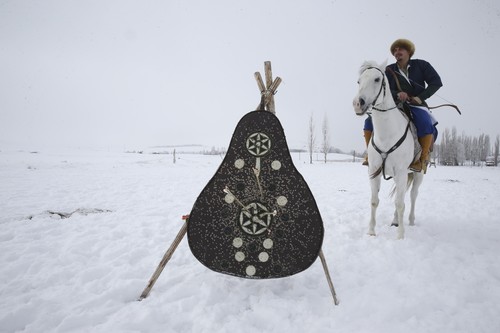 The archer noted his personal interest in mounted archery is largely due to its historical significance. "Horses hold a very important place in Turkish culture. Our civilization and history have been built around horses," he said.
Alkan said that he always remembers Turkish warriors and whirling dervishes when he practices mounted archery with his horse, keeping in mind the historical roots of this ancient sport.
"We honor and remember those who came before us by continuing to practice archery and young Turkish people should continue the tradition. We need to reach the highest skill level in mounted archery because our nomadic culture compels us to share this sport with the world. This historically important sport is different from other sports because it requires precise unison between man and horse, which is inherent to Turkish culture. Of course, some global-sport branches such as basketball or football are also important, so we need to improve in these branches, too. However, our priority should be to bring traditional sports such as traditional archery and wrestling to the forefront," he continued.
Winning Turkey's first gold medal in horseback archery in his first world championship, Alkan said he will do his best to remain at the top.
He says that he feels immense public pressure; therefore, he never gives up practicing this sport despite the difficulties he may face: "I have had several injuries after this championship but they cannot hinder my enthusiasm. I have more goals and I am aiming for the sky," he said.
"Turkey needs to be number one in the world in mounted archery. That's why I am grateful to my competitors. Horseback archery gained popularity again in Turkey in the early 2000s. As we started from scratch, our progress shouldn't be underestimated. We are working very hard to improve our position on the world stage in this sport with our collegues. We are discussing possible strategies and better conditions to be first in the world. I am sure Turkey will be a pioneer in horseback archery in the near future and it deserves this position," Alkan said.
According to the World Archercy federation, archery has been used for hunting as well as combat and was invented in the late Paleolithic or early-Mesolithic periods. The oldest evidence of archery's use in Europe dates back to around 10,000 B.C., however, Asian and Middle Eastern historians suggest that archery may date back even earlier. In modern times, it is mainly a competitive sport and a recreational activity. Archery requires the skills of control, focus, repetition and determination.
It can be practiced by everyone, no matter age, gender or physical ability and is a popular pastime in many countries.
There are several health benefits to participating in archery, including boosting mental and physical health as well as improving overall fitness. It is particularly useful for youth as it teaches them the benefits of patience.