Twenty years ago, a group of bike messengers got together in Cal Anderson Park in Seattle and started goofing around with an absurd version of polo played on bicycles. For those who don't know, polo is a game that originated in Persia and India, where two teams of players on horseback volley a small ball back and forth across a pitch with long-handled mallets. The British Empire spread the game around the world and popularized it. The new urban version, Bike Polo, replaced the stodgy English gentleman with the mechanic, anarchist and punk rocker - and of course the horses with bikes. It's played on a caged tennis court that's had the net taken out, or on a concrete parking lot or anywhere else flat and in the heart of a city. It has international tournaments and governing bodies.
And now Bike Polo has made its debut in Istanbul.



I met James McKay and the other members of the Istanbul Bike Polo club at Selamiçeşme Park in Bostancı on the Anatolian side to learn about this distinctly modern sport.

McKay explained the rules of the game as being simple in principle, describing bike polo as having a classic game setup: There are three players on each team who try to knock the ball into the other team's goal in the same way the sport is played with horses. There are simple components: One ball, two teams, two goals and the skill of the players. There are a few surprises though. Players have to score with the end of the mallet, not the long side. Also, there is no fixed goalkeeper. You definitely shouldn't hit anyone with the mallet, but you can elbow them as much as you want. If you lose your balance and tap your foot on the ground, otherwise known as "dabbing," you have to take a penalty, bike to the edge of the court and tap the fence.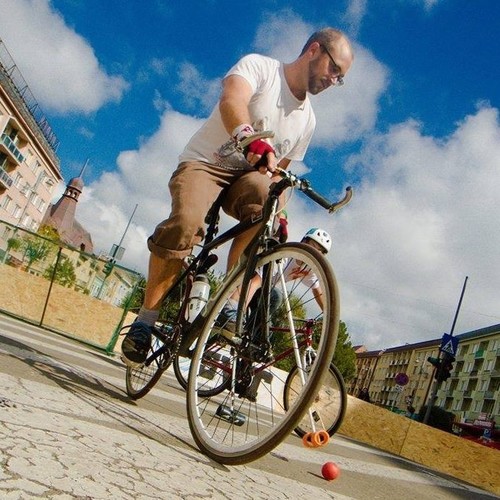 James McKay assembled players for the club from an international biking event in 2012.

"So, it needs a lot of balance and requires that you use your mallet as a tripod. In the highest levels of the game, you've got guys who can hop around or pivot on their bicycles. I was once trying to get behind a guy who was facing the other direction, but he planted his mallet and lifted up the front wheel of his bike and plopped it down in front of me," James said.

Not just any bike will do. A bike that's good for polo has to be strong, maneuverable and covered in padding or plastic so that the sharp bits don't bash up the players. It's got to be single speed or fixed gear - a "fixie," meaning that the bike moves backwards if you pedal backwards; it's got to have a low rake, a steel frame and short handlebars in most cases.

As we're talking, two of the crew members Can and "Apo" (Abdullah), discuss a variety of dizzying technical specifications. Mehmet circles the court in Selamiçeşme, giving a friend's bike a test ride. Apo showed me one of his bikes, leaning up against the fence. It was a single speed with a pink frame and a huge black plastic circle inserted in the spokes to prevent people from jamming the wheel. He'd rescued the frame itself from the trash. "I have too many bikes," he laughed.

The sport tends to attract people who either spend all day on bikes or all day taking them apart and already have a great degree of skill in their use. James admits that in this city it's hard to find people who do that, noting: "If you want to ride a bike in this city, you have to be ready to die. "Ten years ago, we would hardly see bikers at all. We lacked the cycling infrastructure that is common in large and medium-size cities in the U.S. and Europe."

However, James met his crew and assembled them from 2012's annual Critical Mass event - an international street party where groups of bikers get together and take over the roads through sheer numbers.

James said: "A lot of the guys had seen clips of bike polo on YouTube and were keen to try it out. I ordered some of the equipment from the U.S., made the rest, and we started meeting here to play."

They invited me to try. I picked up Mehmet's bike and mallet, rode the bike to the center of the court and missed my first swing. Then, I fell over. It is much harder than it looks, and it already looks hard. This is one of the obstacles in recruiting new members to join the sport, James said.

"Fixie culture is primarily about being the coolest hipster on the block. Some show up and watch us but won't try because they think that won't look cool. As you can see, the mallet coordination takes time to acquire."

"However, I would have to say the perceived or assumed danger-violence of the sport is the biggest misconception that hinders us," James joked. "You see for yourself that we still have most of our teeth," McKay added.

The Istanbul Bike Polo team is interested in participating in more international tournaments. Bike polo teams are found all across North America and Europe. In 2014, they were accepted as the 21st member country in the European Hardcourt Bike Polo Association and went to Sfantu Gheorghe, Romania to play in the SESPI Bike Polo Open. They didn't pass the qualifiers, but they had a wonderful time and are trying to raise money for more travel.

"I'd tattoo my face with a logo to get sponsorship," James joked. Bike Polo, with its do-it-yourself ethic, doesn't cost anywhere near the amount of money that international level football might, but the travel costs do add up. Also, the best teams now can buy their equipment from international manufacturers who make it specifically for Bike Polo. Those manufacturers sometimes swoop down on promising teams.

Men and women play together on a bike polo team; in fact, some of the tournaments require that you have a woman on your team to be able to compete. Both of the tournaments the Istanbul crew is trying to raise money to visit this summer, the Bikepolo Graz International Tournament and the Berlin mixed co-ed tournament, require at least one woman on the team.

One of the guys put on a helmet and gestured to the others; it's time to play. I hang back watching the action. The players - three to a side - take their positions on either side of the court. Someone counts down "Üç, iki, bir, [one, two, three] POLO!" and the players race out, charging towards the middle like jousters. Clicks and clacks echo around the park, as players battle for control of the ball. Through the spokes whirring and bikes swooping, past the chain-link fence and concrete pitch, the sport looks elegant, graceful, a contest of skill. It looks like a hell of a lot of fun.
McKay, Apo, Can and the rest of the Istanbul Bike Polo crew are always accepting new members, anyone who has a bike and anyone who is willing to try something fun. You can contact Istanbul Bike Polo on Facebook or via email for information: istanbulbikepolo@zoho.com.
You can also view the highlights of last year's Berlin tournament to get an idea of what the sport is all about.