There's no denying that we all love traveling. But could you suddenly quit your job and start backpacking around the world? Kemal Kaya quit his 14 year-long professional work life and bought a one-way ticket to Thailand. A year later he started up his travel blog "Yolda Olmak" (On The Road) and began to pursue his new passion. Being an expert on low-budget traveling and backpacking, Kaya embarked on a unique lifestyle as a travel blogger. Before that he could have never guessed that he would be visiting 11 countries and more than 250 cities, covering thousands of kilometers and returning home after 22 months.
Spending around 15 years in the pharmaceutical sector, Kaya resigned contractually following the global crisis in 2009. "I am [now] living a life which I could never have planned for. As someone in his early 40s, I had left my professional work life behind. Following my postgraduate degree in brand management, I bought a one-way plane ticket to Thailand in August 2010. After my life's longest and uninterrupted one-month vacation, I went to New Zealand for language training. On this solo trip, I never could have guessed that I would travel over more than 70,000 kilometers (approximately 43,500 miles) and return home in 22 months," he said.
Life on the go is not an easy job to do as it requires you to get rid of all dependencies and necessities in your life. The moment you have it, traveling gets easier. Kaya's initial motivation behind traveling is learning a new language, a decision that has shaped his whole life. "I listened to my heart and went after my dreams. After completing my language training, instead of returning to Turkey and trying to pursue a new career, I decided to explore the world. So I flew to one of the most beautiful island countries in the world - Fiji. On my flight from New Zealand to Fiji, I turned on my laptop and started to write. This was a turning point in my life and I have written nonstop every day since then. This is how I started my blog."
The philosophy of traveling: Diary of experiences
Sharing his story on how the blog has evolved throughout his travels, Kaya said regardless of what desire lies behind keeping a blog, he feels that the most important impulse that is predominant in people is the yearning to share one's own experiences with others. "When I opened up my blog in 2011, the number of blogs that could be seen as a source for information was very few. A lot of my entries were like a diary of my experiences. Along with writing a diary, I found myself writing things such as 'the philosophy and culture of traveling,' 'why we should be traveling' and 'you can also do it.' My aim was not to say 'look what I'm doing' but 'look if I can do it, so can you.' Everyone who reads an entry from my blog can find something for themselves. I do not only write about a certain segment and a certain style of travel, but also contents that complement each other in almost every aspect."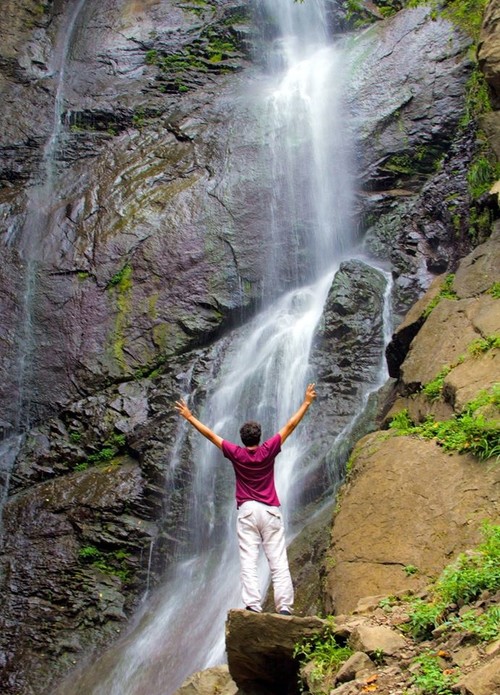 Makhuntseti Waterfall, Batumi
As we continued our conversation, Kaya told Daily Sabah that in truth he does not know how many countries he has visited in total and honestly does not even like keeping count. For him, it is not a matter of how many countries you have been to but rather how much you have learned from each one and how they have ultimately changed your perception.
"I am a person who travels very slowly. I find myself exploring every corner of my destination. I am a person who is madly affected by almost every geography I lay my eyes on for the first time. Every destination has a different way of affecting someone. Nature, wildlife, history, architecture, culture, traditions, atmosphere, people and other riches are what affect me the most."
In the age of social media, travelers have become more techie and Kaya describes himself a "digital nomad," in other words a wanderer with a laptop, tablet, 3D camera and a tripod. "I know where I wake up, but most of the time I do not know where I am going to sleep in the evening. I open my soul to what the journey offers me."
Kaya mentions two ways to learn the tricky points of traveling: Either you become an expert in the art of traveling by gaining experience and learning from your own mistakes, or you listen to the advice of previously experienced travelers to avoid making the same mistakes. He said that listening to other people's knowledge and experience is important for low-budget travel since there is little room for financial error.
"I learned all of the information I had on the road. This means these are things that can be learned. When traveling, 'flexibility,' 'courage' and 'harmony' are important criteria. When you try to keep up the habits you have adapted in your stable lifestyle and carry them along persistently to every country you go to, things do not work out and traveling becomes very costly. If you are planning a long-term world tour, it is time to learn what a hostel is. Without learning what hostels, couchsurfing, hitchhiking, HelpX and Woffing are, traveling will not end up being a sustainable action."
Backpacking vs Tourist-ing
Being responsible for the livelihood of his family for years, Kaya continued to talk about how backpacking changed his life. Kaya goes on by saying that people who doubt themselves need to put excuses aside and realize that there are economic ways to travel. Everyone with a little courage can achieve it.
"Backpacking forces us to use the money we have on hand efficiently and in the right places. In this sense, you are going through a process of solving the codes of life, not running away easily, having to face difficulties, getting help from similar people traveling, listening and following their experiences and practical knowledge. This is the best school for gaining knowledge and I call it life hacking. I would never look down on those who travel as tourists, however when you buy everything with money you will realize that the experiences you have made actually make no headway and just place you back into your comfort zone. After a while you will start to not enjoy traveling because every experience will become the same." He believes that backpacking is a way of life, offering a surprise and adventure packed experience, it is something that enriches and teaches you by spending limited money.
Advice for novice travelers
Toward the end of our chat, the popular blogger gave some advice to novice travelers who are hungry for information about low-budget backpacking.
"As I always say, in order to start, you must follow travel blogs closely and read about their stories on Facebook and Instagram. You should not hesitate to ask questions and to gain knowledge. What you need most is a combination of 'knowledge and courage.'" He recommends travelers to not be in a rush to see everything at once. "I know that most people have a limited amount of time, but I suggest that instead of seeing many places at once, you should take your time to see one place thoroughly and understand the culture fully."
The number of countries you visit is not relevant. What is really important is what you have learned and what kind of a person you have become once you've departed. Each of our travels should add to our self-development and help us understand our world and ourselves, better. To get some travel inspiration, check out Kaya's blog on yoldaolmak.com or his Instagram profile @yoldaolmak.