Every Istanbul resident knows the classic "balık ekmek" sandwich, usually prepared in a scenic locale down by the docks: a grilled slab of juicy mackerel decorated with chopped salad, lemon juice, and pomegranate molasses. The sandwich can be found throughout coastal Turkey and is well-loved as popular street food. In recent years, visitors to Karaköy may have noticed an innovation in balık ekmek technology - the "balık dürüm," or fish wrap.
Where did it come from? Why the change? I visited my favorite vendor down in Karaköy, Mehmet Yıldırım, to talk about the history of this sandwich. When I come in, he's wearing a monogrammed teal robe and a fastidious black chef's cap. An image of his face, along with a doodle of a fish and bridge, adorns the side of his cart in Karaköy. He is serious about fish.
"I have to be focused because even the smallest miscalculation of spices can ruin the flavor," he tells me. "That's why I try to make the balık dürüm every time like it's the first time."
I tried Mehmet Usta's balık dürüm about a year ago. I was curious because he kept four mystery sauces in four unlabeled bottles by the side of his grill. Each of the four sauces were poured, sprayed, spread or shaken onto the grilling fish. When I asked what they were, he refused to say - it was a trade secret. And when I tasted it, I understood why. It was savory and fruity and crunchy and spicy, and it was the best fish sandwich I'd ever had. I've been hooked ever since.
"One time I had a customer who tried to outwit me," he explained. "She asked what my sauce was, I of course told her it was a secret. But she noticed I kept it in a bottle of chocolate syrup. So she grilled some fish at home and squirted chocolate syrup on it! Her father came down here, sputtering mad, because she'd gotten badly nauseous and blamed it on me!"
Mehmet Usta has been making street food for over 20 years, and fish for the last 12. Though he worked in construction for a spell in his youth, he started working at a kebab shop in İzmir and eventually moved to Istanbul. He continued cooking and developed a fascination with flavor.
"I have trouble with advertising. I sometimes don't even notice that the regulars have come in and sat down," he said. "I'm too focused on the food."
He eventually made is way to Karaköy Balık Pazar, making balık ekmek like most of the other vendors there. The balık dürüm was invented right next to him, so he knows the story firsthand. Mehmet's food cart neighbor at Karaköy - a man named Emin Usta - ditched the half-loaf of standard white bread and wrapped his fish in a piece of lavash. Nobody had ever made balık ekmek in a flatbread before, but it makes sense - rather than two squishy pieces of sponge bread that engulf their contents, you get a crunchier, thinner exterior that shows off the flavors of the fish inside.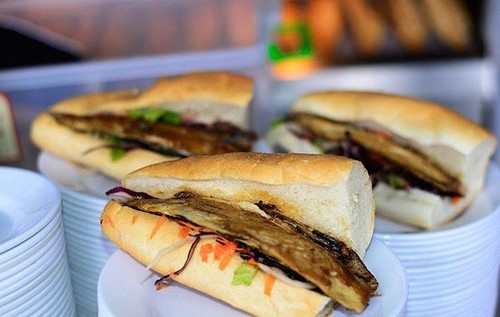 Emin Usta's sandwich had a legendary flavor. He added grilled onions and peppers to the mix, and came up with a special spice blend. Mehmet asked Emin if he could make dürüm as well, recognizing a great idea when it came along. Emin Usta guarded his product and said no. But eventually other street vendors copied it anyways, and after it had caught on, so did Mehmet. Soon everyone was making balık dürüm at the Karaköy market.
"But it wasn't clean, his grill area. His customers would eat at mine, and mine wouldn't eat at his. I wanted to make it a little more hygienic," Mehmet explained. He further tried to distinguish himself with a new spice blend.
Then the Karaköy fish market got shut down. Street food vendors don't have an address, and therefore have no path to legally acquiring a business license, nor any way to pay tax. The Eminönü balık ekmek sellers in their boats had lodged a pile of tax and other complaints - "about this high," Mehmet said, gesturing somewhere around his knees - and the municipality demolished the Karaköy fish market in the middle of the night. Dozens of fish vendors and cooks woke up to find the once-lively bazaar bulldozed.
For a while Mehmet tried to sell near the Dentur docks. Street sellers stacked their grills on Styrofoam containers or plastic crates, anything that was easy to hide in case the security came by and seized their materials. But it didn't satisfy him.
"I wanted something cleaner," he said. "Something a little more official."
So he moved to the other side of Karaköy and noticed that it wasn't really a balık ekmek sort of place. The place had been gentrified, it was hip - so he continued making the hip version of the sandwich. He already had a spice blend, but he wanted to add something a little different, so he came up with four special sauces. He went to a street food festival in Kanyon shopping mall in Levent, and he had a crazy few days introducing his spin on the balık dürüm to the wider world. The dürüm took off and Mehmet Usta remains popular with tourists and locals alike. His dürüm has even saved his skin on one occasion:
"One time a homeless man came up to me. I don't have any food, 'I'm hungry,' he said. So I gave him a dürüm for free. A few weeks later a whole crowd of policemen came into the fish market - leading them was the homeless guy. He was an undercover cop! All the other balık dürüm sellers grabbed their grills and ran - I stood there, tense, hoping I wouldn't have my grill taken away. He ordered dürüm for the whole precinct from me!"
Mehmet doesn't see himself changing things up anytime soon. Cooking makes him happy and earns enough to provide for his family. He also just loves fish. "I owe my longevity to fish," he added. "When I eat kebab, köfte, it doesn't make me feel good. But fish hits the spot. I'm 47 years old but I look like this. I've eaten fish every day of my life - except for those three days at Kanyon! I was too busy."
To try the balık ekmek for yourself, Istanbul's own take on a classic Turkish sandwich, you can visit Mehmet Usta on Mumhane Cd 37 in Beyoğlu, or you can try the other side of Karaköy near the Tarihi Karaköy Balık Pazarı - a permanent but pale imitation of the life and vitality of the fish market that used to exist there - and you can find plenty of street vendors hawking their own versions. One of my friends swears by a guy who makes his own chili oil from three kilos of distilled peppers. Culinary innovation, it seems, continues to thrive in Istanbul wherever fish can be fried.