Yesterday, football lovers all over Turkey watched one of the biggest football rivalries in the world: The derby match between Galatasaray and Fenerbahçe.

While mostly everybody watched the match with family and friends, two brothers from İzmir, Ahmet Güven an avid Galatasaray fan and Atila Güven a Fenerbahçe fanatic, watched the game separately.

Despite watching every other league match together, the brothers, who live in parallel apartments in the same building in the western province of İzmir, make sure they watch every derby matchup in their own homes, separately.

Atila, 51, painted his house navy blue and yellow, the colors of Fenerbahçe, 15 years ago. Encouraged by family and neighbors Ahmet, 54, painted his house in the colors of his Galatasaray team, yellow and red. As if that wasn't enough, the fanatic brothers both make it a point to display their team flags and emblems at the entrances of their houses.

Every derby day, the brothers dress up in their teams' jerseys and spend the day together until the starting whistle. Right before the match kicks off, the brothers part ways and go to their homes to watch the "eternal rivalry" between Galatasaray and Fenerbahçe.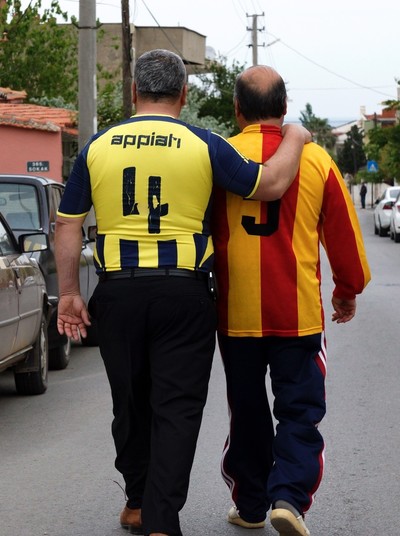 Ahmet Güven (R) and Atila Güven (L) wearing their teams' jerseys on the day of the derby.

Atila told reporters that his love for Fenerbahçe is bigger than any Fenerbahçe fan he has ever known. Atila was born on July 19, which is widely known as World Fenerbahçe Fan Day. Atila said it is every Fenerbahçe supporters' dream to be born on this special day, and he is very happy to celebrate his birthday on the day devoted to Fenerbahçe.

This brotherly rivalry began years ago. While watching the derby together one day, the brothers did what brothers do and fought. It was then that they decided to watch the rival matchups between their teams at their own homes, away from each other.

"When Fenerbahçe scores a goal, I let him know by hitting the wall of his house. We are rivals during the match but brothers right after. We are against any violence between supporters of Galatasaray and Fenerbahçe," Atila said.

After painting his house navy blue and yellow Atila became the symbol of the province.

"People come here to take pictures of the house all the time," Atila said.

Güven's two daughters and wife are Fenerbahçe supporters as well.

"The day my elder daughter was born, we wrapped her in a yellow and navy blue flag. I whispered 'Fenerbahçe' in her ear. It was the first thing that she heard from me. I love my team. My daughter is now married to a man who supports Beşiktaş. I wish he were a Fenerbahçe supporter as well but there is nothing I can do about it. I can't watch Beşiktaş and Fenerbahçe matches with him either," Atila said with a smile.

Meanwhile Ahmet, the older of the two, said supporting Galatasaray was a lifestyle.

"My life is meaningless without Galatasaray. I look forward to weekends so I can watch Galatasaray. Other Galatasaray supporters in the neighborhood are happy I painted my house yellow and red, the colors of Galatasaray," Ahmet said.

Hatice Güven, 71, the mother of the Güven brothers, admitted that she still can't believe her sons are fanatic supporters of rival teams. Unlike her sons, she says she does not support a team in order not to offend them or her husband.

The roots of the 'eternal derby'

The "eternal derby," also known as "intercontinental derby," is a rivalry between Fenerbahçe and Galatasaray (major Turkish teams from the Asian and the European parts of Istanbul, respectively), and it has been around for more than a century.

The two teams first played a friendly match in January 1909 at the home of Fenerbahçe, finishing 2-0 in favor of Galatasaray. Fenerbahçe got their first victory over Galatasaray, defeating them 4-2, in the fourth game week of the Istanbul Football League in 1914.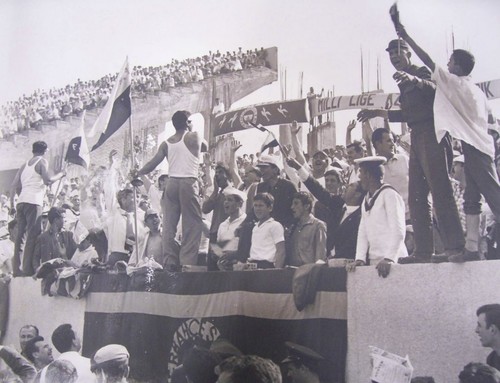 An old photo showing Fenerbahçe fans supporting their teams at Şükrü Saraçoğlu Stadium.

In 1934, this rivalry surfaced during a friendly match where both teams wanted to win badly. The match had to be stopped many times because of hard fouls. The high tension on the pitch caused high tension in the stands. The game ended with players fighting and the pitch resembled a warzone. The referee had to abandon the match and that was the end of friendly outings between the clubs.

Fenerbahçe and Galatasaray are the most popular football clubs in Turkey, with both having large fan bases that adamantly follow them in domestic and international matches. The hatred between the two sides was so intense at one point that violent incidents took place frequently in Istanbul and all over Turkey, especially before or after a derby. However things have relaxed today, with the mild approach of footballers and managers easing tensions in recent years.

The rivalry can be traced back to social, cultural and regional differences. Galatasaray was founded in 1905 by Galatasaray High School students; thus, Galatasaray was considered the classic representative of high class society in Istanbul, while Fenerbahçe was founded by local men in Kadıköy on the Asian side of Istanbul in 1907. Fenerbahçe was known as the peoples club and was considered the representative of blue-collar workers.