As a boy, Palestinian Abdullah Abu Massoud fled the war over the creation of Israel in 1948 and sought refuge in the nearby Gaza Strip. As a young man, Abu Massoud was displaced again when Israeli forces captured Gaza, along with the West Bank and east Jerusalem, in 1967. This time he boarded a truck to Jordan. Now 77, Abu Massoud has been living in a refugee camp in Jordan for the past 50 years. He is the white-bearded patriarch of a refugee family spanning five generations, including seven children, 46 grandchildren, scores of great-grandchildren and an infant great-great-granddaughter, Tuqaa. As his family grows, the future in the Jerash camp, a jumble of cinderblock homes, looks bleak.

"Fifty years have passed without a step forward," says Abu Massoud, leaning on a cane as he sits on a plastic chair in his living room. "Everything is going backward. We came here thinking, it'll only be two months and we will go back home."

The plight of Palestinians uprooted by Israeli-Arab wars is one of the world's longest-running refugee crises, and a solution for millions of refugees and their descendants appears distant. It would likely require setting up a state of Palestine, next to Israel, that would take in large numbers of refugees.

President Donald Trump has said he is eager to broker an Israeli-Palestinian agreement, but similar U.S.-led efforts have failed in the past. Meanwhile, hundreds of thousands of Palestinians are being displaced yet again by escalating regional conflicts, including the Syrian civil war. Fighting in Syria has created its own massive refugee problem, which has overshadowed older crises.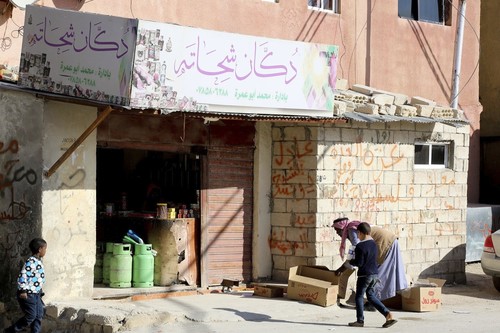 A small grocery in the Palestinian refugee camp of Jerash in northern Jordan.

'We don't belong here'

Abdullah Abu Massoud was born in a Bedouin encampment near Beersheba, a Negev Desert city in what is now southern Israel. During the Mideast war over Israel's creation, his family fled Israeli forces, walking several miles (kilometers) to Egyptian-run Gaza and settling in what would become the Khan Younis refugee camp. More than 700,000 Palestinians were uprooted in the late 1940s from historic Palestine, the land between the Mediterranean and the Jordan River.

At age 20, Abu Massoud joined the Egyptian army. Three years later, during training in Cairo, he married Bassama, an Egyptian, in an arranged match. The couple settled in Khan Younis, where they shared a two-room shack with other relatives. Bassama, now 72, remembers Israel's 1967 capture of Gaza, a sliver on the Mediterranean.

No hope for peace

When Israeli forces approached from the east, her young family fled toward the sea. "I didn't see them, but they were shooting and there were airplanes," she says of the Israeli forces. The family returned home several weeks later. By now, residents were talking about leaving for Jordan, fearful of what Israeli rule might bring. Israel was offering transportation, and her husband wanted to leave Gaza, Bassama says. She says he feared being deported to Egypt because he was a former soldier.

One of the grandsons of Bassama and Abdullah, a tailor, has tacked a Palestinian flag to the otherwise bare wall of his small shop in the market of Jerash camp. "It's my flag," says Alaa Abu Awad. "It's the flag of my homeland."

The 29-year-old never set foot in historic Palestine, but grew up with tales about Gaza as a land of fresh fish, delicious fruit and beautiful beaches. He clings to that idealized image — brushing aside today's Gaza reality of war, poverty and border closures — to help him deal with the day-to-day challenges of being stateless.

Most Palestinians in Jordan are descendants of refugees who came from the neighboring West Bank, which was under Jordanian control for two decades until 1967. A majority was given citizenship because of Jordan's ties to the West Bank. They now make up half the kingdom's population.

The offspring of those who arrived from Gaza — more than 150,000 across Jordan, including most of the 30,000 Jerash residents — are still treated as temporary residents. They can't own homes or businesses and are barred from public sector jobs.

The fate of the refugees has been raised in U.S.-mediated Israeli-Palestinian talks over the years. Under U.S. proposals, a state of Palestine created from lands Israel captured in 1967 would be the natural home for Palestinian refugees, such as the Abu Massouds. In addition, an agreed upon number would be allowed to return to Israel, and others could opt to stay in their host countries.

But deep disagreements remained, and talks failed. Palestinian negotiators demanded that Israel accept moral responsibility for the plight of the refugees. Israel feared this could open the door to a large-scale return to Israel and dilute the state's Jewish majority. The gap between both sides widened with the 2009 election of Benjamin Netanyahu as Israel's prime minister. His government emphasized counter-claims by Jews displaced from Arab countries, while settlement expansion on war-won lands made a partition deal more difficult. Today, 5.3 million displaced Palestinians and their descendants — the size of the population of Norway — are registered with UNRWA in Jordan, Lebanon, Syria, the West Bank and Gaza Strip. This makes them eligible for services such as schooling and basic health care, including in several dozen refugee camps. Some in Netanyahu's government allege that the refugee problem is being perpetuated artificially to pressure Israel, including by UNRWA and by Arab asylum countries. U.N. officials say refugee status has been handed down through generations in other protracted conflicts.