Since the beginning of mankind, clothing has been worn to protect people from environmental conditions and, over time, a wide array of clothing forms have emerged that are as perplexing as ancient history itself. The various types of clothing and garb that were worn in ancient times were the result of social and economic conditions, geography, climate and the availability of materials. As history has shown us, traditional attire provides a wealth of information about the workings of ancient societies. The types of clothing worn in a society indicate whether that tribe or group was a settled civilization or a nomadic tribe and shed light on information about historical events and ethnological origins of the societies themselves. Today, modern Anatolian people still bear semblance to traditions that spread through a vast land distinct to the culture of ancient Anatolia with traditional clothing that originated in the region still being worn today. Although such traditional garb has become a thing of the past, there are still women in the Anatolian region who are keeping these traditions alive by wearing clothing that reflect the styles of their ancestors.

In the earliest times, the members of a particular tribe would wear garb that defined their social status. This tradition was much more than mere obligation; expressing a cultural understanding carried on by tradition, while the clothing and eben hair styles donned by women also reflected the same concept.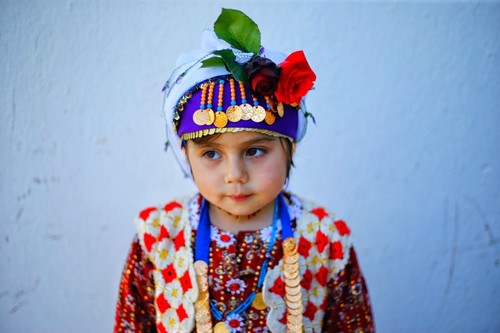 In Çomakdağ, a village located in the Milas district of Muğla, women preserve a 500 year-old tradition by wearing colorful garb consisting of radiant silk clothes, golden jewelry and crowns made of flowers, attracting the attention of local and foreign tourists alike. The traditional weddings of these villagers are drawing considerable attention, as well. The village attracts a large number of foreign tourists who come just to observe the traditional weddings here, which last four to five days.

The Çokmakdağ village also hosts photo safari groups from several cities around Turkey. At their homes reflecting the local architecture, villagers pose for the photographers wearing colorful, traditional garb.

Hasan Yıldırım, president of the Çomakdağ Village Culture, Tourism and Research Foundation, spoke to Anadolu Agency (AA) and stated that his ancestors, who are of "yörük" origin or Turkish nomads of ancient Anatolia, settled in Çomakdağ about 500 years ago. Explaining that they are unduly attached to their traditions, Yıldırım said, "We have not abandoned our traditions up to this point in modernity and have established a foundation amid aims to preserve these traditions. The aim of this foundation is to transfer our traditions to future generations."

Talking about how Çomakdağ women keep the tradition alive with their clothing choices, Yıldırım said, "The flowers that our women wear as crowns are always fresh. They never use artificial flowers in the crowns and choose the flowers according to the season. Thanks to these choices, the flowers have an optimal appearance and fragrance. Flowers give these women vitality and make them more energetic. They wear these flowers all day long."

Yıldırım said that the architecture, stone works, woodworking and sericulture of the village date back centuries, adding, "Çomakdağ was chosen as a pilot village by the General Directorate of Research and Training of Ministry of Culture and Tourism and the General Directorate of Social Assistance and Solidarity of the Prime Ministry. Çomakdağ women transferred this tradition to rag dolls with what is known as the Traditionally Enrobed Doll project. These dolls also attracted

a great deal of attention. They were introduced in several fairs both in Turkey and abroad. Local and foreign tourists visiting the village also are interested in these dolls and buy them. The dolls have turned into a source of income for the village women."

Adding that Çomakdağ hosts tourists from all around the world, Yıldırım said, "The village hosted tourists from nearly every country across Europe. We also have Russian, Chinese and Japanese tourists."

Talking about the traditional village weddings, Yıldırım added, "In Çomakdağ, if a wedding is to be held, everyone in the village attends it. Whether you are from the bride's or the groom's family, you attend that wedding. Even if people are mad at each ohter, they make peace during the wedding and it is up to them whether they continue to be mad at each other or not.

One female villager Edibe Sarıkaya, 63, said she has been making a living by sewing rag dolls for five years. Sarıkaya spoke about the dolls' production process and said that a doll can be completed in one-to-two hours and sold for TL 15 ($4.24).

Another villager, Huriye Alkaya, implied that most of the time these women strive to preserve the culture, noting: "The wedding dresses cost about TL 2,000. The children, on the other hand, wear these traditional clothes not just during weddings. They wear them on special days also. To be able to keep these special dresses long-lasting, we preserve them in packing cases by wrapping them in fabric."

Alkaya said most of the village women prepare the majority of the local dresses, paying attention to the texture of the fabric and also dyeing the fabrics during the process.