Muammer Şen, a pharmacist in Konya, grows about 60 kinds of organic products on the Temmuz (July) Farm, which he founded with his wife Merve Şen four years ago on an area of 20,000 square meters.

The local pharmacist and unlikely farmer took up organic farming on the arid field at the foot of Takkeli Mountain to realize his childhood dream.

Now, the man and his wife, who remain committed to their projects regardless of the volume of their crops, produce 20 kinds of medicinal aromatic plants, 10 kinds of fruit and various foods, all certified organic and approved by the Ministry of Food, Agriculture and Livestock, on the farm they set up four years ago and named after their son, Temmuz.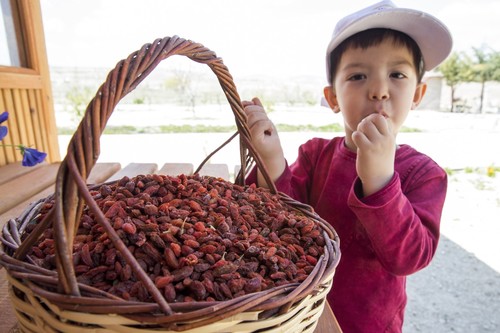 The couple's son "Temmuz" has always been an inspiration for them.
The couple, who spend most of their days on the farm, offer organic eggs, tomato paste, molasses, medicinal aromatic plants, fruits and vegetables that they produce at affordable prices for about 50 families who visit the farm.

Those who come to the farm can pick their products directly off the vine and place them in baskets provided by the farm, while those wanting to try their hand at farming can even plant their own crops in designated areas on the farm.

Şen told Anadolu Agency (AA) that they produce some of their products for their own needs and for their three-year-old son Temmuz, emphasizing that they share the rest of the crops with friends and family as well as those who visit the farm.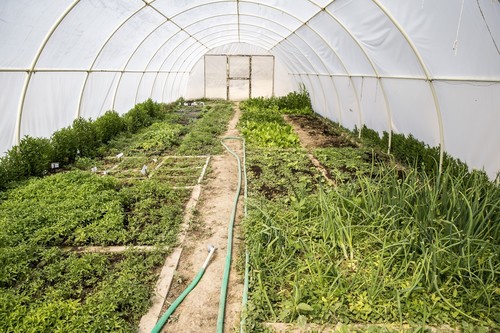 Pointing out that the soil on the farm is not fruitful, Şen stressed that organic farming is not easy and that the soil here is calcareous and has a high alkaline content. "We have planted various medicinal plants such as sage, thyme, echinacea, tutsan, balm and lavender. We applied for an organic certificate to certify our products and waited about four years for this," Şen said. "We produce certified organic echinacea, tutsan and sage. On the other hand, we currently grow over 20 kinds of grapes in our farm."

Noting that they do not use chemical pesticides in production, he said that they brought a ladybug colony for their farm because each ladybug consumes about 35 aphids per day. "We fight aphids and diseases with these ladybugs. We do not interfere with the birds here, so we put protective netting around the plants. Again, we do not disturb snakes or mice in the area. Our cats fight the mice, and we keep it that way. In other words, we do not interfere with anything in nature that would break the balance."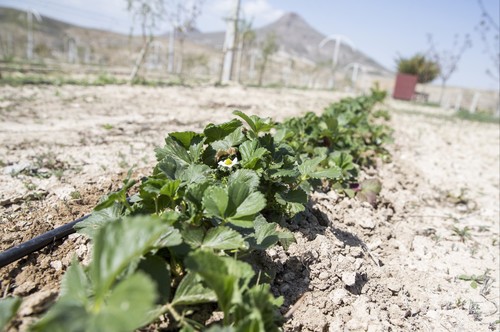 Şen stated that they grow their own seedlings in the greenhouse they built and do not bring sickly seedlings to the farm. "We tried to create a lifestyle on the farm. Here, electricity is supplied using solar energy. We make our own bread. We are very pleased that people come here with their children to pick fruit and vegetables," he said, adding that children learn to produce here and get to know nature. "We grow 60 kinds of products, and we will increase that number in the coming years. We dry our products in shady areas and sections surrounded by thin, wire mesh. We keep our sweet fruit, tomato pastes and molasses in glass-roofed sections, thus protecting our products from pests and dust."

According to Merve Şen, they first produced crops for themselves and close friends and family. Noting that that they also take orders from many families who communicate with them via social media, Şen said that there are families who come to the farm from Ankara via fast train during peak seasons as well as visitors who come from Konya on weekends, noting: "Visitors come here to get fresh air and to experience farm life. About 30 families from Istanbul get their vegetables, fruits and herbal teas from us. We now call them 'our family friends'," Şen added.