Last Thursday, 20 Syrian children, aged 10-12, came to İrfan College's middle school in Atakent, Istanbul. These Syrian children live in the Fatih district of Istanbul and are all now enrolled in Turkish state schools. These young children, who have lost relatives, who have seen unimaginable tragedy up close, who have been torn from their homeland, entered the Turkish school with trepidation. They were greeted by a few teachers and a few students when they arrived.
These teachers led the Syrian children up to the top floor and asked them to wait outside the auditorium door. The young people waited patiently. They were not really sure whether or not to be excited.
But after a few minutes, the auditorium doors opened and the Syrian students entered and were greeted with applause, cheers and great enthusiasm by their peers: 60 Turkish fifth graders. The fifth graders then put on a short show for their guests, welcoming them with an entertaining lesson of phrases in English, Turkish and Arabic. The Syrian children enthusiastically corrected the Turkish children's Arabic pronunciation. This was followed by a rendition sung by all the Turkish children of a Syrian children's song "Ya madraste..." The Syrian children were moved, as was their teacher.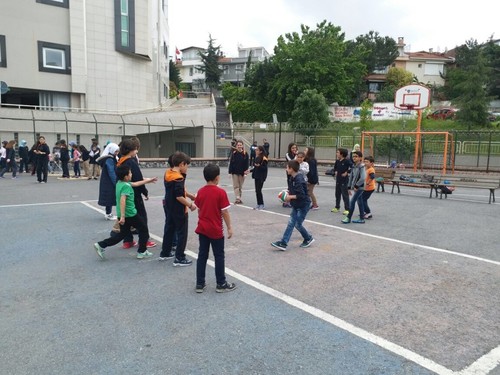 And then it was the turn of the Syrian children. They sang "Nassam alyna alhawa," a song that is about wanting to return to one's home.
After this brief entertainment, all the children were invited to go outside. The Turkish children (and their mothers) had been working hard. A long bench was lined with Turkish specialties, from börek to pide to kısır, and each dish had a label in English stating which part of Turkey it represented. (The cupcake stand was an exception. It just stated CUPCAKES!). The Syrian children had also brought some food: Falafel, spicy chicken and Syrian bread.
The Turkish children lined up behind the bench and served their new Syrian friends. Then the Turkish children helped themselves. There is no need to describe the joy and energy of 80 children eating delicious homemade food in the playground of a school on a sunny day.
After everyone had had their fill, the children raced to play games. There was blanket volleyball, where two teams of four - two Syrians and two Turks - played against one another. Each child held the corner of a blanket and had to try to toss it to the other team. Then there was the "big-foot" game. The point of this game is that two teams of three children each (again, two Turkish children and one Syrian child) raced against one another. The vehicle was a huge wooden foot, with six loops, arranged in three rows. Each child placed their feet in a loop and working together, tried to pick up the foot and move it forward. There was much hilarity and a great deal of cooperation.
Watching these children play together, watching the smiles break out on the Syrian visitors' faces and seeing the enthusiastic welcomes of the Turkish children was heartwarming. The Turkish children were bending over backwards to make their visitors feel at home and comfortable.
The Turks are renowned for their hospitality. They pride themselves on it. But what happened in that schoolyard last week was above and beyond mere hospitality. The Turkish children were aware that they needed to make their guests feel welcomed, to feel wanted. They were aware that these children might be worried, might be unhappy and might be frightened.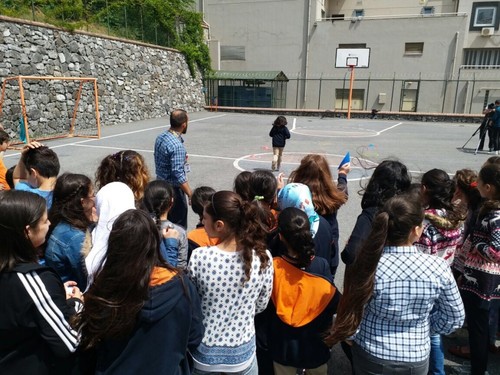 The reason the Turkish children were so incredibly enthusiastic is down to their teachers. The fifth graders had just finished reading Dr. Seuss' "Horton Hears A Who" in English, and this activity had been planned to coincide with completing the book. The message of "Horton Hears A Who" had gone home.
Naturally, there will be some readers who wonder: Well, what is the message of "Horton Hears a Who," which was written in 1954 by Dr. Seuss (Theodor Seuss Geisel). It is amazing that despite being written so long ago, this is a story that still resonates today.
Horton is an elephant, and thus naturally has large ears. With large ears comes acute hearing, according to the author. Horton can hear things that others can't. One day Horton hears a voice emanating from a speck of dust floating by. The voice is that of a Who, one of a number of Whos that live all together on this speck of dust. The voice pleads with Horton to help it. The dust speck settles on a clover flower, and then the adventures begin.
Horton's friends all think he is mad; they hear no voice. They tease him, they taunt him. But he does not back down. Then they decide that they must save him from this madness and wrench the flower away from him. An eagle grabs the clover on which the speck of dust landed and drops it into a field that has thousands of clovers. Horton persists, and he entreats the Whos to shout louder. In the end, all the Whos on the speck of dust come together and make their voices loud enough for everyone to hear. Horton's friends realize that he is not mad; rather, he is compassionate and was only trying to save a life. In Horton's own words: A person is a person, no matter how small.
It is due to the great humanity embedded in the theme that this story still resonates today. Dr. Seuss (or Geisel, but let's use the name he preferred) visited Japan in 1953. He went to research the effects that World War II had had on Japan. He went to schools and asked the children to draw pictures of what they wanted to be when they grew up. He was deeply moved by what he saw, and when he returned to the U.S. he wrote "Horton Hears A Who!" Seuss dedicated the book to Mitsugi Nakamura, the dean of Doshisha University in Kyoto, who had helped Dr. Seuss with his school tours in Japan.
The World War II is referenced in the story; when the eagle drops the Whos' clover, the drawing is evocative of a bomb being dropped. Then Horton is caged, and the animals threaten to drop the clover into Beezle-Nut juice. The propaganda used by the mayor of the Whos' town is also familiar:
"This ... is your town's darkest hour. The time for all Whos who have blood that is red to come to the aid of their country!" he said. "We've GOT to make noises in greater amounts! ... For every voice counts!"
What is interesting is that not one of the Turkish children or Syrian children had any experience (or knowledge) of World War II. But the Turkish children realized that the message "a person is a person, no matter how small" was relevant to the Syrian citizens living in their country. And according to the English teachers at Irfan Middle School, the Turkish children made another, unexpected connection. They related the call to any Who has "blood that is red" to the call the president of Turkey put out on the night of July 15. They related how people pouring out onto streets was like the Whos' voices raised to the sky.
Some books become outdated and lose their relevance. Dr. Seuss' books are those rare books that are relevant even three generations later. "Horton Hears A Who" is particularly relevant, and although an entertaining and exciting story for a young reader, it is a story that drives home its message. These children learned that a person is a person, no matter what. Unfortunately, this is a lesson that many people throughout the world still need to learn.