Even if you are not a nature lover, I am pretty sure that everyone would enjoy a good picnic in nice weather or a casual stroll down the coastline, relaxing and taking in the scent of the sea.
These little joys of life are the gifts that Mother Nature provides for us in exchange for absolutely nothing. In a world where nothing is free, Mother Nature and its wonders are truly a blessing to all humans.
However, the more mankind has come to dominate nature, the more we have forgotten where we come from and what fuels our life force.
As societies grew in recent centuries and technology came to be more and more advanced, earthlings have forgotten that we take root in the Earth we are walking on.
Apart from ourselves, people also have obligations to the other creatures that walk on Earth and breathe the same oxygen; yet, the more mankind expands, the more we turn our backs on nature and its beings.
Today, June 5, marks World Environment Day which is the day that non-governmental organizations (NGOs), governmental institutions and nature lovers urge people to take action to prevent, stop and address the dangers our planet is facing and return to nature.
While this year's World Environment Day has been marred by U.S. President Donald Trump's decision to withdraw from the Paris climate agreement, this should be considered as a chance to recognize the importance of this day more than ever, especially the living breathing beings that call this planet their home.
World Environment Day has been celebrated since the 1972 U.N. Conference on the Environment, organized in Stockholm, which underlined the tremendous responsibility of humankind in protecting and improving the environment for future generations to survive on Earth.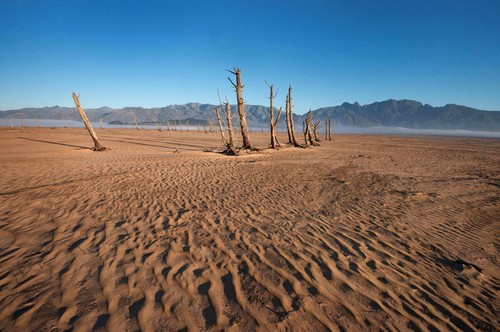 A picture taken a couple of months back showing the sand filled in Theewaterskloof Dam, the main water source of Cape Town, South Africa. The city is suffering from one of the worst water shortage in living memory.
Let's not forget that our blue planet is approaching a critical and irreversible threshold regarding its natural sources and it is our responsibility to take the necessary measures for the future.
While Trump might not believe in global warming, thinking the U.S. does not play an important role in the destruction of our planet, today many countries, including Turkey, aim to achieve sustainable economic development for protecting both the environment and the birth rights of future generations, which include the right to enjoy the natural resources that Mother Nature has blessed us with and to breathe fresh air.
If you can look the bright side, the threat of global warming was a wakeup call for mankind.
Realizing that our actions are a big threat to the future of our planet, we have more of a tendency to appreciate the beauty and importance of nature. Scientific research has given us a better understanding of the countless ways in which natural systems contribute to and support our prosperity and our well-being.
Although people around the world, living in the rural areas, spend much of their time working and connecting with nature every day, for city dwellers, World Environment Day is truly an opportunity to return to nature whether it is in your garden or your favorite park.
This is because, believe it or not, nature is closer to urban dwellers than they might think.
This year's World Environment Day theme is "Connecting People to Nature," a pivotal topic that encourages people to get outside into nature to appreciate its beauty and its importance, while responding to the call to protect the planet earth that we share.
There are many ways to reconnect with nature: If you are walking in a park, do not hesitate to take off your shoes and feel the soil under your feet without thinking of getting "dirty." Or, you can just drive to the seaside and appreciate the beauty that Mother Nature has blessed us with.
There is also a chance to become something big and support World Nature Day on social media.
You can share your ideas and photos on your social media account with the hashtag "#WithNature" or "WorldEnvironmentDay" and help to fashion the biggest photo album in the world, as well.
The World Environment Day initiative, which is associated with U.N., allows social media users to craft an online photo album to draw attention to the cause. All you have to do is to find your favorite spot in nature and photograph it and share it online with the said hashtags.
Remember that no step is a small step. If you take action now, you might inspire even one person to save our planet and leave a better future for the next generation -and that is just a start.
So, put on your sneakers and find your happy place in nature right now.