Working as a cashier at a skating rink, Hatice Çelik wanted to give ice skating a try one day. Her trainer Umut Çelik, with whom she fell in love with, helped her in her endeavor. As they skated on the ice hand in hand and eye to eye, they fell in love and eventually ended up getting married.
After a short while, the couple decided to found an ice hockey club. National ice hockey athlete Umut and his wife Hatice founded the Istanbul Ice Pirates Sports Club eight years ago. During the first year of the club, they had just 17 members playing in the toddlers' league, but as time passed the number of sports people in their club quickly increased.
In time, the Istanbul Ice Pirates became a very successful club.
Hatice started to practice more and more to be able to help her husband as much as she could. Refining her skills on skates, she became an ice hockey player at the Istanbul Skating Club. She obtained a coaching certificate after attending coaching workshops, and she served as an ice skating player and a coach at the same time.
Starting to work as an assisting coach for the national team two seasons ago, Hatice had to take a break from work after she became pregnant.
Only female hockey team in Istanbul
Continuing to serve as a coach for the Istanbul Ice Pirates Sports Club, Hatice defines ice hockey as her passion. "I explored a different side of myself after starting hockey. Both skating and watching the skaters are sources of pleasure for me. The ice is a passion, which cannot be given up once you start. Women are more passionate than men when it comes to ice skating," she said.
Hatice, who has devoted herself to the sport, places great importance on female presence in the sport. One of the pioneers of the Istanbul Ice Pirates Women's Ice Hockey Team, she has been competing for five seasons.
The only club in Istanbul with a women's ice hockey team, the Istanbul Ice Pirates is also last year's champion.
"We are the only club in Turkey competing in seven different branches. We have 14 Turkish championships in various branches. Some of our 173 athletes are national athletes as well," she explained.
As far as she noted, women's interest in ice hockey started to increase only recently. The sport attracts a lot of attention, especially from working and studying women.
"Children are encouraged generally by their families. Women, on the other hand, see ice hockey as a different sport. There are also women who started ice hockey as a hobby and then became professional athletes. Families encourage their daughters to provide them with a hobby or make them active. Every so often, those girls turn into professional athletes in time," she said.
The time it takes to learn the sport changes from person-to-person. However, trainees learn skating in about 10 sessions.
Hicran Kıvanç: 'I forget everything on the ice rink'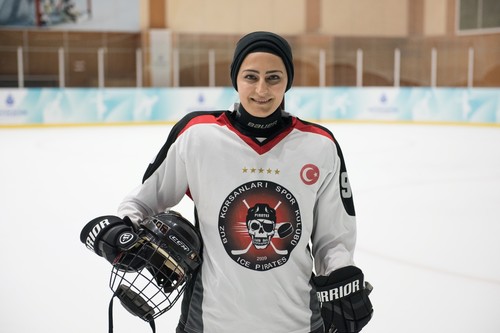 Hicran Kıvanç, 39, a mother of three, has been working at a news channel as a reporter for over five years. Kıvanç first encountered ice hockey thanks to her children. Her older son is a very active; so they wanted to enroll their children into a sports club.

They decided on ice hockey because it was much different than football or basketball, which are the most popular team sports in Turkey.
"My son started to take part in games as soon as he enrolled in the club. Then my younger son, daughter and my nephew also started hockey after my older son. Thus, we turned into a family of icemen," she said.

At first Kıvanç just watched her children while they skated, but soon she too started the sport as a hobby. Now, she is a professional ice hockey athlete. "I do the sport while enjoying time with my children. To be honest, ice hockey is not an easy sport. I learned it by fits and starts. You don't care about anything when you are skating, you turn into totally a different person," she said.
Emral Mutlu: 'Skating makes you feel free'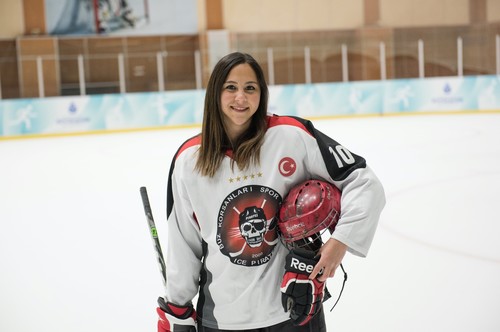 A graduate of Maltepe University Civil Engineering Faculty, Emral Mutlu, 24, is a working woman. She first discovered ice skating four years ago with her older sister. Since Mutlu really loved the sport after trying it a few times, she decided she would give ice hockey a go. "I was captured by a great feeling of freedom after learning to skate on the ice. It was also a kind of escape from stress. You refresh while skating. Then it became more joyful after joining a team," she said. Mutlu says that she has also experienced extraordinary dialogue throughout her adventure of skating.

She explained that people would see her with a hockey stick on the metro bus, and asked her what she does with it. She said some people thought that she had a hockey stick to defend herself. "Everyone has their own passion for skating. One you start, you cannot give it up," she said, adding that some of her friends want to start ice hockey like her.
Didem and Özlem Bağcı: 'Ice hockey is a different world'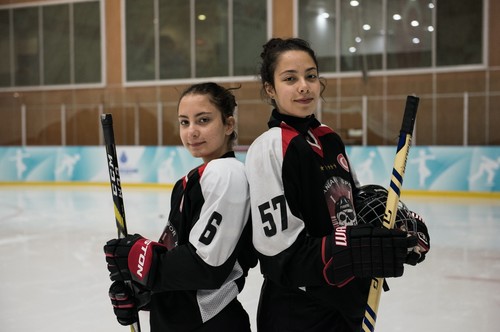 Twin sisters Didem and Özlem Bağcı, 17, are students at Beşiktaş Anatolian High School. Both sisters started to skate at an ice rink at a shopping mall with their friends for fun. Didem went on to figure skating, while Özlem started ice hockey upon the recommendation of her coach.

After working in an artistic rink for five years, Didem too decided to give ice hockey a try, feeling inspired by her twin.

"I realized that hockey is more joyful. Figure skating is a more personal sport, while ice hockey is teamwork. You can help each other, which I like about it. Now, I'm on the national ice hockey team," she said.

Both sisters are now professional athletes for the Istanbul Ice Pirates Sports Club. They both think that playing on the same team is advantageous. Skating on the rink is an undefinable feeling for both of them.

During their first years in the sport, their friends were inspired by them. Some of them tried ice hockey as well, while others could not perceive what kind of sport ice hockey was. The twins aim to promote ice hockey in Turkey.

"When I started the sport, ice hockey wasn't known by most of the society. Now, people have an idea about it upon hearing the name ice hockey," Didem said.

Being twins, however, can be confusing on the rink. Explaining that ice hockey is a different world for her, Özlem said that they forget about everything on the rink and it gets rid of all the problems of life.