It has been an entire year since the deadly coup attempt that left more than 200 people killed on July 15. Now, as the nation prepares to observe this "black day" in Turkey's history, with commemorations for the martyrs who lost their lives fighting bravely against the putschists to defend democracy, I'm writing these lines as I sip my coffee at a cafe overlooking the Bosporus Bridge – re-named the July 15 Martyrs Bridge in the wake of the failed coup – trying in a futile attempt to retrieve the intensity of the fear, horror and despair I felt that night. It all seems like a thing of the past now: The harrowing instances of violence from that dreary night becoming more blurry with each passing day.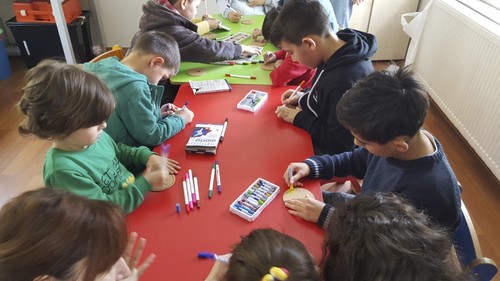 However, unlike myself and the millions of others who have seemingly moved on, for some, even the minutest details of that dark night are still vivid memories. The lingering, painful memories of July 15 caused more damage to those who fell victim to the unthinkable than it did any others, leaving deep scars and changing people's lives in a way that is now irreparable. While life simply went on for most of us; working, socializing, vacationing and picking up where we left off, others are trapped in the memory of that fateful day when hundreds lost their loved ones in the most tragic way, killed by the bullets fired from the weapons of Turkish "soldiers." They are the families of those to whom we, the "spectators" of July 15, owe this carefree way of living.
When I was on my way to the rehabilitation center in Çengelköy, founded specifically to provide psychological support to children whose relatives were killed on July 15, 2016, one question kept echoing in my mind: How can one explain July 15 to a child who was brought up hearing heroic stories of Turkish soldiers that bravely defended this nation against adversaries and terrorists throughout history at the cost of their lives and, thereby, idolized them? How can one make them believe "the soldier" that killed their father or brother was a terrorist? How can you explain this to a child without turning their impressionable worlds upside-down?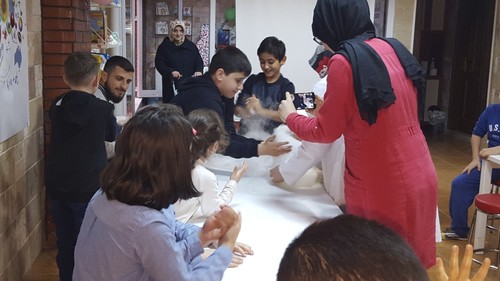 To find some answers to my questions, I stepped into the backyard of the center where a dozen of women gathered to share their common pain. Upon seeing the faces filled with grief – most likely due to the approaching anniversary of July 15 – I knew I was about to conduct one of my most difficult interviews ever.
Hayriye Ekşi recounted her heart-wrenching story to me. "When my little son asked me who did this to his elder brother, I could not bring myself to tell him that it was a soldier. I did not want to shatter his ideal image of soldiers, so instead I said, 'traitors did it.'"
Hayriye is a mother of three now. She lost her eldest son, who was only 24 years old, on the bridge where thousands of others had gathered to stand up against the putsch. Her son was among the first group to take to the bridge, before Turkey's president called for the nation to pour to the streets to defend democracy. And he was shot dead by a single bullet.
When the "warning" bullets were being fired, the young men on the bridge leaned down, according to Hayriye, except for Mehmet, who was still running against the soldiers with a barge in his hand, based on the accounts of Mehmet's friends who witnessed him die at the scene.
"There are no words to explain the pain I go through while I cross the bridge to go the other side of the city. There is not a single time that I don't cry while I travel across it. And on one occasion, my son, who is 12, held my face between his hands and told me: 'Mom, don't look around, look at me, maybe then you won't cry,' which of course made me weep even more," she said, giving me the first lump in my throat.
"You are very hurt as a result of your loss but, at the same time, you know that you have to think about your other kids, too. I have been struggling to contain my grief so as not to further upset my children over their brother's death."
She continued telling her story as I watched her burst into tears, unable to come up with the words that could ease her pain. She said her children are all undergoing psychological treatment and that every aspect of their lives has changed since July 15.
"The games my children play now involve violence. Fighting, killing, all kinds of war games. ... Once there was a painting contest about the July 15 coup attempt. My – now – eldest child painted his dead brother opening his arms on the bridge, and there are dead people lying around him. That was when I realized just how deep their wounds are."
Hayriye is among dozens of others who receive psychological treatment at the center. The manager of Social Support Services at the center, Özlem Bağlar, said the place is being operated under the Üsküdar Municipality and there are currently 20 psychologists who volunteer to give support to the relatives of those who were killed on July 15. She said the center mostly focuses on services for minors, who simply cannot cope with their losses, providing individual therapy to such children.
"This place was founded right after the coup. Throughout the year, children have been supported through art and social activities and are offered professional psychological support. We have gained considerable ground in helping children heal from the psychological trauma. At the onset, we were told by the parents that their children were suffering from sensitivity to noise – they said they would jump at even the slightest sudden noise – suffering from sleeplessness, stuttering, inability to speak, introversion, but these symptoms seemed to wane as a result of the treatment. Of course, some kids experienced this trauma more acutely than the others, but we're doing our best," said Özlem.
Yüksel Sivri, who lost her husband in the clashes in Çengelköy district, said that for a long time, his 11-year-old child could not accept the fact that his father died. It was only when they were at the Presidential Palace, watching what happened across the country that night in a slide presentation, that he came to understand he had truly lost his father.
"But since then, he has kept asking me, 'Mom, did you not tell dad to stay?' I responded each time with the question, "How could I have not, son? Do you think I could have stopped him, do you think he would have stayed?"
She also cried. And, once again, I was lost for words in my attempts to soothe her. I could only hand her a hankerchief.
"This is our fourth psychologist. Hakkı has never been able to fall asleep before sunrise since July 15. His only haven is in his drawings. These are not masterpieces but this is how he expresses himself. Although rare, he also has hallucinations. He sweats as well, though not over his entire body. His head sweats profusely, as though he was under pouring rain."
"Believe it or not, I forgot my own pain while trying to make sure he is okay."
One thing I noticed in bewilderment, as I was listening to these women's stories, is that none of the women I talked to expressed the slightest regret as they remembered July 15, although it left them in unending agony. As a matter of fact, a sense of pride in the way their loved ones died could easily be seen through their eyes. They said, if there is anything that consoles them, it is the thought that their beloved ones 'died for the sake of this nation.' That honor, they said, keeps them strong. Apparently the parents also wanted to instill the same feeling in their children by choosing to inform them of what had happened by saying, 'your father was a hero,' or 'your brother is a martyr.'
Çiğdem Hasbal is another parent who lost her husband on the bridge. Her son, Enes, also receives psychological treatment at the center. The mother noted that aside from his aggressiveness, she has not observed any other symptoms of major trauma in her son, saying that actually, she is the one who continues to cry.
Hasbal said during one of the moments she broke down, it was her son who was there to console her. In an apparent transition from "innocence" to "experience," he approached his mother like a mature man and said: "Mom, don't cry, daddy has become a martyr."