As Middle East summer temperatures soar above 35 degrees Celsius (95 Fahrenheit), Gazans are struggling to stay cool amid a power crisis, with less than four hours of electricity a day and little chance to run fans and air conditioners
The power crisis is affecting health and sanitation - because sewage treatment plants can't run, raw sewage is pouring into the Mediterranean - and now the elderly and sick are desperately trying to handle the heat.
Plastic trays and scraps of cardboard are doubling as handheld fans. Precious piped water is hosed over children and work animals. Those trying to sleep have abandoned clammy mattresses, preferring the relative cool of bare tiled floors.
Hoping to pressure Hamas to relinquish control of Gaza, Palestinian President Mahmoud Abbas has reduced his administration's payments to Israel for the electricity it supplies to Gaza. That has left the 2 million Palestinians there with only a few hours of power a day.
Hospitals and other emergency facilities have made do with backup generators. Few ordinary Palestinians have that option.
A family excursion to the beach that might elsewhere have been a delight was, for Sabah Joudah, a forced decision, especially when having to put up with the sewage problems.
"We came here to entertain the children, even though the sea is polluted," she told Reuters as the dirty surf lapped close by. "It is summer and there is no electricity; no water and no fans are working in our homes. It is very tough, very tough."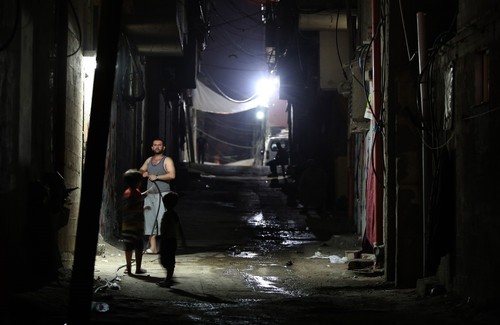 A man with his children in the darkness as Gaza, which requires 400 megawatts of electricity per day, continues to suffer from a severe power crisis.
Environment officials say disruptions at sewage treatment facilities have meant more than 100,000 liters of untreated wastewater is discharged along the coast daily. Around 75 percent of the seawater is polluted.
Swimming there frequently leaves children with skin inflammations and abdominal complaints, parents say.
In the southern town of Khan Younis, a woman bathed her children in a bucket in the street, while a man doused his horse with water.
One Khan Younis couple, the Abu Mehsens, both suffer from high blood pressure and said they were so beleaguered by the heat that simply fanning themselves could be too much effort.
"When we get tired we rest for a bit before we start fanning again," Jihan Abu Mehsen said. "We do so all day long."
The situation has hurt Gaza's meager retail sector, with vendors saying that sales of electrical appliances have tanked. One exception has been cheap rechargeable fans, which can be stored, with full batteries, in anticipation of the power cuts.
"People have turned to alternative power, using batteries," said appliance salesman Mahmoud Abu Hamda. "Sometimes they use trays and sometimes even the covers of kettles instead of electric fans. This has impacted us very much."
"The crisis is affecting all aspects of livelihood in Gaza," Fathi al-Sheikh Khalil, the authority's deputy head, said during a press conference Sunday.
He stated that the cuts obstruct water supplies, sewage pumps and disrupt health services to patients.
"Israel is fully responsible for the ongoing electricity crisis in Gaza," he said, calling on Israel to fulfill the strip's electric needs.
According to Khalil, Gaza's power authority agreed to all conditions set by the Ramallah-based government to resupply the fuel needed to operate the strip's power plant.
The Ramallah-based Palestinian Authority has yet to comment on Khalil's statements.
The U.N. envoy to the Israeli-Palestinian peace process warned Friday that the Gaza electricity crisis was worsening.
"Today I am warning the [U.N.] Security Council that unless urgent measures are taken to de-escalate, the crisis risks spiraling out of control with devastating consequences for Palestinians and Israelis alike," Nickolay Mladenov said.
Gaza, which requires 400 megawatts of electricity per day, continues to suffer from a severe power crisis that has forced local authorities to adopt a rotation system, cutting power from some areas in order to supply electricity to other areas.
Israel provides 120 megawatts of electricity to the Gaza Strip, while Egypt provides 32 megawatts. Gaza's power plant provides only 60 megawatts, according to Palestinian Energy Authority figures.