"Why do they call you 'Uzun (Tall) Mehmet'?" I asked and regretted my question the second I finished the sentenced since I idiotically stated the obvious. Mehmet just laughed, showing all his teeth, and said, "Well, I am the tallest person in the village, that's why."
Mehmet was a close family friend, residing in the village where my mother is from in the mountains of the province of Bursa. I have never heard anybody mentioning his name without adding "uzun" before his actual name. Giving nicknames is a tradition that can be seen in many cultures, however, nicknaming is a tradition that is shaped in accordance with culture, geography and history. Some claim that the Turks have been giving nicknames to each other since their days in the Central Asia. Today - especially in rural areas - it is hard to find a person without a nickname.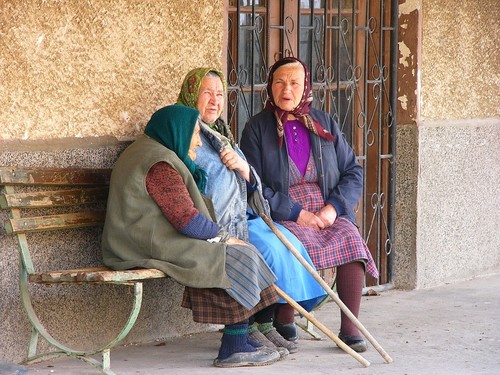 Giving a name to something - whether it is an object, a situation or a person - is taken seriously by every society, and it is hard to come across with a culture that does not involve in the game of name giving. In Turkey, we love giving names to things, but of course, it is never enough.
For Europeans and Americans, nicknaming is either a way of showing affection or teasing. By giving nicknames people can emphasize the intensity of their relationships with people such as best friends and parents, allowing others to know that this relationship holds an eternal bond, one that cannot be destroyed. On the other hand, giving nicknames to a bully is just to undermine someone's authority and make them feel less than who they are, which is a common sight especially in the digital age. However, things are quite different in the lands of Anatolia.
According to the latest data from the Turkish Statistical Institute (TurkStat), Zeynep and Yusuf are names given the most to the new born girls and boys, respectively. Moreover, names such as Mehmet, Ali, Muhammed, Merve and Elif are also frequently given to babies in recent decades. It is not surprising that in small residential areas, there are many Mehmets, Elifs, and Hasans; and in such situations, nicknames come to aid.
Back in the day - before the Republic of Turkey was established - there was no such thing as surnames in Anatolia. People were known by their nicknames they acquired, which necessarily revealed a distinct feature of person or a remarkable function as the easiest and most convenient way of introducing a person to others in a society. Different characteristics, socioeconomic status, occupation, sociocultural status, distinct physical features, behaviors and attitudes, ethnic origin or lineage, etc., of a person constitute an important factor when giving a nickname. Nicknames are so functional that from time to time it is used without a person's actual name.
According to social research, the most common source for nicknames is people's professions. If a man has a tailor shop, he is widely known by the prefix "Terzi" (tailor in Turkish). The second most used source is their physical appearance and behaviors. There are also nicknames based on people physical disabilities such as calling a blind guy "Kör Mehmet," however these nicknames have no intention of bullying or teasing but to point out the most distinctive physical feature of a person.
Before the surname law that obliged everyone to have a family name following the establishment of the modern Republic of Turkey in 1923, nicknames were so common that even literary persons started to be known by their nicknames. As there were no last names, people were either known by their father's names, such as "Ahmet oğlu Osman" (Osman, the son of Ahmet) or their nicknames, which later even became some families' last names.
Following the surname law, some people turned their nickname into their and their family's surnames. Although the nickname tradition faded away in time, especially in cities, it is still alive in the rural areas of Anatolia.
Additionally, the tradition of nicknaming is also vividly alive in Turkish sports. Greek origin Turkish footballer Lefter Küçükandonyadis, the legendary footballer of Fenerbahçe Club, is known as "Ordinaryüs" (the title given to the professors of great accomplishment in Turkey) thanks to his incredible knowledge of football. Metin Oktay, one of the best footballers that ever played for Galatasaray Football Club, was known as "Taçsız Kral" (The King without A Crown) as he became the top goal scorer for years.
On the other hand, Turks love giving nicknames to the Turkish national teams as well. For instance, the Turkish National Men's Basketball Team is known as "12 Dev Adam" (12 Giant Men), the Turkish National Women's Basketball Team is called "Potanın Perileri" (The Fairies of the Basket) and the Turkish National Women's Volleyball Team is generally known as "Filenin Sultanları" (The Sultans of The Net).
The nicknaming tradition of the people of Anatolia has its roots in the cultural background of the lands they are living in. Seeing that we Turks still love giving names to things that already have a name, and continue to give nicknames to everything even after thousands of years, it seems like the tradition is not going to end anytime soon despite the fast pace of the 21st century.