Apple is releasing two different iPhone models this year, one of them comes in two different sizes.
But iPhone X and iPhone 8 share the same powerful hardware: The Apple A11 Bionic chip with a focus on next-gen demands like artificial intelligence and real-time image processing. The latter leads the way for another wave of augmented reality (AR) apps and games.
The term AR was first introduced to the mainstream when a mobile game named Pokemon Go released, and the youth suddenly became Pokemon trainers and started hunting virtual monsters in city streets and squares.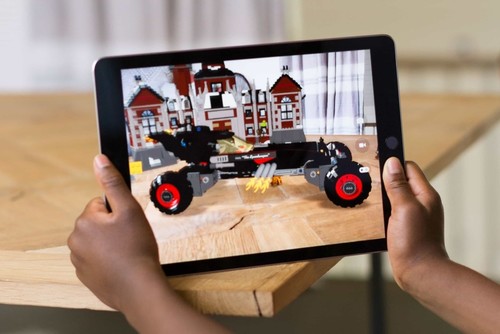 Instead of generating an entirely virtual world accessed by a headset like in virtual reality, AR uses the real world as the background and overlays it with digitally-generated images.
Developers were waiting for a long time for a framework that would allow them to design beautiful AR apps, and Apple provided this to the ever-growing iOS developer community in the form of ARKit.
According to the Cupertino-based tech company, "It's a new framework that allows developers to create unparalleled augmented reality experiences for iPhone and iPad easily. By blending digital objects and information with the environment around users, ARKit takes apps beyond the screen, freeing them to interact with the real world in entirely new ways."
iOS app developers responded by using this new tool to create plenty of new apps and games for augmented reality.
Some developers also added AR capabilities to their established games. The results are downright gorgeous games, informative guides and useful solutions to our everyday problems. If you've just purchased a new iPhone, or updated your existing device to iOS 11, you should start your "augmented" journey with these six apps:
Night Sky
The light pollution almost made us forget about the stars shining in the night. This app aims to recover our sense of night sky.
Using the ARKit capabilities of iOS 11, Night Sky allows you to identify stars, planets and constellations above.
You just need to hold your iPhone, iPad or even Apple Watch to the sky at night, the app then uses AR technology to overlay constellations on the real imagery of the dark sky.
The MachinesIf Apple handpicks a game to demonstrate its newest device (iPhone X) and the technology behind it (AR), you know that game has great potential.
With iPhone 6, it was Vainglory, an online real-time strategy game where a team of three players fight with each other on a unique map.
In 2017, that kind of gaming style meets with augmented reality in the form of The Machines. It has the potential to become the next Pokemon Go.
Developed by Directive Games, The Machines is the first competitive multiplayer game that will play solely in AR. The game transforms your dinner table to an explosive player-vs-player (PvP) arena and forces you to outwit your online opponents in a real-time and real-world fashion.
HousecraftDeveloped by Sirvo, who also happens to make our beloved numbers-based puzzle game Threes!, Housecraft uses iPhone's shiny new camera to virtually "drop furniture anywhere in your home."
This app combines real-world imagery with fully rendered 3D models of digital objects like chairs, vases, and tables, to allow you to get a grip on exactly how a work table will fit in your child's room. You can freely resize the objects and see the space they cover in your house, or anywhere in the world.
Users also have the option to save room configurations and try them out.
AR MeasureKitSmartphones made alarm clocks, flashlights, and calculators a history.
Now it's time for our rulers; AR MeasureKit offers a wide array of tools to measure real-world objects. This app singlehandedly replaces your ruler, goniometer and water balance. With seven AR-powered measuring tools, it allows you to measure straight lines, distances, corners and even your height.
Chaining Mode, which comes with the app, is also pretty useful for measuring an area of a room. What makes AR MeasureKit stand out is its ability to accurately calculate different objects such as a painting on your wall.
Stack AR
Stack is one of the best two-minute time wasters on the App Store for a very long time.
The game's "easy to pick up, hard to master" gameplay mechanics enables more enjoyable bus rides in rush hour.
Now with iOS 11 and ARKit, you can make anywhere a background of your Stack experience.
So, sweep out that old-school Jenga and make room for Stack AR on your table. Judging by screenshots, you can even play the game at the beach!
HoloHolo is one of those apps that does only one thing, but gives you so many options for doing it.
The app lets you add holograms of your friends (or animals) into your world, then share their photos and videos with everyone else.
You can move around 3D holograms of people and even interact with them in real AR fashion. Holograms can be resized or moved to your heart's content. With its extensive collection of famous people, Holo lets you share your lunch with Buzz Aldrin or Tristan Tales.