Jayyous is a small village in the very agricultural northern end of the occupied West Bank, only meters away from the separation barrier and within eyeshot of Israel's big coastal city, Tel Aviv.
It seems like an odd place to have a skate park but the people behind it, British nonprofit SkatePal, have a history of working with smaller communities and say Jayyous actually has its own history with skating.
"There's been quite a few kids skating for quite a few years and up until now they've been skating on the streets and in and out of cars, which is quite dangerous," SkatePal director Theo Krish, 29, told Anadolu Agency (AA).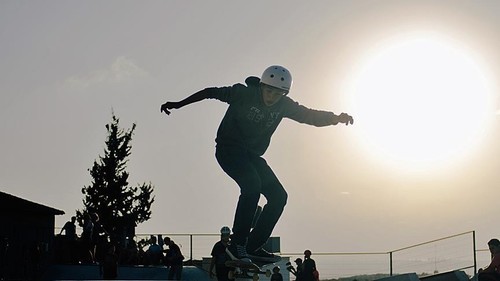 "We know straight away that this park is going to get used by lots of children and that they're going to get used."
He, SkatePal founder Charlie Davis and a team of volunteers worked through the summer to build the concrete skate park, living in the local community, which has welcomed the project.
Unable to buy land in the West Bank, Krish said all of their projects have been focused on places where local communities are open to the idea and there are already youth interested in skating, even when they do not have the facilities.
In the long-term, they want the Palestinian skateboarding scene to be able to support itself, without the need for support from visiting skaters.
"So it's about building skate parks in places within reach of different communities in the West Bank but also about supplying skateboards and setting up organizations that can supply skateboards by themselves. At the moment we bring skateboards ourselves in suitcases, which is obviously not sustainable," he said.
While practical concerns like finding land to build the skate parks on have been part of the reasoning for building them in far-flung villages, there is also a hope that the Palestinian skate scene can grow in places where the youth have few options.
"In bigger cities children might have opportunities such as playgrounds or certain activities they can sign up for but in villages like Asira or Jayyous, kids here have nothing else to do. They just throw rocks at Israelis or just sit on the streets," said Abdullah Milhem, a Palestinian skate instructor from Qalqilya, the closest city to Jayyous.
"They need an outlet for their energy because they're just young children who want a childhood," he said.
Even as he speaks, the smell of tear gas wafts over the skate park on a day when Israeli armored vehicles had been rolling through the village in search of youth they claimed had been throwing rocks at them.
With the success of past projects, including a similar skate park in Asira al-Shimaliyya, a town in the nearby Nablus district, SkatePal are hoping to build a bigger skate park in Ramallah, the West Bank's administrative capital, which they hope might make skating more popular and the site of their first project, a temporary wooden ramp.
"At the time there was no opportunity to do something permanent so a few years down the line we're able to show people the success story," said Krish.
"Now we're really looking to do it in Ramallah because we know from Ramallah it will spread outwards."
Israel occupied the West Bank -- including East Jerusalem -- during the 1967 Middle East War. It later annexed the city in 1980, claiming it as the capital of the Jewish state in a move never recognized by the international community.
International law views the West Bank and East Jerusalem as "occupied territories" and considers all Jewish settlement-building activity on the land to be illegal.
Palestinians say Israel is waging an aggressive campaign to "Judaize" the historic city with the aim of effacing its Arab and Muslim identity and driving out its Palestinian inhabitants.