Yusuf Uçar can now go wherever he wants in a more relaxed, peaceful and safer way thanks to his guide dog, Aslan, who started living with him three-and-a-half months ago.
Uçar, a senior in the Department of Sport Management at Istanbul University's Faculty of Sports Science, was on the Turkey Men's National Goalball Team that won a bronze medal at the 2012 London Paralympics.
The 31-year-old, who also works at the Kadıköy District Directorate of Youth and Sports, received training with Aslan following his application and conformity tests. Uçar was initially worried about getting used to a guide dog, but after the training he said he got used to Aslan very quickly.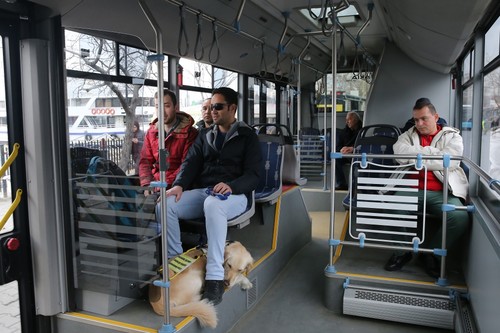 Yusuf Uçar takes Aslan everywhere he goes including on the public transportation.
Every weekday at 6 a.m., Uçar combs Aslan's fur and feeds him before stepping out of the house in Yeldeğirmeni for school and walking to the Söğütlüçeşme metrobus stop.
Uçar said it takes an hour to reach Avcılar, adding that Aslan comes with him to classes and exams and sits by his side while he studies.
"He does not pay attention to the lessons; he prefers to sleep. He also sleeps during the exams," Uçar said. "We walk to back to the metrobus stop after school. There is generally a line to get on the bus. Aslan tries to take the lead. He tries to move forward, and I pull him back. He once managed to go directly to the end of the line. He normally wants to get on as soon as the door opens, and he understands when I tell him that this is wrong and he has to wait."
Aslan, who is always by Uçar's side, follows his owner's commands and enables him to walk safely.
Speaking to Anadolu Agency (AA), Uçar said he used a cane before he started living with Aslan. He explained that walking with a cane was much harder than walking with a guide dog.
"Walking with a cane is a problem because as you walk, you focus on the road, thinking about whether you will hurt yourself or hit a tree branch or if there is a car ahead. This exhausts your mind. The cane does not see the object in front of you, but Aslan can," Uçar said. "The guide dog kind of becomes your eyes. As I walk with Aslan, there is no negative situation, and I walk in a very relaxed and peaceful way. I can walk twice as fast as I walk with a cane. The guide dog makes you walk faster and I can go wherever I want easily without getting worried," he said.
Aslan needs his sleep during his free time in order to relax, and almost every day, Uçar takes his leash off and lets him run freely.
Having been trained as a guide dog, Aslan senses they are about to go somewhere as soon as Uçar holds his leash. As soon as Uçar grabs the leash, Aslan stands up.
"He more or less understands where we are going in familiar places, but I need to give him commands in places we go for the first time. Since he does not know the area, he looks at me, asking what to do," Uçar said, adding that he later gives him directions to their destination.
Aslan stops when he sees a moving car and slows down when he sees danger like someone running toward them, and then he looks at what that person will do next, restrains himself to protect his owner and pays attention to avoid any accident.
Aslan is also comfortable with everything at the house. He brings the ball when he wants to play and takes his own place when his owner sleeps.
"I have been happier and more peaceful ever since I started living with Aslan. He is also my roommate as well as my companion," he said.
Uçar explained that guide dogs make life easier for the visually impaired in every way.
"Guide dogs are not given to just anyone, you need to love and respect them," Uçar said, noting that he generally receives positive remarks and some questions from people who do not know about guide dogs.
"Petting the guide dogs might distract them, which may put him and his owner in danger," Uçar said. "Lots of people try to pet him. I tell them not to since he is a guide dog. They read the sign on Aslan, but they say they can't help themselves since he is so cute. We expect people to be a little more sensitive about this."