For those on the outside, it is impossible to understand what it is like to wake up in a tent every day, rain or shine, in a war-torn country that was once home to millions.
Turkey's southern neighbor Syria is currently engrossed in a civil war, and millions have had to flee the wreckage of what was once their villages and cities. They have sought shelter in neighboring countries, especially in Turkey, which hosts 3.2 million Syrian refugees, and nearby refugee camps. Imran, a 10-year-old Syrian boy from the village of Al-Habit near the Hama province in Idlib, came to Atmeh Refugee Camp in northern Syria, 10 kilometers from the Turkish-Syrian Border, like tens of thousands of others from around the country. The camp was a glimmer of hope for those trying to escape the war, including children like Imran. Some of the children were born in the tents' unsanitary conditions, while others came from different camps, knowing nothing about where they came from. Starting with just a few tents in 2011, Atmeh has become one of the largest refugee camps in the region as the Russian-backed Bashar Assad regime increased its attacks on civilians.
Though the children in the camp have never been completely isolated from the conflict, conditions are progressively getting worse since they are now vulnerable to U.S.-backed People's Protection Unit (YPG) terrorists in the region. Losing their last hope for a safe area for themselves and their children, the people in the camp have been on pins and needles as the conflict's imminent danger increases daily.
Bombardments from time to time, indeed, were part of his life, Imran's friend, Halid, 11, said: "I don't want to stay here anymore. I can't even sleep at night because of the bombardment and missile sounds. It's impossible for me to get used to these sounds. Most of the time I don't understand what kind of sounds they are, but I'm scared."
Recently, after the Turkish Armed Forces (TSK) launched Operation Olive Branch in Afrin with Free Syrian Army (FSA) elements to secure the border, the YPG escalated its attacks on civilians, including on the ones living in the border provinces of Turkey and the refugee camps near the border. Being one of them, Atmeh Camp was targeted by YPG terrorists on Feb. 6, with a rocket attack that killed three civilians, one of them a child.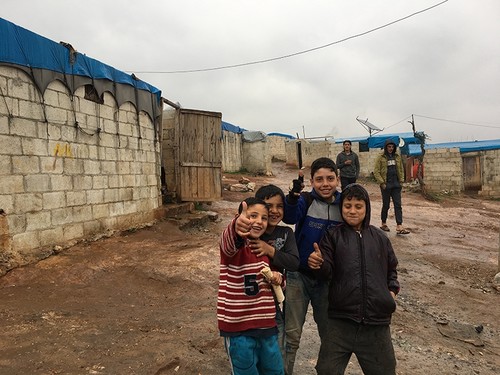 Children at the Atmeh Refugee Camp pose for the cameras, saying "it is OK."
Today, people who have fled from various parts of the country to escape both the regime and other terror elements like Daesh are clearly aware that the camp cannot be secure until nearby areas are completely cleared of YPG terrorists.
Kefe, a 40-year-old Syrian mother, said: "I came here from Maaret al-Numan as my house was completely destroyed by regime airstrikes. My husband's his leg was injured, and now he can't walk. We have no way to earn money, no food, no clothes or even blankets for my children."
Since the camp is very close to YPG-controlled areas, it is very hard for both international and national aid workers to transport medical supplies and food to the area. Speaking to Daily Sabah, head of the health committee, Dr. Bessam Sihyuni, said: "YPG threats prevent the in
ternational humanitarian aid organizations from coming here. It's also dangerous for Turkish Red Crescent workers to cross the border to provide medical and food aid. Thus, we are very thankful to our brothers in Turkey who haven't forgotten us, even under these conditions."
Turkish Red Crescent Chairman Dr. Kerem Kınık, who is also vice president for the European zone of the International Federation of Red Cross and Red Crescent Societies, emphasized the same issue after returning from villages located in Jinderes the TSK and the FSA recently cleared of YPG terrorists.
"The living conditions in the region have been really hard since the very beginning of the civil war, but now they are even harder. The people who had to move from place to place cannot receive services from international organizations. People injured by attacks are transported to Turkey to get proper medical attention. Every day, two trucks transport flour from Turkey to the people in the camp. We are doing our best to provide humanitarian aid to the area, but YPG threats block our efforts. As soon as these terrorist elements are fully eliminated, it will be easier for international aid organizations to reach the area. This is crucial for the people here because they can't survive otherwise."
In addition to the inhabitable conditions of the area and the ongoing threats from terrorist groups, there is another issue that needs to be addressed: Education. There are tens of thousands of children that were either born during the war or raised in it that do not have access to schools. The lost generation of Syria has no hope, no dreams for the future, no plans, and most importantly, no one to serve as role models for them in their crucial developmental years.