Kyrgyz who migrated to Turkey from Afghanistan's Pamir Plateau some 36 years ago and settled in Van's Erciş district, have taken an initiative to promote their culture and cuisine by opening a "han otağı" in a Central Asian yurt.
The Kyrgyz community in the city's Ulupamir neighborhood attracts a lot of attention from tourists the Kyrgyz lifestyle, traditions and horse-riding skills.
The traditional Central Asian nomad house was erected just three months ago by Kenan Aytaç, who said he wanted to contribute to the city's tourism.
Speaking to Anadolu Agency (AA), Aytaç said many visitors from different parts of the country have already come to the yurt.
"Our people love this culture. Thanks to our yurt, the number of tourists coming to our village has gone up from 100 to 1,000. We have revived the 2,000-year-old Kyrgyz, Turkic culture. Now we want to gradually spread this tradition across the entire country. We also want to have similar sites in Erciş, Erzurum and Ardahan in the near future," he said.
"Even though we are very far from the city center now, we have seen a lot of interest from visitors. We want to turn this into a tourism brand."
"This is something that reminds us of our self-worth," Aytaç said.
He added that they have welcomed many visitors in summer and a lot of photographers in the winter.
"With the warming of the weather, many people come visit us from different parts of the country. There is a lot of demand and we are constantly trying to meet those demands."
"All the products we exhibit here are handmade and they carry same characteristics of products used more than 2,000 years ago," he said.
"The yurt, its motifs, the food and the mat you see on the ground, the carpet and everything else has meaning. They are works of art. Here we were able to showcase a culture that existed 2,000 years ago. Our ancestors lived like this. This is our history and we are proud of our roots."
He said that the site will soon offer accommodations.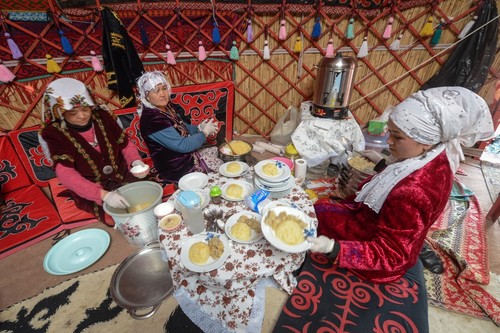 Kyrgyz women cook traditional meals for tourists and locals who wants a taste of Kyrgyz cuisine.
Sonay Yavuz, a visitors, said she traveled to Erciş from Ankara to visit a friend and she was quite curious when she heard about the Kyrgyz culture in Ulupamir.
"This place is very beautiful, the hospitality is befitting and we were happy to be welcomed here in a way worthy of Turks," Yavuz said.
"I didn't know that there was such a village in Van. I wanted to come as soon as I heard about it. I think the culture here should be promoted by opening the place to tourism. Many people live here, but they struggle."
"When I came here, I had the opportunity to experience how our ancestors lived. Looking at this place, I felt how much we were in debt to our ancestors. We even saw the traditional clothes," she said.
Another visitor, Dilek Kurt, said she traveled from Istanbul to see the "han otağı." She was surprised that such a site existed in Van.
"I came here to see and get to know the village. Here, people really have the opportunity to experience the way we lived 2,000 years ago," Kurt said.
Ahmet Yesevi Çetin, said he felt lucky to be there. "This village should be turned into an attraction center. Here we have a very good example of Central Asian culture. This is a reflection of our ancestors and the land they came from."
"Currently, there is only one yurt in the village, but I think that number should be increased so more people can come and visit," he said.
Nurullah Yapıcı said he and his wife came to visit Ulupamir from Istanbul after reading about the place on social media.
"It was really nice to experience traditional Turkic culture and cuisine first hand," Yapıcı said.