Are you happy? This is probably one of the most asked questions in the world. People ask this question usually to learn about the mood of the addressee but in truth, do you ever wonder what happiness is.
The Cambridge dictionary defines happiness as "the feeling of being happy" and defines happy as a "feeling or showing pleasure or contentment," which prove that happiness is subjective and can encompass different things for different people.
Today is the International Day of Happiness. A day that reminds us that everyone deserves to be happy in some way or another and that we should learn to take pleasure from life every step of the way. Not everybody needs to be happy though. Some of us have the right to feel grumpy and in fact, being grumpy and miserable is sometimes preferred, somehow becoming a pseudo form of happiness. Strange enough, expressing individual happiness is a relatively new notion as it turns out that suffering was a form of happiness until in the 18th century, when life was exceptionally difficult. Then, those who had a less challenging life were considered luckier and in turn, happier for their more fortunate situation.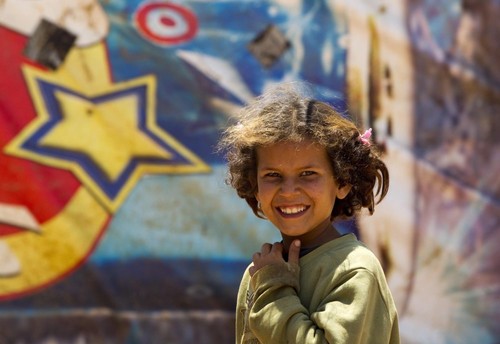 A Syrian refugee girl smiles at the cameras at a refugee camp in the eastern Lebanon.
In the 21st century, nobody is ashamed of being happy. Yet, it seems like everybody is in search of happiness, whether through TED Talks, self-help books or any other means.
The Dalai Lama wrote an entire book called "The Art of Happiness." In his book, he sets a path for finding happiness for everyone around the world.
"So, let us reflect what is truly of value in life, what gives meaning to our lives and set our priorities on the basis of that. The purpose of our life needs to be positive. We weren't born with the purpose of causing trouble, harming others. For our life to be of value, I think we must develop basic good human qualities - warmth, kindness, compassion. Then our life becomes meaningful and more peaceful - happier."
If finding happiness is so easy, why is modern man still desperately seeking it? Are we more miserable or is it that we want more and more, setting unrealistic goals to obtain happiness? Or is the world we live in pushing us to be unhappy?
World Happiness Report: In search of happiness in 2018
This year, the World Happiness Report, which has been published since 2012, focused on the connection between happiness and migration.
In a way, migration embodies the search of happiness. Every year, millions of people leave the places they were born - willingly or forcefully - to start a new life with the hope of higher living standards and as a result, happy lives.
With globalization, people around the world are on the move all the time and millions of people are constantly changing their locations. Most people leave the place they call home to search for better and happier lives, whether for economical or environmental reasons. Moving from rural areas to big cities is an age-old phenomenon. However, the number of people who move from one country to another has increased greatly in the past decades, as well.
Most recently, this phenomenon has widely been occurring in the crisis ridden regions of Africa and the Middle East where people have been forced to leave their countries in search of better salaries, schools for their children or safer living conditions.
According to the World Happiness Report 2018, 153 million people were currently living outside their native countries as of 1990. By 2015, this number had risen to 244 million, of whom about 10 percent were refugees. So, over the last quarter century, the number of international migrants has increased by 90 million. In addition, one estimate claims that there are another 700 million people who would like to migrate to a different country but have yet to do so. However, in their search of happiness and better lives, are these migrants actually happy when they reach to their final destination?
Are international migrants happy in their new homes?
In stable countries, immigrants are about as happy as the locals. Yet, in the happiest countries, immigrants are significantly less happy than locals as the happiness of each migrant depends not only on the happiness of locals but also on the happiness level in the migrant's country of origin. However, the happiness of immigrants also depends on how accepting the locals are toward newcomers. When locals welcome migrants, their quality of life rises as well as their overall sense of well-being.
Res
earchers also came to the conclusion that immigrant happiness depends predominantly on their quality of life. Happiness can change, and does change, according to the quality of the society in which people live. Immigrant happiness, like that of the locals, depends on a range of factors in the social fabric of the host society, extending far beyond the higher incomes traditionally thought to inspire and reward migration. This means that when migrants move to a wealthy and understanding country, they are more likely to find the happiness they were looking for.
Given the fact that most refugees forced from their homes due to brutality or hunger rarely actually reach wealthy countries, it is likely that a large portion of refugees are unable to find the level of happiness they had dreamed of.
The happiest countries in the world remain the same
Every year, the world's happiest countries are announced and this year, the results are not much different than previous years.
Finland, Norway, Denmark, Iceland, Switzerland, the Netherlands, Canada, New Zealand, Sweden and Australia are the top 10 happiest countries in the world. While they are followed by Israel, Austria, Costa Rica, Ireland, Germany, Belgium, Luxembourg, the U.S., the U.K. and United Arab Emirates, it is quite clear that the wealthier the country, the happier the people.
On the other hand, the most depressed countries are the ones battling violence or hunger. This year, the most depressed country is Burundi, followed by the Central African Republic, South Sudan, Tanzania, Yemen, Rwanda, Syria, Liberia, Haiti and Malawi.
Happiness in the age of conflict, hunger and economic crisis
The world is more globalized and tech-oriented, with everything close enough for us to grab and take it. Yet, in a time that we should be happier, people around the world are less and less happy and dare to leave their homelands to find better lives for themselves and for their children. As long as there is a huge economic gap between the poor and the rich, while the continent that once fed the West remains hungry and leaders tyrannize their people for more power and money, it seems that mankind's search for happiness will continue.