Renowned for its natural beauties in the Turkish Lakes Region, Isparta's Eğirdir is a unique blend of beautiful nature, pristine beaches, idyllic islands and vast camping areas.
People flock to Eğirdir from surrounding provinces, especially on the weekends, to spend time in this peaceful atmosphere.
Visitors are welcomed with a tableau of bright colors in the district that include the blooming of apple, cherry and plum trees.
While white-covered fields with the early flowering of trees are a favorite for photographers, the colorful tulips planted by Eğirdir municipality also rivet the beauty of the village.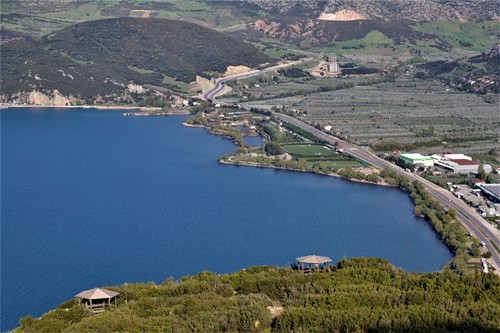 Visitors admire the delightful spring view from the viewing terrace in Akpınar village that overlooks the captivating landscape of the Can and Green islands stretching toward Lake Eğirdir, which is also known as the "Seven-colored lake."
After Eğirdir won its "Cittaslow" (Slow City) last year, it has increased the number of domestic and foreign tourists. The municipality has also increased promotional activities in different countries to increase the number of guests.
Eğirdir Mayor Ömer Şengöl told Anadolu Agency (AA) that they are conducting projects in a way worthy of the Cittaslow title.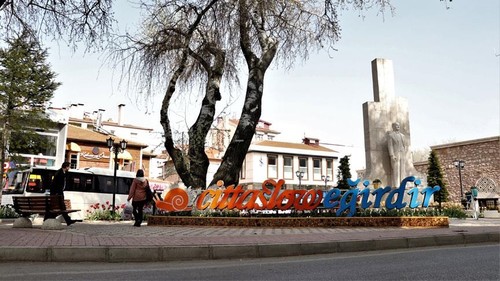 Stating that the city warps itself up in a different beauty every season, Şengöl said the weather right now is above seasonal norms.
"The Cittaslow welcomed spring early this year. All the fruit trees bloomed early. We go a month ahead compared to last year. At the moment 60 percent of apple, cherry, peach and plum trees have bloomed," Mayor Şengöl said. "Our district will be in flowers for 15-20 days. Egirdir is already a flowery place in the region. Flowers suit here. We are doing our best to contribute to this beauty with ever-green trees, bushes and flowers."
Şengöl said that they give importance to the promotion activities of the district, stressing that they define Cittaslow as an easy city in a sense.
"We can reach the hospital, municipality, district governor's office and the police very quickly. The farthest place takes 10 minutes. Those who live here arrive at their destination in a very short time," Şengöl continued.
Noting that safety is superior and there is no problem in this regard, Mayor Şengöl said the guests who come here benefit from safety, beauty and calm.
"We do not have noise and environmental pollution. We meet the criteria of slow city best in Turkey," he said. Şengöl explained that they sent some municipal officials to Italy to examine the slow city activities there and applied many new works in Eğirdir.
Stating that they have great expectations from the new season, Şengöl said the studies for the development of the district are in progress.
"Our district has a perfect climate. We expect everyone to come and see this God-bestowed beauty, purchase some of our products and taste Eğirdir's special flavors this season," Mayor Şengöl noted.
Selçuk Arslan, one of the visitors of the slow city, said that he came to the district to take pictures of the scenery of the flowering of trees and to spend a peaceful day.
"The calm city is fascinating with its nature. Especially in this season, there is a riot of colors here. Everyone must come and visit," Arslan said.
Another visitor Gürkan Şavklı stated that there is a unique environment in Eğridir and that he comes here every weekend.
Highlighting that Eğirdir is much more beautiful than many of Europe's beautiful destinations and comes out at the top of the livable cities, Şavklı said the city has turned out to be first in recent studies.
"You can experience four seasons here. You can see Davraz's peak right beside you.
We have a ski center there," Şavklı said. "There is no humidity in the summer.
The nature is very beautiful and the altitude is 1,000 meters. It is also a matter of preference. People come here for the highlands. Those who want to escape from the heat of Antalya come here. I think this is the perfect place."
Mustafa Özdemir, the owner of the Akpınar viewing terrace, said Eğirdir attracts a large number of tourists due to its geographical location, adding that the spectacular view of the district can be seen from Akpınar village. "It is a place worth visiting and seeing.
This is a place where green and blue coalesce. The scenery is perfect. We look forward to welcoming those who want to see this unique landscape," Özdemir concluded.