A breezy mid-April morning, as I gaze at the buildings passing by with hazy eyes, I am rushing to catch my flight from my sweet home in Istanbul to New York.
I am going through a quick checklist in my mind of everything I should have with me for a three-week vacation with my colleague, my husband, the travel hater. Did I leave the iron on? Of course not. The stove? No. Where are our passports? Here they are.
Relieved that everything is order with the other essentials on my checklist, I lean back and close my eyes as my fellow traveler talks with my brother, who is giving us a lift to Atatürk Airport, about some football match that was played the other night.
"Did you see the goal?" my brother asks. Half sleeping, half awake, my husband gives him a short answer, "Yeah."
Meanwhile, I fumble around in my bag, for what I need as the absolute must - my cell phone. I need it, like every other traveler, to share pictures from the few places we will be visiting on the historical East coast and the warmer, sunny West coast. The number one rule for a modern-age traveler: I share therefore I am!
Finally, after a 10-hour flight, during which we slept some, watched three movies, ate some snacks, diner and breakfast, we land at JFK International Airport.
After passing through customs and getting our bags from the fairly busy baggage carousel, we make our way to the exit. As we step outside, we see my father-in-law who came to pick us up. He gives us a loving hug and immediately asks, with dad reflexes, "Are you guys hungry?" It sounded like our bloated bellies, gave him the answer - no.
I, and definitely not my husband Ismail who is a New Jersey native and naturally has been to NYC many times before, am already working up the energy to see the NYC as soon as possible. My father-in-law, who must sense that I have a huge appetite to discovering anywhere new, offers us a short "Welcome home" tour in New York.
"Times Square," he says, "let me take you there first, Özge." Those who have been to Istanbul before will know that the traffic is among the first few defining characteristics of the city. It turns out, NYC is the same. It takes us at least an hour and a half to blend into the crowd and I begin taking my first few pictures of the heralded Times Square.
And so begins my big, fat, American vacation.
Staying in NJ, commuting to NY
I am introduced to New Jersey, the Garden State, by my father-in-law with encomium. As we go around regular neighborhoods, I am thinking to myself, "The pictures on Instagram have to be from fancier places than this, I don't want to mess up my timeline."
"Okay, this small castle-ish place is pretty unique but its picture could only deserve to be shared on my Instastory, not my feed," I tell myself.
The fate of many other pictures I take in northern New Jersey is almost the same, they all fall only under the Instastory section. My time outside of NYC is not that picture-worthy. Even though I really enjoyed staying in NJ, (a white lie is not a lie at all, is it?) I find myself to be an avid New Yorker. (In defense of New Jersey, I didn't get the chance to see the coveted Jersey shore, which my husband says is "pretty nice" or for that matter, most of the state).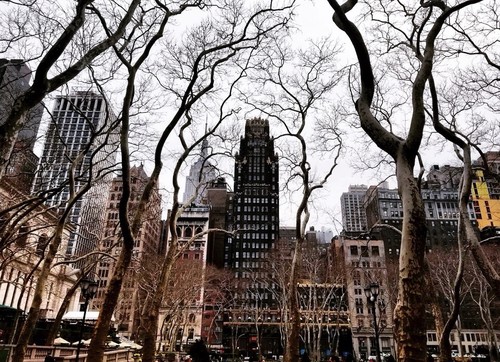 Bryant Park, New York
One thing for sure though, everything that I taste, all of the food I eat happens to be very delicious, and believe me I am not exaggerating whatsoever. Everything tastes good, the bagels, huge slices of pizza, well-seasoned burgers, Chinese food (chicken and broccoli)... I can go on and on. It feels like everything we wolf down is another step toward the world of happiness - and fatness.
Oh, let me make your mouth water and your soul sing with desserts in the following paragraphs. The days we spend in each and every corner of Manhattan are picturesque, so I take an array of pictures here and there, to be shared online after a meticulous filtering process. A vivid picture of the Manhattan skyline at night, a couple of others from the New York Public Library, a collection from Central Park with people walking and running in opposite directions, a restaurant where we have a lunch with cousins in Brooklyn, a "me" picture from the metropolitan area, another snapshot on the Brooklyn Bridge...
I am having such a good time in New York, I don't know about my husband (He says he likes the suburbs and not so much the city). Nevertheless, I am and will not be (and sincerely do not want to be) a blogger and so we chose not to pay the $37 a person fee to go up to the Empire State Building Observatory. The Statue of Liberty also remains another iconic place we could go to, yet prefer not to. "New York, I will be missing you!" my tourist soul confesses. As we walk with the 12 or so books I bought from the Strand Book Store in my bag and a "cup of joe" from Dunkin' Donuts in my hand, the chorus of Frank Sinatra's "New York, New York" lingers in mind - "I want to wake up in a city that never sleeps."
"A bowling night," my father-in-law kindly suggests and takes us to Parkway Lanes nearby their house. As we wait to get our shoes, I think about everyone who wore them before. Were any of them a tourist like me? A foreign member of a native American family (My husband's family is originally from Turkey but moved to the U.S. in the late '60s). Their "Oh, No's" intersect with my Turkish "AH, BE's!" each time we miss pins. "Bowling is not a Turkish sport, anyway," I console myself even though I am not that good at any sport.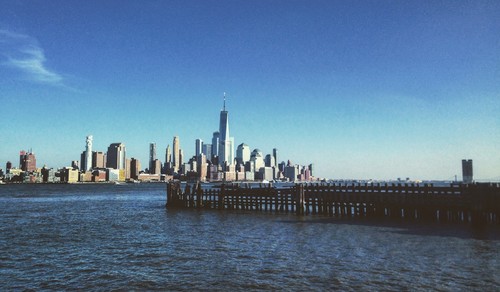 The differences between being a Turkish-American and straight Turkish pop up a lot during the whole vacation. Ismail's grandmother, for instance, tells me during one of our dialogues accompanied with her retrospective feelings that she really "likes Chinese food." Do any of my grandmothers love Chinese food? No way.
When we order "chicken and broccoli" for lunch, she summarizes her 40-plus-year life story in the U.S. "Life is not that easy when you far from your loved ones, my dear," she tells me. Right there, I think of my parents. Am I really that far from them here?
California: Every blogger's heaven
A week in New Jersey and New York can only be a trailer of a really good vacation in the U.S., I whisper to myself the minute we start wandering around our last stop, California.
My two sisters-in-law, and my mother-in-law who was also there on vacation, pick us up from airport this time and we head to their home in Irvine. The first night goes with a lot of talk about how much weight my husband gained since getting married.
The next day, we start off on our West Coast adventure. The city of Los Angeles, of course, has to be our first destination about which I have heard a lot of praise, if not from anyone, from the media. Beverly Hills, home to the Hollywood elite, turns into a must for my "been there, done that" checklist. Between palm trees standing side-by-side, I posed for the camera, while my husband prefers to stay in the car (with the A.C. on full blast).
The houses of Beverly Hills are all architectural marvels that are won't be easy to forget. Still I look for the perfect angles to take some of their pictures while playing hide and seek with the famous California sun.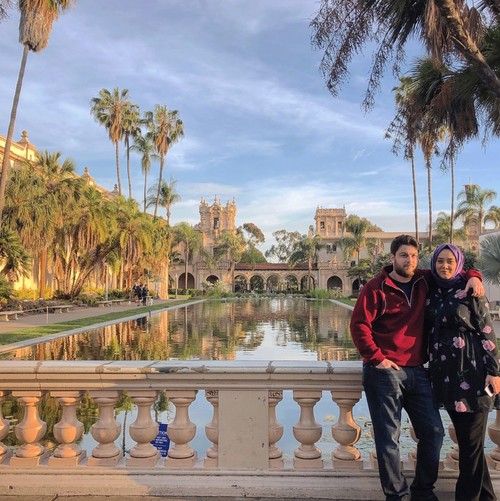 Reporter (R) and her husband in Balboa Park Gardens, San Diego.
The luxurious Rodeo Drive is the next stop, and my sister-in-law asks me whether I would like to take pictures of some of the boutiques. If I were one of those Turkish bloggers, like the ones who came for the Coachella festival, I would have definitely taken some pictures of those stores. But I am neither a blogger nor a brand slave, so I decide to stay inside the car, and just enjoy the view of the buildings dipped in gold. Ismail, most probably regretting for not staying home with his mom, tells us with a "meh" face that he wants to see those palm-fringed beaches tomorrow.
Before going back home, we head to one last place for another rosy picture. Some may know that Paul Smith's ever-popular pink wall is one of the fanciest "instagrammable" walls in L.A. When we get closer to the wall, however, I realize that the wall is swarmed by dozens of people looking to take a picture. "You know what, this street art is so kitsch" I again whisper to myself and then tell my lovely sisters, in a shy voice as if they have built and painted the building. All the places I see in two weeks turn into a heaven for my Instagram. For a nature lover, it is impossible not to fall in love with California. As my partner favors, the next day, we go to the Laguna Beach. As California's "dude" surfers enjoy the swells and people take walks next to the relaxing sound of waves lapping the shore, we look everywhere with wondering eyes.
This must be the heaven on earth! The dazzling colors of flowers surround the beach, our small familial chats, the smell of coffee that we bought from Starbucks on our way here and the surfers' rhythm with the ocean... Laguna Beach is an open-air museum of nature. Here, I take some amazing pictures that are really worth sharing. My husband and I look at each other; we both know that we will miss this place. As we keep walking, I am busy planning on sharing a couple of pictures. "But first, coffee," Alfred Coffee and Kitchen is calling us with their catchy slogan. I don't know what I liked more, Laguna Beach or the apple pie I just had. Anyway, do we even need a comparison?
Speaking of comparison, when I finally see the Hollywood sign in real life and take a mini-tour on the Hollywood Walk of Fame, I realize that they definitely need to be compared to what I have seen before on T.V.
I was waiting to see a fancy street, but it turns out that the walk of fame is a delusion, an overhyped place just like most of Hollywood. "Nothing is really Instagramworthy on the Walk of Fame," I tell myself, excluding the courtesy shown for Muhammad Ali, who did not want the name of the prophet to be stepped on and so he was put on the wall at the entrance of the Dolby Theater.
As for the Hollywood sign, for which we take another familial ride, I want to take a quick picture. But since the sun had already set by the time we got to the area, a blurry photo of it from afar would not work, so I decide to save my battery for other sites.
The Griffith Observatory attracts us like a magnet. The moon salutes us in high resolution through the telescopes put around the giant facility on the south-facing slope of Mount Hollywood. Enjoying Los Angeles from above through the balconies of the observatory at night, equipped with colorful lights, I am thinking of home, my parents, my little nephew, it feels like I am really far from them.
My father-in-law comes to California for two days, so our discovery of the heavenly city continues even better with his great sense of humor. Soft tones of green surround nearly the whole state even if it suffers from drought and loses green with the recent wild fires.
Palm trees in all shapes and sizes, succulents in various colors, giant columnar cactuses serve as the best setting for some artsy pictures. In a family-sized car, we set off again to see Palm Springs and Joshua Tree National Park.
Conversations on the road still roll within the corridors of my ears. Ismail makes a joke in his best California accent. While dad gives him a big smile, mom and I in the third row of the car giggle like we are friends. We are happy and lively like the palm trees welcoming us.
Palm Springs reminds me of the essence of serenity, and the pictures I take there are quite different from those the Coachella-fan Turkish bloggers take. Neither of us, my husband or me, are in any of the pictures. There are only palm trees and fancy houses. No selfies, no stories, no filters.
After a long ride, the Joshua Tree National Park embraces us with a wide range of twisted and bristled Joshua Trees. Ismail imitates a Joshua tree, stretching his arms in different directions, twisting his one foot weirdly, smiling for the camera. The geologic landscape fascinates us, monzogranite rocks in unimaginably spectacular forms mock our bodies that are as stiff as a board. We, then, stay for one of the best sunset of our lives. Ismail hugs me, and we pose to his little sister and the camera to keep this visual memory alive.
Some blurred pictures from Disneyland, dozens of others from San Clemente take their places in my phone, only maybe to be deleted later. On the other hand, photos from San Diego, my favorite place, Venice and LA, fall under my phone's starred photo album, waiting to be shared for #TBTs.
Our three-week vacation ends with the long lines of shopping, shopping and more shopping. As Ismail and I give our last hugs to our family, with which we have to content ourselves with for the next few months or possibly years, they send us off with tears - something that I photographed in my mind forever. I ask Ismail, at the airport, whether he has our passports with him, and he says, "Yeah." And off we go, back home.