Flowing through the slopes of the mountains among the natural wonders of the region, the Lake Van Express offers the opportunity to travel in the presence of beautiful landscapes, unique to both local and foreign passengers. The Lake Van Express, passing through Ankara, Kırıkkale, Kayseri, Sivas, Malatya, Elazığ, Bingöl and Muş and arriving in the Tatvan district of Bitlis, also contributes to the tourism in the city and the region.
The passengers arriving at the Muş Railway Station from different provinces first encounter the natural beauties of the Muş Plain, which turns into an array of bright colors with the arrival of spring.
Besides the lush nature in Bitlis, travelers also enjoy the unique view of Mount Ararat and Nemrut, and Lake Van, an area with significant tourism potential.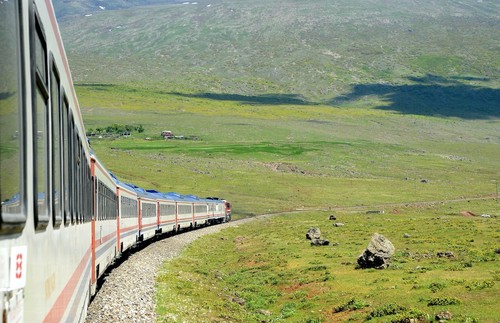 Passengers who prefer the Lake Van express with eight cars and a capacity to carry 320 passengers also take photographs of the settlements and natural beauty they see during the journey steeped in nature.
Yücel Arıcan, Deputy Director of the Turkish State Railways (TCDD) Transportation Inc. Passenger Service, told Anadolu Agency (AA) that the Lake Van Express carries passengers between Ankara and Tatvan two days a week.
Explaining that the journey with the express has begun to be a preferred mode of travel recently, Arıcan said the number of passengers seems to be low but they have a good occupancy rate, adding the locals prefer the train as well. "It is a beautiful route with beautiful places. The landscape between Elazığ, Mus and Tatvan is very beautiful," Arıcan continued, stressing that there is a recent trend starting with the Eastern Express. He recalled that in the first four months of this year, they carried 13,232 passengers with the Lake Van Express. "Both us and our passengers are satisfied with this passion and I wish this to continue," Arıcan added.
Arıcan stated that necessary pre cautions have been taken about hygiene as well, saying there are air-conditioned Pullman coaches, couchette and compartment type cars on the train.
Uğur Baysal, a university student who travels on the express, also stated that the journey starts from Kırıkkale's Irmak district and takes 24 hours to reach Tatvan. "It is my third ride on the Lake Van Express. I was very pleased with my first trip. After that I continued to ride the train. I will go as long as possible and as long as there is a train route. You should give it a try, because there is a restaurant and bed. You see many places and go through nature. I want everyone to try it," Baysal said.
Mehmet Uygun also noted that the bus journey is exhausting, explaining that they decided to take the train because his wife was pregnant, and the bus would be tiring. "There are less bumps and the rooms are very nice and comfortable. We are pleased that the express has started again. The buses are not as comfortable as the train. We prefer the train although it takes 24 hours. The staff is good. It is done twice a week, but we would be happy if there were trips every day," Uygun said. "We want this number to increase. We will be very pleased if the high-speed train services come to the Eastern Anatolia Region."
Ayşe Uygun, on the other hand, said it was her first time riding the train with her husband. "It was so beautiful. We could not take the bus or get on the plane either due to a fear of heights. For this reason, we preferred the train, but we were quite pleased. We plan to ride again on longer trips. We passed through beautiful natural wonders. We traveled in a visual environment," Uygun said. Mustafa Ersin İşgüzar said that he got on the train from Kayseri and he is on his way to Iran to apply for his doctor's degree. "The landscape is very beautiful. The service is fine, and the linens are clean. They serve chocolate, biscuits and water. The staff is quite friendly. I thank all of them. I am very satisfied. I like traveling by train. Not just a bed or a clean sheet, but also looking at this view even makes the trip special," İşgüzar added.
Mutlu Acar from Samsun also said that they live in Ankara, but they decided to go to Bitlis with his wife for the first time by train. "It was a beautiful and interesting experience for us and a different atmosphere. We recommend it to everybody" Acar continued, underling that it takes longer than the bus and plane journey, but it is a home-like atmosphere. "It is our first time. It is a home-like environment. We have beds, a fridge, a room, sinks and sockets. You can use everything comfortably. It is something very different. You are going through nature. You see all the beauties. Especially winter travel is very different. It can be promoted a little more and if our state supports us, a much more beautiful cultural tourism may occur, but first of all, our people should have faith," Acar noted. "Tourism is further improved if locals use it. We need to share this more on social media. I have a lot of friends who see the pictures I share and want to take the train."