Roseanne Barr first came to our attention in the late 1980s with the show "Roseanne." Although not unique, and by no means a first, "Roseanne" was a breath of fresh air in not showing Americans driving in Porsches or limousines, who were not heirs to oil empires, but rather featuring Americans who found it hard to make ends meet. The story of "Roseanne" is a dysfunctional family that has frequent arguments over trivial matters and that struggles to make ends meet; they are outspoken and frank about the most prosaic matters.
This was a show that featured the working class, the salt of the earth, or in Roseanne's words, "white trash." The Conner family faces the constant struggle about how to be a parent and work at an hourly wage. Need time off to go to a school meeting? Then your pay will be docked. Need a baby sitter? Get your sister to come and do it for free, as you cannot afford to pay some middle class teenager to do it.
Roseanne and her husband were not the typical beautiful people that usually grace our television as heroes. They were certainly overweight, and they spent a lot of time in the kitchen or on the couch in front of the television. They did not lead exciting lives driving talking cars or avoiding international spy rings. They worked, ate, argued, told dirty jokes and watched television. They worried about money and tried to make their paychecks last until the end of the month.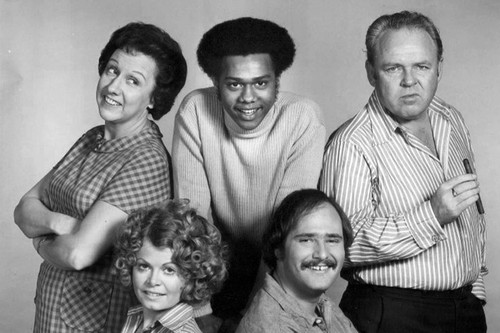 Cast of American TV series "All In The Family."
In the 1990s this was a breath of fresh air for U.S. television. Many people saw themselves reflected in some aspect of the Conner family.
But this was not the first example of a working class family bringing real issues to television through the vehicle of the sitcom.
"All in the Family" is thought by many to be the first example of a show that tried to face the problems of American society in a frank and daring manner. Adapted from a British show "Till Death Do Us Part," which featured the bigoted reactionary Alf Garnett, "All in the Family" was created by Norman Lear to reflect American society in the 1970s.
"All in the Family" took much from the original British show, in which a Conservative father lived with a pro-Labour daughter and her husband. "Till Death Do Us Part" was a groundbreaking show in the U.K., with its focus on social problems of the times, including the struggle to make ends meet and political conflict. It was also the first program to feature family arguments that included swear words and racial slurs.
The cast of "All in the Family" was similar. An angry bigoted taxi driver called Archie Bunker was married to a meek and mild woman, whom he referred to as "dingbat." His liberal daughter was married to a left-wing American Polish graduate student. Being a student, the young couple had to live with their in-laws. Archie Bunker referred to his son-in-law as "Polack" and more often "Meat Head."
Before the program was aired, there was concern that such language and such conflicts would cause anger or distress among the viewing public. As a result, before every episode in the first season a disclaimer appeared on the screen, reading: "The program you are about to see is 'All in the Family.' It seeks to throw a humorous spotlight on our frailties, prejudices and concerns. By making them a source of laughter, we hope to show, in a mature fashion, just how absurd they are." This is an accurate summation of what Norman Lear's aim was in creating the show.
And by making prejudices and concerns appear absurd, Lear's "All in the Family" managed to do a great deal to help America progress through some rocky waters. Winning 22 Emmy awards, this was the most popular show on television for over five years and it broke many records. The topics dealt with in this sit-com ranged from interracial marriage, feminism, the second amendment, atheism, menopause, homosexuality, alcoholism and many other gritty matters.
Lear went on to create other sitcoms with equally relevant and tricky subject matters. "The Jeffersons" featured a black family that had managed to work their way up to a higher financial and social status. But George Jefferson was just as bigoted and prejudiced against white people as Archie Bunker was against almost everyone. In "Sanford and Son" a working-class father had serious political differences from his liberal son. Finally, in "Chico and the Man," a white working class man is forced to employ a Latino; in the end the older man's worldview changes.
Lear's programs helped to transform how Americans thought and how they reacted to challenges. This can become clear if we examine only two episodes of the nine-season run of "All in the Family."
The first episode was aired in 1971 and concerns homosexuality and prejudices. At this very early date the half-hour sitcom introduced an effeminate character that Archie Bunker assumed to be gay. While "Roger the fairy" turned out to be straight, Archie learns that an ex-football player, i.e. a real man, was homosexual, upsetting all of his prejudices.
This episode became one of the most talked about television episodes in American popular culture, even making an appearance on the Watergate tapes. Nixon accuses the episode of glorifying homosexuality and predicts that such programs would create the "casual acceptance of homosexuality," which would in turn lead to the collapse of America.
The second classic episode that challenged preconceptions came a year later. "Sammy's Visit" brought the famous singer/dancer Sammy Davis, Jr., who was not only black but also Jewish, into the Bunker home. When posing for a photograph Sammy Davis, Jr. kisses Bunker on the cheek, producing the longest continuous laughter ever recorded. The direct discussion of racism in the episode was made possible because of the laughter. In two years Lear had managed to get the nation openly discussing homosexuality and racism.
So the relaunching of "Roseanne" at a time when America is bitterly divided against itself heralded some hope. The original series brought real, gritty subject matter to the table. Although "Roseanne" never had such a great impact on American society as "All in the Family," it was highly popular, and it did deal with real issues.
When we are reintroduced to the family Roseanne is now a grandmother. Like so many challenged families, Roseanne finds one daughter living at home, with the other two children as dysfunctional as can only be expected.
The dynamics used by Lear in his programs are all here: Roseanne's sister is still the liberal foil for Roseanne's Trump supporter. The grandchildren include a mixed race child and a young boy who likes to wear sparkly clothes. But the revival of "Roseanne" seems to have been more a platform for Trump support, and there is a serious lack of depth. The original series never had the courage of the Lear sitcoms, but the revival merely skims the surface that the '90s version had sometimes broken through.
But "Roseanne" was not cancelled because it lacked courage or because it was cliche. The cancellation of "Roseanne" is due to the bigoted and racist comments of the star and the driving force behind the series, Roseanne Barr. Carroll O'Connor, who played Archie Bunker, was actually a liberal. He was just a brilliant actor who took on the role of a bigoted conservative. If one considers her tweets, it becomes clear that Roseanne Barr is little different from her on-screen persona.
The evidence of this is in the tweet she made about Valerie Jarret, a senior adviser to Barack Obama. Ms. Jarret is an influential African-American woman, whom Barr described as being the result of a marriage between the Muslim Brotherhood and "Planet of the Apes."
It was this intolerant and racist tweet that led to the cancellation of the show. Even though Barr apologized and blamed her tweet on Ambien, a drug that helps induce sleep, the show remains cancelled. Sanofi, the maker of Ambien stated that although the drug has side effects, one of these is not racism.
Another American television personality who caused an uproar this week is Samantha Bee. Diving into controversy on the other side, Bee lashed out at Trump's daughter Ivanka for her insensitivity and her lack of resolve in tackling a very real and ugly issue in the U.S., the separation of children from immigrant parents. Persons apprehended trying to get across the Mexican border are separated from their children; it has been reported that 1,500 children have been "lost"... That is, the government has lost track of where these children are, making it impossible for families to be reunited.
This is nothing less than a nightmare. A nightmare for the children, a nightmare for the families. This policy was introduced before Trump, but it has become worse and is making headlines now. And just as this policy is making headlines, Ivanka Trump posts a loving photo of her and her son. This is the height of insensitivity, as Bee points out in her rave.
But Bee, like Barr, went too far. She used ugly language and swore explicitly; she also made implications about the relationship between Trump and his daughter.
What Barr and Bee have done this week is to turn the clock back to before the '70s, before "All in the Family." They have abused their power to influence, to guide, to express opinion in favor of ranting in an intolerant manner, in favor of bigoted, narrow-minded ideas. It does not matter if a person comes down on the left or the right of the political spectrum. When stars speak out irresponsibility, they do nothing to help America to work through the large number of issues and problems being faced at such a dire time.