India is a land of varied cultures, colors, people and geographical wonders since time immemorial. It has captured the fascination of many travelers, mystics, historians from across the world. In modern times, it continues to pull people with the incredible power of its diversity, spirituality, food and films.
Yoga, being the principle magnetizing forces for millions around the world to connect with the roots of Indian culture, has become synonymous with the ancient tradition. Yoga embodies unity of mind and body, thought and action restrained and fulfilment, harmony between mind and nature and a holistic approach to health and well-being.
Yoga is not just about exercise but it is also about the drive to discover the sense of oneness with ourselves, the world and nature. Needless to say, the medical benefits of yoga are myriad and countless. Besides increasing muscles strength tone and flexibility, it helps to maintain a balanced metabolism and reinvigorates the vitality of life.
Medical science has proven time and again the efficacy of yogic asanas (poses) and postures to treat, and in many cases, to eradicate physical ailments completely.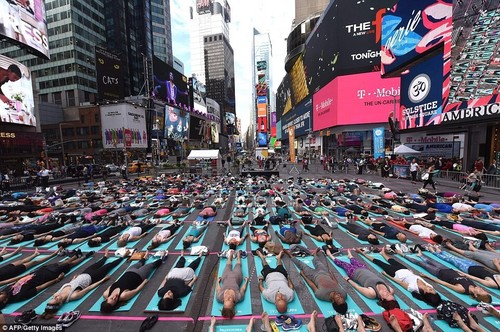 Having recognized the globally unifying power of international brotherhood created by yoga, Hon'ble Prime Minister Shri Narendra Modi, at the 69th Session of United Nations General Assembly, urged the world community to adopt 21st June as "International Yoga Day." The U.N. General Assembly in its resolution, with a record 177 co-sponsoring countries, recognized that yoga provides holistic approach to health and well-being.
It is not an exaggeration to postulate that yoga is an art and science for holistic healthy living. The word "yoga" is derived from the Sanskrit root "yug" meaning "to join" or "to unite." According to ancient Indian scriptures, the practice of yoga leads to the union of an individual's consciousness with the universe or the cosmos.
According to modern scientists, everything in the universe is just a manifestation of the same quantum firmament. One who experiences this oneness of existence is said to be "in yoga" and is termed as a yogi who has attained a state of freedom.
"Yoga" also refers to an inner science through which human beings can achieve union between the body and mind or their consciousness to attain self-realization. We are living in tumultuous and testing times where hatred, violence, xenophobia and greed are the order of the day. That brings our social fabric and framework under insurmountable pressure. It is impossible for an ordinary human to therefore escape the grind of this form of vindictive lifestyle. The practice of yoga calms down one's violent and hurtful instincts and enables one to prosper intellectually, mentally and spiritually.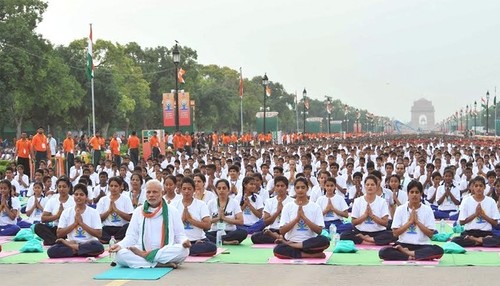 The fulcrum of inclusivity within the science of yoga has its origin thousands of years ago, long before the first organized religions or belief systems were born. Indian seers and sages have spread this powerful Yogic science to different parts of the world including Asia, the Middle East, Northern Africa and South America. And while building bridges between different cultures of the world, modern scholars could not help notice and marvel at the close parallels found between various cultures across the globe. Each culture promoted peace, compassion, truthfulness, mindfulness and harmony, the basic edicts of yoga.
Ancient and time-tested Indian scriptures and its wisdom advocates that the science of all the various forms of yoga work on the level of one's body, mind, emotion and energy. This is the bedrock of the genesis of the four broad classifications of yoga: Karma Yoga where one utilizes the body in the physical world; Jnana yoga where one utilizes the faculties of the mind; Bhakti yoga where one anchors on devotion and Kriya yoga where we utilize bioenergy. Each system of Yoga falls within the gamut of one or more of these categories.
Turkey has a thriving community of "asana ambassadors." Thousands of mindful and conscientious Turkish brothers and sisters practice one or other form of yoga. I have often noticed while passing by the pristine blue waters of Bosporus, many in deep meditation and in the basic lotus position of sitting often known as padmasana.
I am thrilled and overjoyed to see groups of youth greet me sweetly with the traditional Indian greeting of "Namaste" while bringing their hands together over their hearts and perfectly doing the yogic Anjali mudra. It is their simplest yet most respectful and loving gratitude towards my Indianness.I am also proud of the spirited Turkish elderly who in their prime of their golden years continue to inspire the younger generations with their die-hard discipline and dedication towards practicing yoga.
Turkey has been a dependable friend and admirer of Indian culture and yoga practices. Our friendship has seen many generations of Indians welcome their Turkish friends in India on a yoga retreat with chapatis and daal. That has been equally and graciously reciprocated with many Turkish families welcoming their Indian friends with "baklava" and "gözleme" when they visit Turkey. The commonality in our cultures has fortified our brotherhood even more with every passing year.
Turkey remains one of the most loved places that Indians love to visit and cherish the feeling of being at home while away from home.
I take immense pride in resting on the foundation of the strong friendship between Turkey and India and would now like to urge everybody in Turkey, especially the lovers and practitioners of yoga to join this Embassy and Consulate in celebrating International Day of Yoga on June 21, 2018 at various events being organized in Istanbul, Ankara, Bursa and İzmir. The event is free and is symbolic of spreading world peace and healthy living through yoga. Many partners from the Turkish civil society have joined hands in spreading this message and fostering mutual friendship, respect and admiration for each other's culture. Today, yoga is nearly a $400 billion business across the globe.
Remember, YOLO (you only live once) and so why not practice yoga for the healthy life style. I hope you join in celebrating this day across the country as millions will across the globe on June 21, International Yoga Day.

Yoga events

The Consulate General of India in Istanbul will be celebrating the Fourth International Yoga Day. The There will be yoga practice sessions, breathing exercises, and demonstration of different styles of yoga for all. The entry to the event is free and open to the public. All yoga enthusiasts, beginners and others, including those who have never been exposed to Yoga are invited to attend. Yoga events are being organized in collaboration with various yoga centers in Istanbul and Bursa, at the following addresses:

ISTANBUL

Kadıköy: Kalamış park football field (14.00 – 23.00)
Beşiktaş: Maçka Artists Park
(15.00 – 21.00)
Sarıyer: Şehit Uğur Taşçı Sports Complex (16.00 – 22.45)
Küçükçekmece: Aydın University (18.30 – 21.00)
Fatih: Istanbul University
Medical Faculty (12.00-14.00)
Beşiktaş: Akmerkez, Rooftop, (11.00 – 20.30)

BURSA

Nilüfer: Üç Fidan Park
(19.00 – 21.30)
* Acting Consul General of India in Turkey