Like many Syrians, those evacuated from eastern Ghouta, a city under siege with a blockade and intense attacks ordered by the Bashar Assad regime, continue to carry the marks of the pain they have endured.
Muhammad Bessam al-Meydani (57), Sair Hubbolla (30) and 2-year-old Mutasimbillah Abidrabbo all lost their eyesight to one extent or another after their shelters and houses were hit by bombs dropped by jet fighters only a month before the evacuation in eastern Ghouta. They are now hopeful that a helping hand will reach out to them to offer treatment.
Meydani, a Syrian who moved in with his relatives in Hatay's Reyhanlı district, told Anadolu Agency (AA) that they were grateful to have survived the civil war.
Meydani, pointing to the humanitarian plight in the region, said: "We suffered hunger and misery for many years with my four children. There were times when we were hungry for days, failing to find a bite of bread for my children who were weakened and sick because they were undernourished."
Meydani said they felt like they were reborn when they heard that they would be evacuated from eastern Ghouta.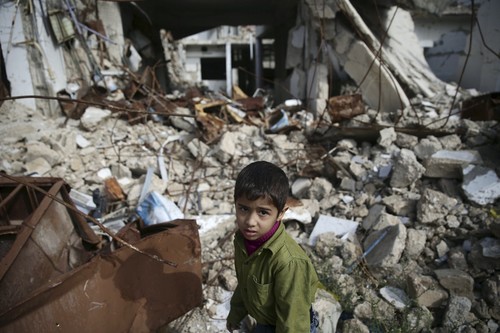 A boy walks along damaged buildings in Eastern Ghouta, Syria.
"Me and my family were incredibly happy. I was exposed to an attack in eastern Ghouta with only a month left to our evacuation. I lost my left eye and suffered partial loss of sight my right," Meydani said. "We aren't sure how to search out treatment. We are hoping for support and are grateful to the Turkish people who have always supported us."
Hubbolla lost his eyesight after being hit by shrapnel. He also expressed his hope of recovery while stressing that eastern Ghouta is currently shrouded in sorrow. "Before escaping the siege, our house was hit by a regime attack and I was seriously wounded. The shrapnel pieces caused significant damage to my eyes and loss of sight. I came here for treatment. We are very grateful for Turkey's aid," Hubbolla said.
Abidrabbo Iman, the father of 2-year-old Mutasimbillah Abidrabbo, said the hunger and endless attacks destroyed their lives, recalling that they received the news that they would be evacuated when there was nobody else to turn to.
"There was an attack with only a few days left for our evacuation, and our shelter was hit. My 2-year-old son was trapped underground, and his mouth filled with soil. His vision deteriorated due to lack of oxygen to his brain," Iman continued. "When we finally managed to dig my child out, he had passed out. My son was in intensive care for seven days and has now lost his eyesight. We came here due to lack of health facilities there and hopefully he will be treated in Turkey. We want to go back to our country once my son regains his health."
Baby Karim
Countless people have lost their lives, limbs and eyes in eastern Ghouta; however, the attacks on the region and the misery of the people were thrown into the spotlight with baby Karim.
Then 2-month-old Karim Abdallah became the symbol of the regime's brutal attacks on eastern Ghouta when his pictures were distributed by news agencies.
Karim Abdallah lost his mother and his left eye in an airstrike in December 2017 in the Damascus suburb and has since become a symbol the resistance against the Assad regime.
Karim and his family left eastern Ghouta for Idlib as part of compulsory evacuations under a cease-fire agreement offered by Russia - although the attacks have continued unabated. After Idlib, Karim and his family entered Hatay, Turkey via the Cilvegözü border gate in April.
Eastern Ghouta
Eastern Ghouta suffered heavy attacks from the Assad regime between February and April.
At least 45,000 people have been evacuated from eastern Ghouta since the evacuation process began on March 22. Evacuees are being accommodated in temporary refugee centers and at local schools and mosques in Syria's northwestern Idlib and Aleppo provinces. The evacuations are part of a Russian-brokered agreement between Syria's Assad regime and armed opposition groups.
On Feb. 24, the U.N. Security Council unanimously adopted Resolution 2401, which called for a cease-fire in Syria - especially in eastern Ghouta - to allow the delivery of humanitarian aid.
Despite the resolution, however, early in March the regime and its allies launched a major ground offensive backed by Russian air power aimed at capturing the opposition-held parts of the district.
Since Feb. 19, more than 1,400 people have been killed in attacks by the regime and its allies in eastern Ghouta, according to local civil defense sources.
Home to some 400,000 residents, the district has remained under a crippling regime siege for the last five years that has prevented the delivery of badly needed humanitarian supplies.
Last week, U.N. human rights investigators announced that crimes against humanity were committed and chemical weapons were probably used as Syrian government forces battled the opposition in the region.
"Some of the reported symptoms point to the additional use of a different gas, most likely a nerve agent, the investigative body said, without specifying the perpetrators," the human rights committee verified.
Referring more generally to the period between February and April, U.N. rights investigators also concluded that "pro-government forces" had committed crimes against humanity "through the widespread and systematic bombardments of civilian inhabited areas and objects, and the continued denial of food and medicine to besieged civilians."
Syria has been locked in a devastating conflict since early 2011 when the regime cracked down on demonstrators with unexpected ferocity.
According to U.N. officials, hundreds of thousands of people have been killed in the conflict to date.