It seems I have been swimming forever. I remember putting on my orange swimsuit to swim in the seemingly endless open water. I also remember my mom taking me to our local swimming pool so I could practice my swimming skills in the children's pool. In short, I always liked swimming whether in pool or open water. However, everybody has his or her own preferences when it comes to planning summer holidays: Some like a quiet getaway by the sea, others prefer to check in to a hotel with the biggest pool and slides.
Despite different concepts of holidaymaking, it all comes down to one thing in the end: Are you a pool or open water person?
This decade-long debate has always been divided people but which one is the best? Is the open water a healthier choice or do the predictable conditions of a pool provide a safe haven for holidaymakers? Instead of putting my own ideas forward and becoming a part of this debate, I am here to lay down the pros and cons of pool and open water.
Here is the "Battle of Pool-lovers" versus the "Open Water-Obsessed" debate summarized.
THE POOL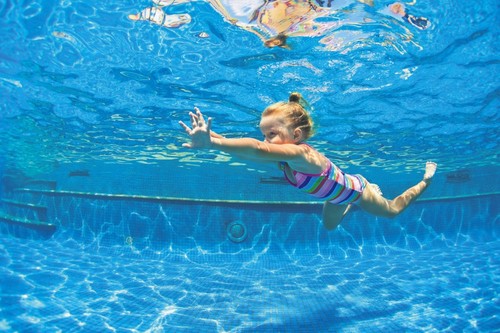 Pros:
*You know what you are getting into (most of the time): Pools are pretty much standard all over the world. If it is well maintained, pools are usually 28 to 30 degrees, so no chance of freezing after the first dive. Pools are chlorinated and salt-free, which can be much better for younger swimmers.
*Safety first: Swimming in open water is usually unpredictable. If you are on an unfamiliar beach, it is hard to determine whether you can reach the bottom or not after a few strokes. That is not the case with pools. Although there are different pool designs, the administration usually puts up depth signs so that you know what to expect after jumping in. Thus, pools are highly preferable for young swimmers and those learning to swim.
*Accessibility: Not all of us have the luxury of living close to a beach. For some, going to the beach can take hours of driving, even in Turkey, which is surrounded by seas on three sides. However, the good news is finding a local pool is quite easy. You can either use the free hours of Olympic pools in universities or local pools run by municipalities. If you want to spoil yourself, find a hotel and use its pool for a fee.
Cons:
*Chemicals, everywhere: Pools have disinfectants added that are usually bleaching agents. They kill bacteria, other life forms and bind to other chemicals you'd probably not want to interact with. Chlorine and chloramines can irritate your skin and eyes and dry your skin.
*The crowd: On hot summer days, the best, easiest way to cool off is to jump into a pool; unfortunately, you are not the only one to think that. Pools, especially in big cities, can be overcrowded, which brings the problem of cleanliness. Moreover, it is also impossible to swim freely in a crowded pool, and noise created by other pool users might blow your plans for a quiet day by the pool.
*Lack of entertainment: Unless you are in an aqua park, there is nothing exciting in swimming in a pool. You can swim from one end to the other, dive in and swim under the water and ... that's it.
THE BEACH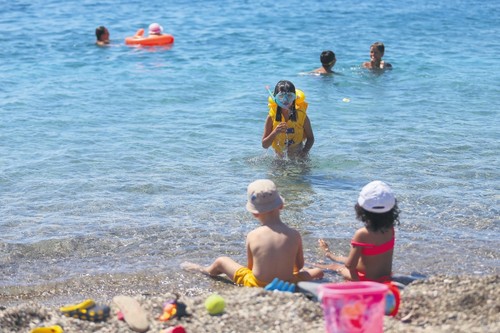 Pros:
*The endless wonders of the sea: The open sea is one of the best places to feel free of all the burdens of everyday life. The sea is also quite entertaining: Build sand castles or get a snorkel to discover the underwater world. Entertainment awaits you by the sea.
*Skin care at its best: Sun and salt water can do wonders for your skin. After months of hiding in clothes, the sun and seawater will cleanse your skin just like a pricy skin care routine. A day at the beach also helps your skin and feet to exfoliate. All that sand and salt water will leave your feet looking lush - no more hard skin for you throughout the summer.
*As much space as you need it: You can always find your spot and built a personal space while swimming in the sea even on the most crowded days. You don't have to worry about finding an empty space for a few strokes. You can swim for meters without encountering a single person.
Cons:
Sand... everywhere: Although it was fun to play in the sand while we were children, it is not always pleasing when you are adult. It sticks like glue when you put on sunscreen, and once you are covered with sand, you can take it to your house or hotel room.
Unpredictable weather: It might be a sunny day, but there is no guarantee that a strong wind won't hit the beach. When a strong wind comes, the consequent waves can make swimming harder and create an unsafe environment for weak swimmers.
Horrors of the deep: If you do not like seaweed or other creatures that live in the sea, it is hard to swim with peace of mind. Since there are no signs telling the swimmers the depth of the sea, it is hard to predict where you can touch the bottom, creating problems for new swimmers and inexperienced ones.