"There are fighter jets flying very low over our neighborhood" was the first I had heard that something terrible must be going on when worried and scared family rang us up from the capital city of Ankara on July 15, two years ago. Their home was situated just about half a mile south of Parliament, which, as we would only learn much later, the Gülenist Terror Group (FETÖ) terrorists had hoped to blow up.
We were quite some distance from the city for a short summer break in Turkey's southwest, without an internet connection and not even a satellite dish installed on the summer house we were staying at. I remember we told my wife's sister back in Ankara to close all the windows, stay indoors, turn on the television and charge her phone. Call it a gut feeling or better perhaps, orderly panic.
The next shocking development was a neighbor saying tanks were blocking the road to one of Istanbul's bridges over the Bosporus.
At that moment, I was not certain of what had occurred or when exactly, so I told my wife to stay put and on the phone while I walked down to the waterfront with its parade of cafes to find out what was happening. I knew they would have a working internet connection and wall-mounted television sets normally showing sports. Yet, nothing seemed normal any longer, here or anywhere else in Turkey.
Had a foreign power struck?
Locales by the small jetty over the years have turned into regular meeting places for many of the expat community; some come by shared minibus, others take extended seaside walks, but they all enjoy it here.
Before coming back to the heinous attacks of July 15, let us briefly put the word "community" into perspective. In principle, we should talk about the vast number of different communities along the breathtakingly beautiful coastline from the Çeşme peninsula to the northwest and Bodrum to the south, who mix and mingle with fellow international guests and resident's alike, and where one can find different types of environments. Some like a relaxing vacation or a secluded permanent home, while others prefer action and fun-packed holidays with things to do all year round. Some rely on public transport, while others buy their own car and so on and so forth. One of the most impressive aspects of being an expat in this great nation is that our hosts do exactly the same; hence no matter what your seaside preference, rest assured you engage in it side by side with your welcoming Turkish neighbors who soon become good friends. And side by side we were indeed when we tried to comprehend what happened in the country all of us call home, no matter where we were born and bred. Our first reaction was that a foreign power must have struck and the Turkish army would come to the rescue and protect both the capital and Istanbul. Needless to say, none of us here were military experts so in all likelihood no foreign power could hit any of the two metropolises with missiles or other attacks, but little did we know. Yes, that was what most of us had thought at the time.
The president is dead, she said
A rollercoaster of emotions started. At times we spoke; at other times we stared at the two television screens telling us that the military instead of coming to the rescue had actually staged a coup. The internet connection worked well, so some of us scanned foreign media via their smartphones or tablets, while I was glued to the Turkish broadcasts. Disbelief, shock and sheer horror. What? Another military coup? Is Ankara under the control of generals? Have people been killed? Are there tanks in the streets only in two cities or everywhere? What about our family and friends? These were only snapshots of my emotions and of those around me. However, when one television presenter proclaimed that President Recep Tayyip Erdoğan had been murdered, the mood changed even more. Instead of being afraid and worried, which would have been normal emotions, we became upset and angry. How dare they? Yet, we still only knew that someone somewhere had embarked on his mission to destroy the modern Turkey we all loved it. But would they succeed?
Greatest relief: President Erdoğan speaks
And then relief: A television presenter showed us Erdoğan speaking via his mobile device. Applause all over! Yet, was the coup over, too?
Far from it, as only after Erdoğan asked his nation to take to the streets, squares and market places did something extraordinary begin to unfold; the Turkish people indeed took to the streets and took matters into their own hands. Thus, during many painful yet heroic hours did the coup attempt end.
Then a rumor spread: The military in Ankara had declared a curfew. Judging by my fellow Turkish guests, perhaps not though. How could someone like a coup plotter declare a curfew? Truly encouraging, motivating and inspiring! We stayed, too, but could do nothing but watch and listen. There were no tanks or coup terrorists anywhere near us. I am not sure honestly who among us expats and Turks would have had the courage to stand up and take a gun or grenade away should a coup plotter have entered our cafe or climb a tank and get the killer driver out. Some might, others perhaps not. The real heroes of the fateful night were not us expats anyway, but our Turkish hosts all over the nation wherever the coup plotters were.
Expats elsewhere, the aftermath of July 15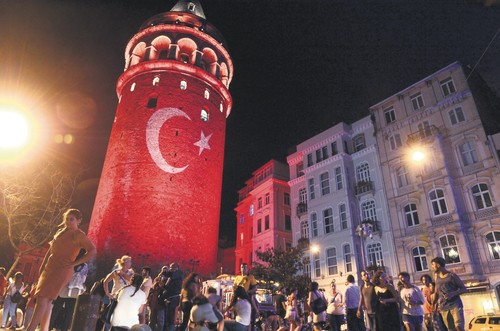 The Turkish flag was projected on the facade of the Galata Tower during the "democracy watches" that took place following the failed coup attempt.
From where I witnessed the night and how we expats felt, let us move on to other regions with more expats; one thing is for sure: Sentiments were the same everywhere. We took to social media as and where we could. Informing our neighbors and friends, both in Turkey and abroad, about what we thought was the truth and not what foreign media at times portrayed as the truth, and definitely not what some Turkish media outlets portrayed as the truth either. The morning after, we came together in cafes and restaurants to show our solidarity with our Turkish hosts, with similar gatherings happening in Ankara and of course, Istanbul. We visited shop owners, hotel owners and cafe owners. I did not meet a single Turkish person who would have wanted the coup to succeed, no matter whether they were a fan of the governing Justice and Development Party (AK Party) or a supporter of the opposition. What had happened the night before was an assault on all of Turkey, on everyone no matter which background or political color. The aim to murder the president was as though someone would aim to murder you. As expats, regardless of being in a village or a metropolis, in our modest capacities could only do one thing: Stand side by side and remember those who lost their lives and wish for those who got injured to recover quickly and hope that there would never ever be another coup attempt.
We expats living, working or regularly staying in Turkey were as shell-shocked, later on as angry and finally as relieved as everyone else in Turkey. Although only a small part of Turkey's population, we are nevertheless quite a number – with 3,000 permanent residents where I witnessed the events alone. And if ever any one of us needed to be reminded about what a proud, heroic, fine, democratic and peace-loving nation Turkey is, it was evident on the night that encompassed July 15 and July 16, 2016.
* Political analyst, journalist