A taxi driver from New York City, Abdullah Saleh who was found hanged by an electrical cord where he lived, is only one of six drivers in the city who killed themselves in the past few months for the same reasons. He was having financial difficulties according to statements from his relatives who appeared in the news. Similar to Saleh, a driver well-known for his columns on a website named Independent Drivers Guild, Doug Schifter, 61, shot himself in the face in a rented black car, a luxury vehicle alternative to the mainstream yellow cabs, which he had driven many times during his career as a professional driver, picking up well-dressed customers with uptight costumes, while trying to earn his livelihood. He parked the car next to the eastern gate of the City Hall before killing himself, which was later interpreted as a way of giving a message to the authorities. As it appeared on the news, his suicide was, again, a result of financial problems. He was a proud driver who lived his life on wheels, from yellow cabs to black cars on the streets of New York City.
Schifter published a post on his Facebook account before committing suicide, accusing the government and the politicians about not making the necessary regulations to keep those newcomers, namely Uber drivers, from sweeping the streets where drivers like him earn their bread.
"Companies do not care how they abuse us just so the executives get their bonuses. Due to the huge numbers of cars available with desperate drivers trying to feed their families, they squeeze rates to below operating costs and force professionals like me out of business. They count their money, and we are driven down into the streets we drive, becoming homeless and hungry. I will not be a slave working for chump change. I would rather be dead," wrote Schifter, leaving a clear, yet desperate message.
Uber, which is held responsible for the suicides of New York's taxi drivers, is an on-demand car service used via smartphone application. First launched in 2010 by two U.S. technology entrepreneurs, Travis Kalanick and Garrett Camp, Uber has expanded rapidly across the U.S. as well as in European countries. However, the criticism the company faces has expanded simultaneously, making it difficult to operate amid violent protests by existing taxi services.
Taxi drivers around the world rise up
In 2014, demonstrations in major European cities such as London, Paris, Madrid, Milan and Rome became highly visible on global news. News agencies broadcast the events with photographs of burning tires, and furious costumers who had to walk between parked cabs that belonged to protesting taxi drivers who called Uber drivers thieves. They accused them of ignoring the laws and regulations.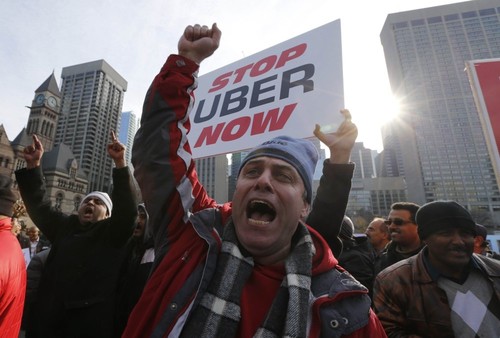 Taxi drivers protest in front of city hall against the Uber car service in Toronto.
Between the very beginning of the demonstrations in 2014 and 2018, now that the company has been banned in almost all major cities it operates in for a variety of reasons such as allegations of violating the security of customers and the ongoing protests of taxi drivers. French taxi drivers are fighting against drivers who they think work for Uber on the streets. This prevents transportation and creates chaos that has already forced hundreds of passengers to walk to airports. This development has caused anger among many departing or arriving visitors.
Likewise, Spanish taxi drivers went on a strike this month. Thousands of taxi drivers gathered to block major streets of the city with their cabs protesting Uber drivers whom they called "economic terrorists." After the government's agreement to set tough limits on licenses for online ride-hailing companies, including Uber, they ended the strike on its sixth day. The term "economic terrorists" had already become a preferred phrase for Uber among other taxi drivers from Chile to the other side of the globe in Turkey. Feeling threatened by the unfair competition, taxi drivers in Turkey gathered in March to protest the app, holding banners that read, "We do not want global thief Uber." They were accusing the company as being illegal on the basis of the firm's lack of necessary licenses to operate in the country, like in almost every other country. Likewise, in Greece, hundreds of taxi drivers marched in central Athens to protest what they called an "invasion" by Uber, and attacked passing cars they thought were being used by the company. The banners they hold were similar to those in Turkey, reading "Uber, no thanks" or "Uber go home."
The big question: Is it legal or not?
The anti-Uber protests of taxi drivers became a controversial topic in a short time, dividing social media users as supporters of this U.S.-based application and opponents of it. While many people are tired of the inadequate facilities of existing taxi services, there are also people who still support traditional taxi drivers. For example, according to a survey conducted in Italy in February 2017, 71 percent of the total 240 respondents believed that the protesting taxi drivers were right to defend their livelihood.
The main problem with Uber is that while the law requires official taxi drivers to buy licenses which are very expensive depending on the country, Uber's drivers operate without official permits. In September 2017, Transport for London (TfL) rejected the new license application of the U.S.-based firm saying the company is not a fit and proper car hire operator; however the company expressed that the operations will continue and they have begun legal proceedings to regain its license in London. The fact is London is not the only city that took legal actions against the company. Today Uber has been banned or has voluntary pulled out of, due to legal restrictions, from many countries including Turkey, Bulgaria, Denmark and Hungary. It has also limited service in France, Italy, Germany, Japan, and Taiwan.
While it is more than necessary to regulate the existing taxi services, be it yellow taxi, black taxi or white taxi, in accordance with the customers' needs, it is the task of governments to protect the rights of certain occupational groups, especially when the situation gets to the point where it threatens the very existence of the people, like in New York. Yet, in a world of smartphones, people tend to provide for their daily needs by using all kind of apps, which is a problem all by itself.