Last week I was in London and had arranged a meeting with an international nongovernmental organization (NGO). Before the meeting, I decided to head into town and boarded the Piccadilly Line early in the morning.
Being rush hour, of course, there was nowhere to sit. The train was packed; people were hanging on to straps, poles or friends.
This is not something unique to London. All public transport in major cities the world over is crowded. There is a feeling of claustrophobia, of having lost one's personal space.
In Istanbul, you can often see people reading books, playing games on their phones or listening to music.
Of course, the Piccadilly train was no different. There were men and women reading books; it made little difference to them if they were standing up or sitting down. Some clutched take-away coffee, others merely read. There were also the newspaper readers – most of them had opted for the free newspaper handed out outside the tube station. They were absorbed in scandalous tales of road rage or murders; others were entranced by articles offering a bright new future.
Some of the younger generation were absorbed in trying to win games of solitaire or other similar mind numbing but challenging games. Still others were watching the latest installment of their favorite series, oblivious to the outside world.
Then there were the young women who used the 20-minute journey to complete their makeup. These women positioned themselves against the doors opposite the open ones – they knew exactly how many stops there were until these doors came into play – and leaned against the door or squatted, sheltering themselves from the crowds. With great skill they applied their foundation, mascara, eyeliner, eyebrow pencil, rouge and lipstick. And just before the door that they were leaning against was ready to open, they jumped up and marched off into the crowds, ready to meet the day.
And then I finally arrived at my stop. It was time to go meet the people behind Football for Peace.
Football for Peace, a London-based NGO that is backed by the United Nations Office on Sport for Development and Peace, was originally established in 2006 by the Chilean footballer Elias Figueroa. It became an international organization with the involvement of the international footballer Kashif Siddiqi. Siddiqi has played for both English teams and for Pakistani teams. Still actively playing professional football, the next destination for Siddiqi will become clear in the near future.
The London-born footballer has a strong charitable side, having also set up the Kashif Siddiqi Foundation, which brings football to communities that are not often represented in major league football, helping to break down social barriers.
But Football for Peace goes one step beyond the work of the Kashif Siddiqi Foundation. Both Figueroa and Siddiqi, although coming "from different generations, continents and cultures ... found common ground in their understanding of football and its potential for doing good."
Football for Peace is an organization that is endorsed by the United Nations, the UK FCO and the Vatican Pontifical Council for Culture, as well as being supported by a number of royal families. It has been active in a number of countries from Africa to Europe.
Football for Peace uses celebrities and professional footballers to break down barriers between communities. It uses football as a diplomatic tool to bring together people and to foster understanding. The aim is to move toward societies that are better able to live together, that have greater equality and that can face the challenges they will meet with greater resilience.
According to Football for Peace, the problem they are tackling (pun intended) is that today we "are living in a world, which has never been so connected and yet, ironically, has rarely felt so divided. Fear of one another's cultures, customs and beliefs have led to misunderstanding and isolation, leaving communities disenfranchised, facing preconceptions and negative stereotyping, and also vulnerable to extreme ideologies."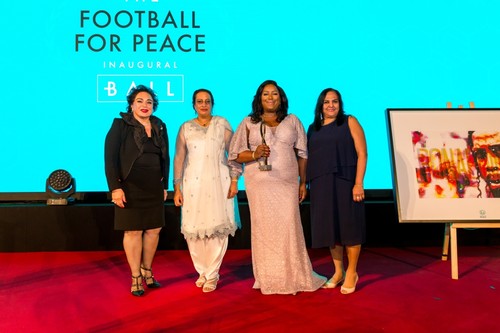 Her Royal Highness Princess Fay Jahan Ara, Shamim Akhter, Kashif Siddiqi's mother, and Sandra Defoe, the mother of footballer Jermain Defoe, at the Football for Peace Ball last year.
One source of inspiration for Football for Peace is the famous Christmas Match of 1914, which took place in the trenches of WWI. Although there was never an organized match between British and German soldiers, there were men from both sides who emerged from the trenches to get a breather on Christmas Day 1914. And there were those who kicked a football about, giving respite to the fighting, the distrust and the hatred of the enemy.
The inspiration here is clear. In 1914 football gave people a chance to connect on a different level. They may not have had a language in common, they may have been involved in a desperate and deadly struggle, but football overcame these obstacles. It gave them a chance to become human, even if this was only a brief respite.
Football for Peace wants to make such brief moments longer. They want to use football as a means to "further and foster lasting peace, cohesion and integration between communities around the world, and show governments and policy makers how the simple concept of football diplomacy can be a viable tool for them to affect change."
Football for Peace is initiating a new program that rewards footballers who have helped to change the world through their social responsibility and awareness. However, there is something significantly different about this project. It is not the footballers who will be given the award. It is their mothers. After all, many of the most inspiring footballers had mums who sacrificed greatly to ensure their children's success. And it is they who truly deserve this reward, the MOM award. This is a move that not only celebrates social awareness. It breaks down gender gap. The women, who are traditionally behind the scenes, are being brought to the front of the stage.
Siddiqi was also inspired by his mother to help others; her story is one of a person who suffered from prejudice and a lack of empathy. Siddiqi's mother, Shamim, grew up in Uganda. She was forced to marry a cousin when she was only fourteen. While still a teenager, Shamim found herself in the United Kingdom where her family had fled to escape the oppression of Idi Amin. Shamim learned to type and took a job in an effort to make a better life for her family; however, this caused problems with her family. She found herself disowned by the family and banned from seeing her own children.
She remarried, and had Kashif. Yet, the second marriage did not fare better than the first, and Shamim was soon a single mum living in a bed and breakfast hostel.
Kashif Siddiqi started playing football when quite young, but found it difficult to stay motivated, as he was the only Asian child in the club and had no role model to follow. It was his mother who told the young boy to persevere and to continue to try. And in the end he became skilled enough to be given a contract as a professional football player. Shamim says that she feels blessed that "something as good as the idea of using football as an instrument for world peace came out of Kashif's difficult start in life. … He understood tolerance from a very early age." Shamim is also working on a separate campaign with Football for Peace to educate girls and mothers.
This year's MOM award, given under the patronage of Prince Ali bin Hussein of Jordan, will be awarded in November.
Prince Ali of Jordan is not the only distinguished or royal supporter of Football for Peace. Prince Albert of Monaco and the Duke of Cambridge, and Prince William also support Football for Peace. Footballers include Ronaldinho, Pele and Wayne Rooney.
The Football for Peace has many programs. One of these is the Cities for Peace Community Programme; this focuses on a specific city and trains young footballers, male and female, to be ambassadors of peace. Since 2006 a Peace Match has been held every year. Over 11,500 young people have been involved in such programs.
Football for Peace also holds equality matches and supports women's issues throughout the world. A women's game was held on Mount Kilimanjaro. This was the highest altitude football game and got into the Guinness Book of Records. But more importantly, this game symbolized "how many mountains these women, from six continents, have to climb every day in order to play football." Football does break down barriers and brings together people – and there is no reason why women should be excluded from this.
Playing on Mount Kilimanjaro was no easy feat. It took the women nine days to climb to the top. Then they had to fight off altitude sickness. They were playing at two km higher than any stadium in the world. The score was 0-0, but that was not the point of the game. Simply making it to the pitch, playing the game. This was the achievement.
Football for Peace is looking into coming to Turkey, perhaps to creating a Turkish City for Peace or perhaps some other innovative projects. Certainly there is much that an organization like Football for Peace can do in Turkey, and such a positive contribution can only be welcome. With so many different cultures, ethnicities, traditions and religions living in one country, even in one city like Istanbul, it is clear that Football for Peace can make a great contribution to Turkish society.