Since childhood Abdurrahman Koçak has been interested in computer games. Now Koçak, a computer engineer from Gaziantep, wants to create an international brand with the games he has designed - turning his childhood curiosity into a business.
Koçak, who has been working from the Gaziantep Technopark and whose "Desert Zombies" game was on Apple's 2015 list of best new games in 77 countries, wants to continue his success in international markets.
The mobile games he developed are available for gamers on platforms like iOS, Android and Steam and Koçak intends to make a mark in the international arena of 2.2 billion game players with the games he has designed.
Speaking to Anadolu Agency (AA), Koçak said he worked on software during his university years and after graduation started to work on a national scale by establishing his own company in 2007.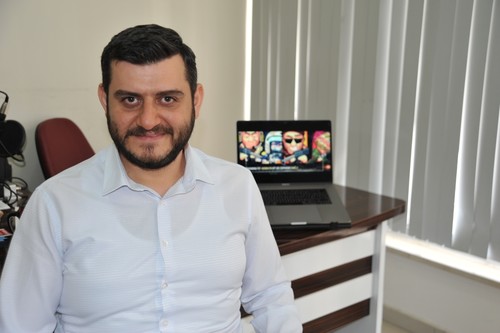 Abdurrahman Koçak
Koçak said that he has been interested in computer games since childhood. In 2015, Koçak had a moment of realization that helped him enter the game industry. "I saw my relatives spend money on game and in-app purchases. When I saw that my relatives, whom I thought could not even spend money while competing with each other, did this, I realized that the sector would grow even more and decided to enter this sector," Koçak said.
Koçak recalled that they developed the games "Mountain Zombies," "Mr. Know It All," "Escape Close Call" and "Pixel Drifters" through the studio Tarboosh Games, and that they achieved the success of being the most downloaded and played games on the platforms where they were released.
Koçak said that they want to open up to the international market but cannot find financial support. "We created a new brand called Rotatelab. We aim to expand to the global arena with this brand. All the games we have developed so far were in Turkish. However, the ad revenue is low in Turkey. In fact, this is not about Turkey, but about the policies of advertising companies," he said.
"Because advertising revenue is low, and our games are free, we only earn money from the in-app ads. Our income in Turkey is low. For this, we decided to venture abroad. We aim to develop global games with Rotatelab. We developed and released two games called 'Ringo' and 'Clash Defense' with this brand. Our next goal is to develop high quality global games that can be played for a long time and which are high quality."
Kocak said game development can take a long time, from six months to a year. "You have no income during this time. Since we are in Gaziantep, we are far away from the sector. We want to ensure that the major industrialists in Gaziantep support us. Our goal is to create an international brand [that is] from Gaziantep," he added.
Koçak stressed that game design is team work, requiring detailed work just like shooting a film, saying that the market in question is quite large.
Koçak stated that some of the game companies that came out of Turkey were sold to international companies at high figures and there are also world-renowned games developed in the country.
"There are success stories from Turkey. We want to create such a success story from Gaziantep as well. We have the ability and knowledge to do that. What is blocking us is just the funding. We cannot explain ourselves very well. Because the industrialists here are not familiar with the subject," Koçak said. "They do not know how to make money from games. However, the game industry expects $58 billion in income from mobile games this year with about 2.2 billion mobile players, 844 million of whom are paying players. There are so many entrepreneurs in Gaziantep. We expect them to support us in this area."
Koçak highlighted that they currently have 12 games whose designs and adaptations are finished, and said they believe they can be successful if they find the necessary support.