We said goodbye to those who came to send us off and headed to the boarding platform of the high-speed train that goes to Beijing from Changchun a city in northeastern China, five hours away from the capital.
We hadn't been able to say goodbye properly on the crowded train platform, a familiar sight in crowded cities. As the Changchun station got smaller and smaller as we looked out from the window, the passengers on the train went about their own business. Some fell asleep almost immediately, while others took out their notebooks and started to work.
As for "us" I refer to a group of journalists from China, Russia, Japan and Turkey; we were among the few who started to work as soon as we got to our seats.
I have always been interested in train trips although I have not had much chance to take trains. This one was especially important for me, as it was not just an ordinary trip that I was taking in Turkey with my friends, but a unique experience; a novice journalist who was getting a chance to take a trip with much more experience colleagues from around the world.
A different way to see China
We had been in Changchun, the capital of the northeastern Jilin province for almost a week as the guests of CRI Online, a media outlet in China that broadcast in multiple languages.
We were invited to the opening ceremony of the 14th Changchun Film Festival which was held on Sept.1. As the center of China's film industry for decades, Changchun hosted the festival with broad participation of famous actors and foreign directors. Starting with movies that revolved mostly on World War II, the Chinese film sector has had a lot of experience in the film industry and film has been used as a key factor to open the country to the outside world with its cultural and historical assets.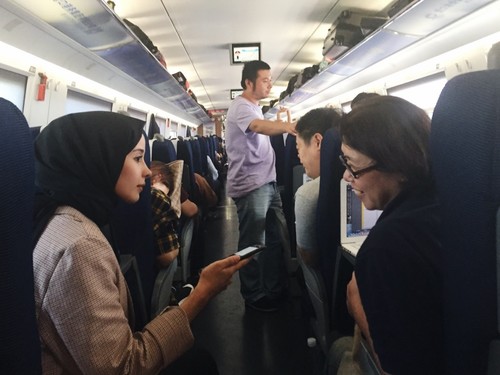 Daily Sabah's Ayşe Betül Bal (L) interviews Japanese journalist Onishi Kunika.
It was my first time in Changchun as well as in China. Although the other journalists had visited different cities in China several times, it was their first time in Changchun too.
When we met at the airport everyone was quite excited about the trip to a smaller Chinese city in the northeast. When I say smaller, it means it's small according to Chinese standards as it is a big city indeed with a population of seven million.
A journalist I met on the trip and interviewed during our train journey, Maryna Belkova of Russia and China Magazine said, "It was really interesting to see the capital of the film industry of China with my own eyes. Acknowledging the culture through this city means a lot to me. Now that we are returning, I have a lot of knowledge on different fields concerning the city and Jilin province in general."
The aim of the organization that brought together 14 journalists from different countries with the purpose of "Celebrating the 40th anniversary of reform and opening up overseas journalists in Changchun," was to introduce Changchun to the world as the capital of northeast Jilin province where multiple enterprises and development projects have been encouraged and supported in the past few years.
Within the program, several enterprises in various sectors such as medicine and aerospace, science and innovation centers, land ports and ecological parks were visited.
On the week we spent in Changchun, Mai Ashour, an Egyptian translator, writer and Sinologist who writes for China Today's Arabic site said:
"I have been to several cities in China before but Changchun city was completely different. As a person who is quite interested in Chinese culture and language, this time it was a little bit of a different experience for me, because this industrial northeastern city is different from the other cities of China and it has a colorful aspect of its own."
The city, indeed, has a different appearance than other cities in China especially those located in the southern part. Since it is not the first choice of tourists who want to experience Chinese traditions, it wouldn't be wrong to say that you should not expect to see traditional Chinese architecture on the streets or the costume-like clothes to take pictures with. What the northeast capital offers to newcomers is the chance to experience the daily lives of the natives in this industrial province near the Russian and North Korean border, and observe how this city became a center for industrialization, specifically in the automotive and movie industries, and also became one of the fundamental locations for China's opening up and reform policies.
Face of the change in China
Despite the advancements that have taken place in the country - more specifically in the provinces far from the capital - this progress has not been announced or advertised enough, even though there have been serious developments in China since its opening up and reform policies.
Expanding on this, Onishi Kunika, a journalist from Japan, said "I have been to Beijing and several other Chinese cities before. But it is my first time in Changchun, before I came here, I wasn't aware that this northeastern city was an advanced city with multiple industries from aerospace and medicine to industrial zones. What has been achieved here should not be met with prejudices, but we should do more research about China and where it has come over the years."
"I was a university student in China" continued Kunika, "And during those years I had a chance to communicate with different people in my class or on the campus. People have time for these kinds of activities in university, but it is part of what we do now. It is part of journalism to communicate with people as well as observe them."
For me, trains are the perfect places for such observers. They are the spaces that give you time and opportunity to insert yourself into the lives of ordinary people, a way to understand them. In the usual bustle of journeys, observing people from different segments of society and trying to guess their way of living has been a habit of mine since I was very young. It was the same that day on the train going to Beijing. First the weather changed. Cool cloudy weather and scenery was soon replaced with sunlight streaming in from the windows the closer we got to the south. The busy atmosphere on the train changed, passengers who were traveling to the cities closer to Changchun had already departed, those who were left on the train were busy talking on their mobile phones, probably trying to arrange their businesses in the capital.
The railway between Changchun and Beijing is actually quite a busy one, carrying businessmen and university students. My Chinese translator was also one of those university students who had spent her years traveling between her hometown Changchun and the capital, memorizing the spectacular scenery through seasons as it passed by. Recalling my first impressions on the city, that day during the train trip, I remember that I was a little bit disappointed at first. The north of China was nothing like the south, buildings were different, clothes were different, even the accent of people was different - I noticed this even though I do not speak a word of Chinese - but this distinction was perhaps what I wanted to see since even the most ordinary thing in China has something extraordinary to tell you, as long as you are interested in looking for it.
I do not see it as some kind of duty to bore people with details about how factories work somewhere in China, because I believe it is sometimes a burden to express what you have witnessed, to convey what people said to you - regardless of the importance you have attributed to those words - whether in an official interview or in random conversation on a train crossing the hills of a giant country.