Climate change is the new norm for every living thing across the world. It is a fact that we have to agree on and act to stop its consequences as much as we can. Our planet is heating up and despite efforts, it is impossible to reverse what has been done to the world and its atmosphere.
The term "global warming" was first used in a scientific article by geochemist Wallace Broecker of Columbia University in 1975; however, mankind started to impact the climate long before that. It was the Industrial Revolution that started the change in our atmosphere. The industrial activities that our modern civilization depends upon have raised atmospheric carbon dioxide levels from 280 parts per million to 400 parts per million in the last 150 years. Although scientists began to consider that increasing temperatures could cause irreversible damage to our planet, it was not until 1992 that the U.N. Framework Convention on Climate Change was established and countries around the world were mobilized to stop climate change before it was too late.
Located in Anatolia, with its fertile land and moderate climate, Turkey was one of the first countries to respond to the global effort as effects of the phenomenon had begun to manifest itself in the country after 1990. Preventing climate change is crucial for Turkey because its region has experienced significantly more drastic rising temperatures when compared to the global scale. Average summer temperatures increased by 1.5 degrees between the 1960s the the 2000s, and although spring and fall temperatures also increased, the rise was not as much when compared to the summer temperatures.
However, there are other factors in addition to increasing temperatures that indicate climate change is taking place in Turkey. For example, Turkey's mountain glaciers have been retreating at a pace of about 10 meters per year. Likewise, snow has begun to melt earlier in recent years, which raises the water levels of Turkey's snow-fed rivers earlier. Moreover, Turkey recently began experiencing sudden changes in temperature. Last year, provinces across Turkey's Marmara and Black Sea regions were hit with floods and hailstorms in September, while heavy flooding affected big cities throughout the year. Apart from the increased incidents of flooding, which may also lead to an increase in the frequency of epidemics, Turkey also faces higher drought risks, hitting the country from its west to east and threatening the sustainability of Turkey's agriculture.
Since the beginning of global mobilization to stop climate change and with the world getting warmer, Turkey has been a part of every initiative taken, as it will be one of the first countries that will be affected by the change. Turkey's Environment and Urbanization Ministry teamed up with the European Union to educate the public on climate change and to come up with new projects to take action.
The goal of the Enhancing Required Joint Efforts on Climate Action Project is to foster the joint efforts in mitigating climate change in Turkey by means of increasing public understanding and enhancing stakeholder capacity, and gradually aligning the country with EU climate policies and legislation.
To reach this goal, the focus is on increasing national and local technical capacities in the field of climate change, raising target groups' awareness on the topic and the need for immediate joint action, and providing project implementation support to the grant beneficiaries of the "Capacity Building in the Field of Climate Change in Turkey Grant Scheme" for generating solutions at a local level.
The 30-month project started last year and partners heavily with municipalities to reach out to the public and universities to educate young minds and raise awareness on the issue of climate change.
The project consists of three components. The first step is to train all segments of society, as even a little effort can lead to huge changes that can lessen the effects of global warming. Apart from academic training, the municipalities and the ministry will organize workshops, panel sessions and TV programs to raise awareness.
The second phase of the program is communication focusing on raising awareness in the target groups on climate change and the immediacy of joint climate action. In this context, campaign activities will be planned, carrying different messages for different target groups, and effective communication measures will be taken due to different awareness levels of these target groups, their different information needs and differences in media usage behaviors.
The third component of the project is the grants given by the project team. The management and monitoring of the "Capacity Building in the Field of Climate Change in Turkey Grant Scheme" is the most powerful component in terms of stakeholder impact. The grant scheme under the project covers 38 grant projects and involves various stakeholders such as municipalities, universities and nongovernmental organizations.

Turkey's stance on the Paris Agreement

Turkey has been a part of global climate conferences since their beginning; however, despite working hard both at home and in the international arena to help reduce the effects of global climate change, Turkey does not accede to the Paris Agreement, although it initially signed on as a member of the United Nations Framework Convention on Climate Change (UNFCCC), of which the Paris Agreement is a part of.
Back in 1992, when the UNFCCC was adopted, countries were classed into three basic groups: Annex I countries, Annex II countries and countries that were not listed in either two annexes, "non-Annex I" countries. Annex I countries are obliged by the convention to adopt national policies and take corresponding measures on the mitigation of climate change. These parties are supposed to take the lead in fulfilling the key objective of the convention; that is to stabilize greenhouse gas concentrations at a level that would prevent dangerous man-made interference with the climate system. Moreover, countries included in Annex II are to provide new and additional financial resources, including for the transfer of technology, to support developing countries in their climate mitigation and adaptation efforts. In contrast, non-Annex I countries only have to communicate national inventories of greenhouse gas emissions and removals and to formulate, implement, publish and regularly update national programs containing measures to mitigate climate change.
As a founding member of the Organisation for Economic Co-operation and Development (OECD), Turkey was listed in both Annex I and Annex II of the UNFCCC in 1992. After realizing the consequences of being listed as such, Turkey rolled up its sleeves and engaged in a series of diplomatic engagements; however it has not been able to receive the necessary support from fellow countries to be able to be listed in non-Annex I countries and to get funds to fight climate change.
In a show of goodwill, Turkey asked to host the climate conference in 2020 in Antalya and show the member countries its efforts in the matter and receive the necessary funds, as Turkey is a country heavily affected by climate change.

What is Turkey doing to stop climate change?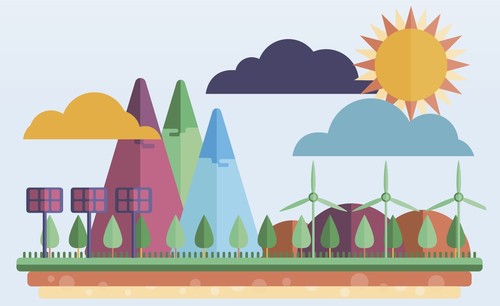 As one of the countries that will be affected the most by global climate change, Turkey has been initiating various programs to mobilize not only the public but public offices as well. In the fight against global climate change, energy is the key. Instead of using fossil fuels, Turkey has put weight behind the use of sustainable energy. Within the scope of the "National Sustainable Energy Action Plan," the share of sustainable energy in energy production in Turkey exceeded that of fossil fuels. While electricity production from sustainable energy resources was 34 billion kilowatt-hours (kWh) in 2002, it increased by 168 percent and reached 91 billion kWh in 2016.
Also, Ankara has mobilized to rebuild big cities with "passive buildings," where energy and water efficiency will be key. Since 2017, all the buildings in Turkey have to receive a "green building" certificate to be built.
Waste management, especially in cities, also plays a crucial role in the fight against climate change. Within the scope of the "National Waste Management Action Plan," Turkey manages to recycle more than half of the plastic bottles that are produced in the country. Moreover, by 2023, the government plans to spend TL 22 billion ($3.68 billion) on recycling facilities. Starting next year, Turkey will also charge customers for each plastic bag in order to lessen their usage and circulation.

What can we do to help stop climate change?

In the mobilization against climate change, each individual has a duty to revise their lifestyle and make changes for a better and greener world. Here are a few things that you can do to decrease your carbon footprint:

Reduce the heating in your house by just 1 degree, which can decrease energy consumption by up to 10 percent
Buy energy-efficient electronic devices
Turn off electronic devices instead of keeping them on standby mode
Keep your fridge's cooling between 1 and 4 degrees to save 5 percent energy
While cooking, keep the lid on the pan
Make sure you fill up your washing machine and dishwasher before turning them on
Take a shower instead of having a bath in the tub
Check your plumbing and make sure there are no leaks
Stop buying unnecessary plastic, start recycling
Use public transportation instead of taking your personal car every day
Go green and eat more vegetables
Plant a tree for the future of the planet