The 29-year-old Erhan Korkmaz, who received his higher education in software engineering in India, left his longtime job upon hearing about the Small and Medium Enterprises Development and Support Administration's (KOGSEB) enterprise training program.
After starting in the gaming and animation sector with his company three years ago in Adana province with the support of KOGSEB, Korkmaz got his company accepted in the Çukurova University (ÇU) Technocity. He reached more than 40,000 sales with two computer games that he wrote the software for. A third mobile game that Korkmaz wrote the software for was downloaded more than 100,000 times.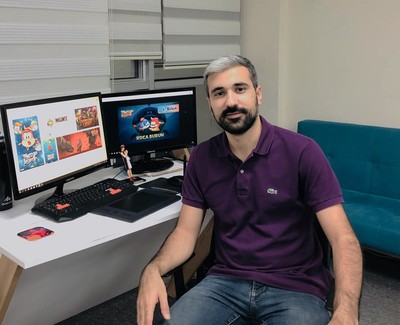 After his success, Korkmaz decided to be active in the cartoon and animation sectors along with the gaming sector. He prepared the cartoon TV series, "Maceracı Yüzgeçler" ("Adventurer Fins"), which focuses on fishes living under the Bosporus. It is still broadcast on national TV. Plans to sell the cartoon to Middle Eastern countries are ongoing after it got high ratings from video sharing sites around the world.
New game developed
Speaking to Anadolu Agency (AA), Erhan Korkmaz said that his company has actively taken part in both the gaming and animation sectors since the day it was established.
He explained that he has a total of 20 employees from different cities in Turkey and abroad, and they conduct all of their research and development activities in Adana. Noting that they develop all the projects in the city, Korkmaz added that they have developed another game.
He said that their company's success in the sector has also become an inspiration for other institutions. Korkmaz gave the example of the ÇU's project that aims to open animation and dubbing studios, which was approved by the Çukurova Development Agency.
Highlighting that they helped in the preparation of technical details of the project, Korkmaz continued, "Some animation studios will be opened in the university. This sector will be improved in Adana. There will be dubbing studios, as well. The cartoons are prepared here but they are dubbed in Istanbul since there is no dubbing studio in the city. With this approved project, dubbing studios will be established."
A great acquisition for Turkey
Korkmaz said that the worldwide gaming sector passed the cinema sector in the U.S. and reached $100 billion.
Explaining nearly 50 million people play games on computers and mobile phones in Turkey, Korkmaz said, "When we look at the financial situation in Turkey, we understood that exportation with high added value is very important. Animation and games are one of them. It is really important to produce products in this field and export them. The investment in this field will come back as a great acquisition for us."
"When you develop products, you sell them abroad with euro or dollar-based currency. This means great incomes. Therefore, directing our route to things with high added value will contribute to Turkey. Companies in this sector benefit from the donation programs in their countries. Turkey should invest in these donation programs like other countries, as well," he added. Korkmaz said that they made big investments when they were first established and got a lot of support.
"We started to amortize our investment in the short term. In three years, we made profit. This shows how the added value of our works is high," he explained.
He reported that game and animation sector is the most important export factor with the highest added value after the defense industry.