Whether it is a cat stuck on the top of a tree or a major fire that risks the lives of hundreds, the firefighters of Istanbul Metropolitan Municipality are there to help. Working hard to keep the 15 million people of Istanbul safe around the clock, firefighters often put the lives of others before their own.
Earthquakes, landslides, floods and especially fires and other fire and rescue-related incidents in Istanbul have caused loss of life and injuries, along with financial losses and other unrecoverable losses leading to damages to our national wealth, welfare and cultural, historical and natural heritages.
The Istanbul Fire Brigade carries out three main activities against dangers that threaten the welfare of the city and negatively affect the vision of Istanbul as a "high quality of life" city.
Training and awareness raising, prevention and supervision, firefighting and responding to fire and rescue-related incidents are the main concerns of the firefighters in Istanbul.
A day in the life of an Istanbul firefighter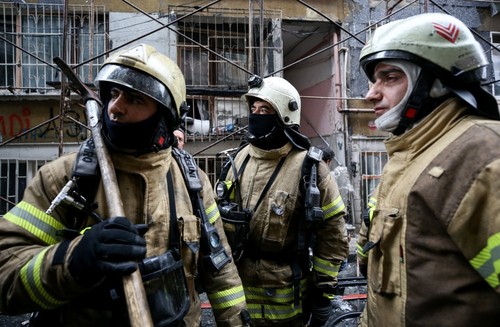 Even if it means risking their lives, firefighters in Istanbul are among the first responders in emergency situations.
A day in the lives of firefighters, who come to the rescue of all living things - from traffic accidents to natural disasters to fires, was captured by a team of reporters from Anadolu Agency (AA).
The AA team witnessed the round-the-clock challenging tasks of the firefighters at Istanbul Metropolitan Municipality Fire Department's Silivri Station.
Starting their shift at 10 a.m., the staff first read the firefighter's prayer that goes, "My God, give me strength so that I can come to the help of an endangered creature, especially a small child or elderly [person] before it is too late."
Working 24-hour shifts, the next team takes over from their co-workers the next morning. Divided into three groups of 15 people, the staff responds to the scene according to incoming calls.
Carrying out various tasks at the station such as vehicle control, garden cleaning, training, meetings and sports, the team departs from the station in about 30 seconds upon an incoming call. Firefighters try to reach the scene in the fastest way possible by using sirens.
Bahadır Işıklı, who has been working at the station for 12 years, stated that firefighting has a difficult side as in every profession. "But there are more dangerous missions and incidents in firefighting," he noted.
Işıklı said they have many friends who were killed on duty like Taner Çebi, who was wounded in a fire in a hotel sauna in Fatih and was martyred in the hospital where he was taken, and Ersin Gezer who died as a result of an explosion in a truck's fuel tank in a construction site in Bağcılar.
"I went to Çanakkale with my children. On the ferry, my little girl was with a girl near her own age and said, 'My father is a fireman.' 'My father is a pilot,' the other girl said. To which my daughter added, 'My father is a hero.' That is why firefighting is a sacred profession," Işıklı said.
First responders of rescue missions
Işıklı pointed out that they work on fires, rescue missions, traffic accidents and natural disasters such as floods and earthquakes.
"We also respond to animal rescue calls. Dogs, sheep or cows fall into wells. We are responding to all sorts of things that threaten the lives of living things such as a cat stranded on a tree, or a snake entering a house," he said.
"Most firefighters face life threatening situations on duty," he continued. "In the 2011 earthquake, we went to Van. We received a call that a citizen was trapped inside the building. We looked all over the building, and the only remaining place was the elevator shaft. As soon as we entered, an aftershock with a magnitude of 5.5 occurred. The rubble fell on us. We managed to get ourselves out at the last moment."
Işıklı stressed that despite all of the dangers, he is pleased and extremely proud to be serving in the fire department.