The exodus began on Oct. 12 in San Pedro Sula, a city in Honduras. Approximately 150 people met at the bus terminal in the city, getting ready to make a dangerous journey. This was not the first migrant caravan; many migrants have begun to travel in large groups for reasons of security. With crime and human-trafficking rife in the region, a family or an individual travelling alone is at greater risk. The impetus behind travelling in large groups is the very basic idea that there is safety in numbers.
One reason this latest migrant caravan has hit the headlines is the size. A spokesperson for the U.N. said that from Oct. 22 the caravan included more than 7,000 people and more than half of this number were children.
It is true that some people have left the caravan, preferring to stay in countries through which the caravan has passed; many have fallen off in Guatemala or Mexico, content that the life there will be better for them. However, people from countries like Guatemala and Mexico are also joining the caravan, making sure that the number of people is still large, larger than any previous caravan. In addition, there are other smaller caravans, closely following the first migrant caravan.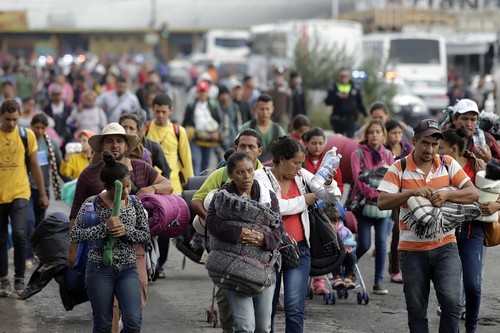 Members of the migrant caravan arrive at the shelter of the Church of the Assumption, in the city of Puebla, in the homonymous state, Mexico, Nov. 4.
Why are there so many people in this first caravan? A former legislator and a radio host for the show Without Borders (a program about migration), Bartolo Fuentes found himself unwittingly at the center of the large exodus.
The news channel HCH, the most popular cable news channel in Honduras, did a piece on the caravan that first formed at the bus station in San Pedro Sula. A woman was interviewed, and she said that Fuentes was the organizer. The news channel then reported that Fuentes was funding the entire caravan. Despite Fuentes giving interviews in which he categorically denied having anything to do with the caravan, the "damage was done." According to the Daily Beast, Fuentes said: "After that news program I started to get hundreds of calls, then it took on a life of its own."
Why are so many people wanting to leave their homes, their families, leaving behind everything they know and love? Trump and those who follow his extreme right approach would tell us that these people are economic immigrants looking for a cushy life in the U.S.
However, the people in the caravan have a different story to tell. They state that they are leaving to save themselves from a life of persecution, violence and extreme poverty. Honduras has one of the highest murder rates in the world; with a small population - 9 million - this means that violence affects almost every person and every family.
And indeed, there has to be a good reason for a mother or father to decide to take their family on a trek over hostile terrain, to face criminal gangs, hunger and dehydration.
A video released by the BBC allows members of the migration caravan to speak for themselves. One mother says: "We've walked a lot and suffered... it's difficult travelling with children." She talks about the difficulties of carrying her baby while making sure her toddler doesn't get lost. She says: "It's very complicated, but it is to give them a better life." One father speaks about his adolescent son tearfully. They have been separated on the walk and he says: "I don't know whether to continue and hope he arrives. I can't leave without him. I'm sad. I'm a single parent and I need him so much."
No parent would take on such a challenging trek without good reason. As has been stated many times before in this paper, the decision to take a dangerous journey for a better way of life is not an easy one. No parent can make the decision to put their children's lives in danger lightly. The desperation that leads to such a decision is not one that those who live in comfort can understand.
Yet, Donald Trump refuses to see the desperation, the longing for a secure, safe life. He states: "They want to come into our country and they are criminals."
A tweet shared at @realDonaldTrump reads:
"Guatemala, Honduras and El Salvador were not able to do the job of stopping people from leaving their country and coming illegally to the U.S. We will now begin cutting off, or substantially reducing, the massive foreign aid routinely given to them."
Trump wants to punish Guatemala, Honduras and El Salvador by cutting off aid. These countries are already struggling to provide adequate living standards for their people. Due to the harsh living conditions in these countries, citizens reluctantly find that they have little option but to seek a better way of life in another land.
Rather than saying, hey here is a problem, let us help these countries by increasing aid, by creating jobs, by making sure that people do not find themselves in a position where they have to contemplate leaving their homes and families, Trump's answer is simple. Punish these countries. Make life even more miserable for the people there. Ensure that Honduras, Guatemala and El Salvador turn their countries into prisons from which it is impossible to escape.
It does not take a great deal of foresight to see that this is not a reasonable reaction nor a realistic solution.
And then there is Trump's overreaction by calling out the U.S. Army to meet the migrant caravan at the Mexico border. According to The Washington Post "Military planners anticipate that only a small percentage of Central American migrants traveling in the caravans President Trump characterizes as "an invasion" will reach the U.S. border, even as a force of more than 7,000 active-duty troops mobilizes to prevent them from entering the United States... the United States is positioning five soldiers on the border for every one caravan member." It doesn't take any insight at all to understand that with midterm elections looming next week, Trump is drumming up the hype. But is migration, immigration, such a big threat? Is America drowning in a sea of Latin American migrants?
It is estimated that today around 11 million undocumented immigrants are living in the United States. But it is also estimated that the majority of these are extremely important for the American economy. According to Mary Jo Dudley, director of the Cornell Farmworker Program at Cornell University, "while undocumented immigrants make up 5 percent of the overall workforce, they comprise more than half of the nation's farmworkers and 15 percent of construction laborers." With increased border restriction and repatriation of undocumented immigrants, "fresh produce has been gone unpicked, left to rot in fields." Dudley goes onto tell us that: "One New York apple grower told us that due to labor shortages and dwindling prices for his red delicious variety, he plans to let his 100-year-old orchard go."
Donald Trump wants a Republican win in the midterm elections. But whether he gets this win or not, his approach to the migrant caravan and immigration in general, like so many of his other policies, will only harm the U.S. economy in the long run. The overreaction of the American president has damaged international relations; it has offended citizens of foreign countries and citizens of his own country. Trump is changing the face of America with his travel bans, tariffs, withdrawal from the Paris accords, hyped-up reactions to migrants, abolition of citizenship due to birthright and so forth. It is becoming an ugly face that is racist, xenophobic and full of hatred. And the actions that he is driving forward are irrational, unreasonable and are doomed to have a severe backlash.