Turkey's Şanlıurfa province, which features Göbeklitepe, the starting point of history, is making its final preparations to register its gastronomical tastes to UNESCO with the motto of "World's Oldest Cuisine." After Hatay and Gaziantep provinces, which are prominent in Turkey with their cuisine, were registered on the Creative Cities Network of UNESCO, Şanlıurfa, which is famous for many local tastes dating back centuries, has come to the last stage in its preparations.
Şanlıurfa's cuisine is its richest treasure and heritage that stretches from the past to the future. It offers liver kebab, eggplant kebab, kıymalı, lebeni, meatball with eggs and a special bread called "tırnaklı," as well as "çiğ köfte" (raw meatballs) and "mırra," a type of bitter coffee. Unique to the city of Şanlıurfa, eggplant kebab, also called kazan kebabı (pot kebab) is generally consumed in the summer months. Meat, eggplants and some other vegetables are put on a skewer and cooked together.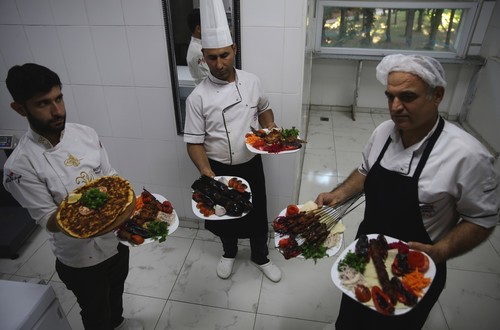 Chefs serve Şanlıurfa's rich cuisine.
Kıymalı, also known as lahmacun, is a round, thin piece of dough topped with minced meat, minced vegetables and herbs including onions, tomatoes and parsley, and spices such as cayenne pepper, paprika, cumin and cinnamon. Lebeni is a kind of cold soup prepared with yogurt. Çiğ Köfte is made by mixing finely ground bulgur wheat, raw ground beef, onion, spices, tomato sauce, minced parsley and isot (a red pepper spice). It does not require cooking and is served in the shape of thin, slightly squeezed meatball pieces on lettuce. Mırra is a bitter coffee that is local to Şanlıurfa. It is prepared after being brewed more than once. The name "Mırra" comes from the Arabic word "murdan" which means "bitter."
Almost 400 local tastes are offered to local and foreign guests at boutique hotels and guest houses in the city, which is pleasing to both the eyes and the taste buds. Şanlıurfa Mayor Nihat çiftçi told Anadolu Agency (AA) that many tourists have visited the city in search of new cultures and different tastes recently. Recalling a key UNESCO criteria, which is that authentic foods of the city should be offered at places like restaurants, Çiftçi implied that scores of foods are presented to tourists at social facilities, especially those belonging to the municipality in Şanlıurfa.
He added that he believes the city, which has a rich cuisine culture, will absolutely register this feature. They are determined to make the cuisine of Şanlıurfa a brand. Noting they will introduce the delightful tastes of the city to the world to realize this aim, Çiftçi explained that the city, the cradle of civilizations, features a cuisine which appeals to everyone's taste.
He stressed that they want to make all tourists who visit the city taste the unique foods and continued, "Şanlıurfa has a deep-rooted cuisine culture. We should offer it to local and foreign tourists. We present our culture, archaeological entities, religious centers, architecture, streets and houses to our guests. We should also make tourists who come here taste good foods as we have a rich cuisine culture for centuries. We try to serve it in the best way. We applied to UNESCO in 2014 in the field of gastronomy. It requires some standards to be fulfilled and we are working on them. Most of the criteria have been accomplished. Hatay and Gaziantep are on the UNESCO list. Now, it is Şanlıurfa and Mardin's turn. These two cities will be registered, as well. It is important for us to open this route to the world as a gastronomical one. A person who comes to Hatay should be able to visit respectively Gaziantep, Şanlıurfa and Mardin and taste authentic foods."
Culinary Travel Society Branch Chairman Abdurrahman Acar said that the interest to the culinary tours in the city increase day by day. He said the city has an importance as it is the starting point of the city's history. He added that they conduct works with the motto, "Şanlıurfa is the homeland of all humanity, the entire world is from Şanlıurfa."
He said that they prepared various projects to complete the criteria of UNESCO. "We hope that Şanlıurfa will receive the title of city of gastronomy, which it really deserves, in the shortest time. It is a brand city in religious tourism with its Balıklıgöl (Fish Lake), in the nature tourism with its Halfeti district, in history tourism with its Göbeklitepe and in gastronomy tourism with unique tastes. In term of gastronomy tourism, Şanlıurfa is more advantageous than Hatay and Gaziantep as it is the locomotive of the region in cultural and historical aspects. The value of Göbeklitepe was registered by UNESCO at the international level."
Abdullatif Uyguner, an owner of a travel agency in the city, said that they have been organizing gastronomical tours for three years.
Remarking that they conduct joint works together with the Culinary Travel Society, Uyguner said, "It is an advantage for us in tourism that the next year is announced as the Year of Göbeklitepe. We benefit from gastronomical tours. There is a great interest now. Our guests taste our foods; learn our history and most importantly they are welcomed by the hospitable people of our geography."
Yeşim Ünveren, a manager of one of the city's boutique hotels, said that they have been hosting tourists who come on gastronomical tours. She indicated that they offer a wide selection of local foods to their guests.