Selçuk Şahin, a 41-year-old entrepreneur who established a permaculture ranch in Bilecik province's Gölpazarı district after leaving the banking sector, welcomes visitors from many countries around the world, including the U.K. and Morocco, South Africa, Japan, Spain and Mexico.
Accommodated in cabins, the visitors get a taste of permaculture, or sustainable agriculture, at the ranch.
The guests wake up to roosters crowing and start their day with an all-natural breakfast. They wash their dishes together in a common area and hand-feed pets and farm animals. They live a simple life - cutting wood, preparing natural vinegar, tomato paste and bread.
They even learn about the fermentation of olives as well as planting and harvesting onions and garlic.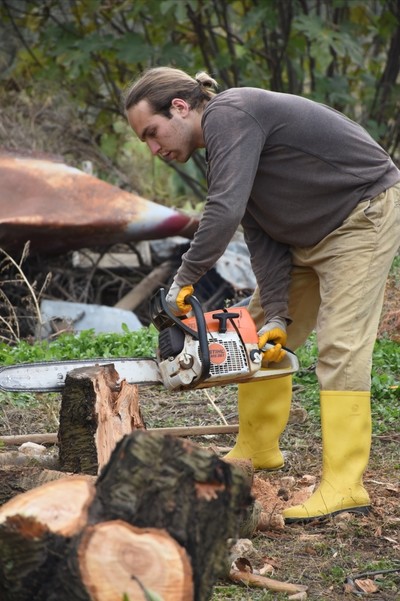 Volunteers learn how to grow crops, ferment tomato paste, olive and vinegar as well as helping with everyday chores.
The ranch owner told Anadolu Agency (AA) that he bought the farm for TL 150,000 ($28,234) with a friend in 2008.
Şahin worked in the medicine and banking sectors for years in Istanbul, before he decided to quit both his jobs in 2014 after he attended programs about ecological agriculture. He has concentrated on his ranch since.
"Our ranch is in the network of TaTuTa, the name of the project on 'Eco-Agro Tourism and Voluntary Knowledge and Skills Exchange on Organic Farms,' organized by the Buğday Association for Supporting Ecological Living. It is an ecological network with 92 farms in Turkey. Volunteers come to us via this network. We share our experiences on the farm with these volunteers. We show people how to grow the crops that we plant on our ranch. They learn how to ferment tomato paste, olive and vinegar with us," he explained. He remarked that volunteers come from all over the world, from South Africa, Japan, South America, Spain, Mexico, the U.K., Germany, France, Italy and Lithuania to Morocco.
"Almost 200 volunteers from nearly half of the world came to visit us. Those who had come before came again. We created quite a family atmosphere. We share many things together, have fun and enjoy our time. There are a lot of things to learn from those who travel around the world. They also want to learn from people who have blended theoretical and practical information in this land. Everyone chases happiness. Joyous moments are experienced here. While one is in the kitchen, others make music and another prepares a salad. We wash the dishes together. We planted onion and garlic in 3 decares of land. We harvest and pick peppers together. We also do olive fermentation together," the ranch owner explained.
Yussra Alovane, 25, who deals with shoe production with her family in Morocco, came to Turkey nearly two weeks ago. She indicated that she set out on a journey to discover music, people and different cultures.Alovane said that she chose Turkey because of its rich culture. "I found everything that I was looking for here and I am still continuing to discover. I have visited Istanbul and Bursa provinces. I spent the most time on this ranch. I will stay in Turkey for two more weeks to learn Turkish. I am interested in permaculture. I always wanted to learn how to live in a ranch like this and what can be done here. Turkish people were so nice to me. As a woman, I was not afraid to leave my country and go far away. I was just excited. When you feel good, good things happen," she said. Domantas Kirsnys, 22, came to Turkey from Lithuania with his friend Laurynas Kielaitis. Both undergraduates, the two friends decided they needed a vacation. "We are still students. I will continue my education in engineering and management when we are back. But we are excited to gain new experiences and learn about new cultures. The feeling of discovery motivates us. We learned how to ferment, how to make vinegar and how to cut wood. We were so excited. We are here at the ranch for a week," Kirsnys said.
Selçuk Şahin's 60-year-old mother, Kadriye Şahin, prepares organic meals for the guests.
"We wake up in the morning and have breakfast. Then, we do some chores. Our foreign visitors love to read. They always have a book in their hands. They are keen on learning. Some of them learned how to make bread, tomato paste and tarhana, the sourdough soup, from me. They also learned how to cut pasta and did it in their countries. They never watched television here and some even do not have one in their home. They think watching TV is a waste of time. We drink mint tea and eat organic food. When they go back, they send me messages on social media. We become friends. I have learned many English words from them. When I do not understand, we communicate through mimicry. I taught them Turkish; they taught me English," Şahin said.